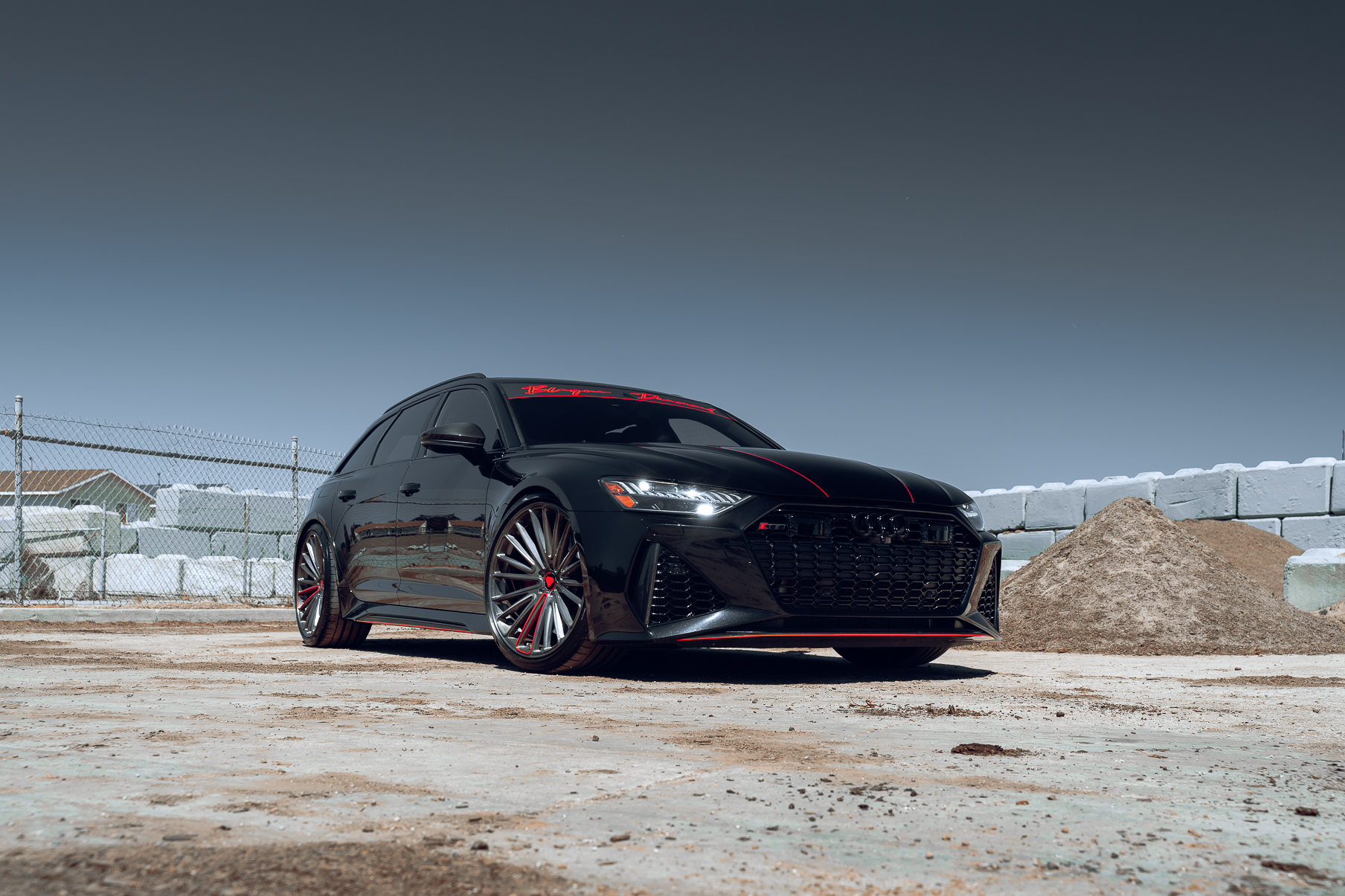 Premium Wheels for the Audi RS6 Avant
Introducing supreme automotive elegance and performance – the 2022 Audi RS6 Avant adorned with the custom 22″ BD-715 Classic Series Wheels from Blaque Diamond. Crafted to perfection, these wheels boast a mesmerizing custom Brushed Graphite finish with striking red accents, seamlessly harmonizing with the red details on this RS6 Avant. The sleek multi-spoke design exudes a sense of sophistication, while the precision fitment ensures a flawless appearance and enhanced driving experience. Prepare to be captivated by the captivating fusion of style and performance as this Audi RS6 Avant takes center stage with its distinct personality and the irresistible allure of Blaque Diamond custom wheels.
To See the Full Photo Gallery of This 2022 Audi RS6 Avant Click HERE
Classic Series Blaque Diamond Wheels for the RS6
This 2022 Audi RS6 Avant has been transformed into an absolute showstopper with the exceptional Blaque Diamond BD-715 wheels from the Classic Series. Spec'd with a flush fitment style, these wheels seamlessly align with the vehicle's body, giving it an aggressive and sleek look. The custom brushed graphite finish adds a touch of refinement, making a bold statement on the road. With a squared wheel size of 22×10.5 inches, the BD-715 wheels exude confidence and dominance. Complementing this impeccable design are the high-performance Pirelli P-Zero (PZ4-Sport) tires, boasting a square tire size of 285/30/ZR22. Prepare to command attention and experience unmatched performance with this remarkable combination of Blaque Diamond's artistry and the Audi RS6 Avant's power.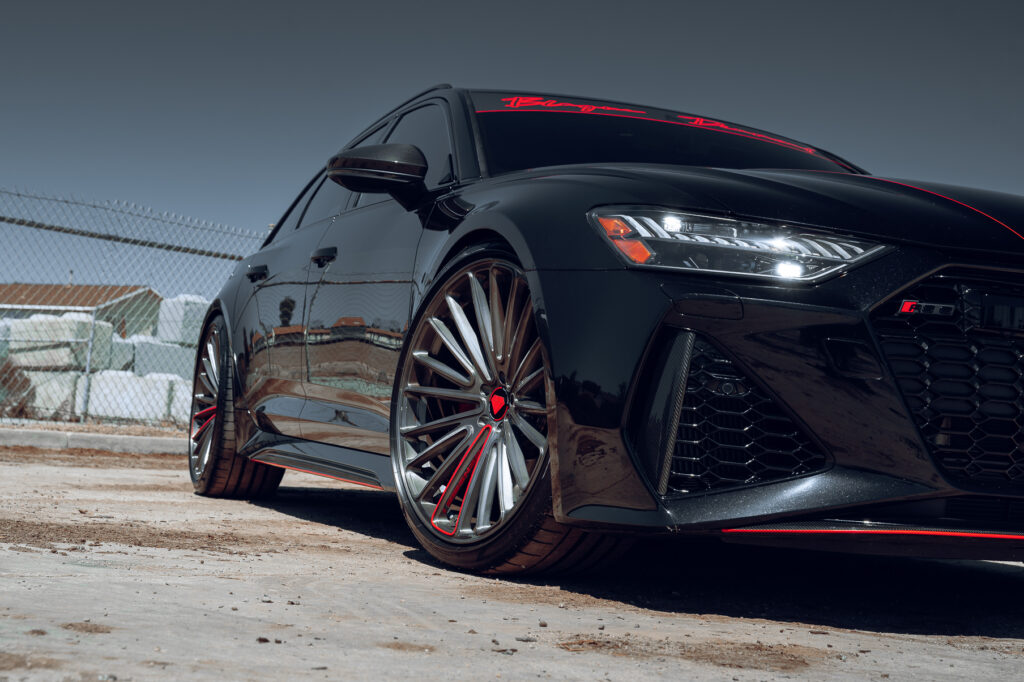 The 2022 Audi RS6 Avant is one of the last remaining sport wagons, with all the power and handling of the sedan version but the added practicality and storage space of the wagon design. The RS6 produces nearly 600 horsepower out of its twin-turbocharged 4.0-liter V-8. The sport wagon category is all but limited to the RS6 Avant and its main competitor, the Porsche Panamera. The Audi stands out with its  hard edged design and advanced Quattro all wheel drive system.
The BD-715 is a brand new wheel in our Classic Series, providing an aggressive multi-spoke design in a wide range of sizes and offsets, with the 22″ and 24″ variety including our Flow-Forged Technology. The 22″ size on this Audi paired with the perfect machined offset fills out the fenders of the Audi RS6 Avant to provide a very aggressive stance with flush fitment.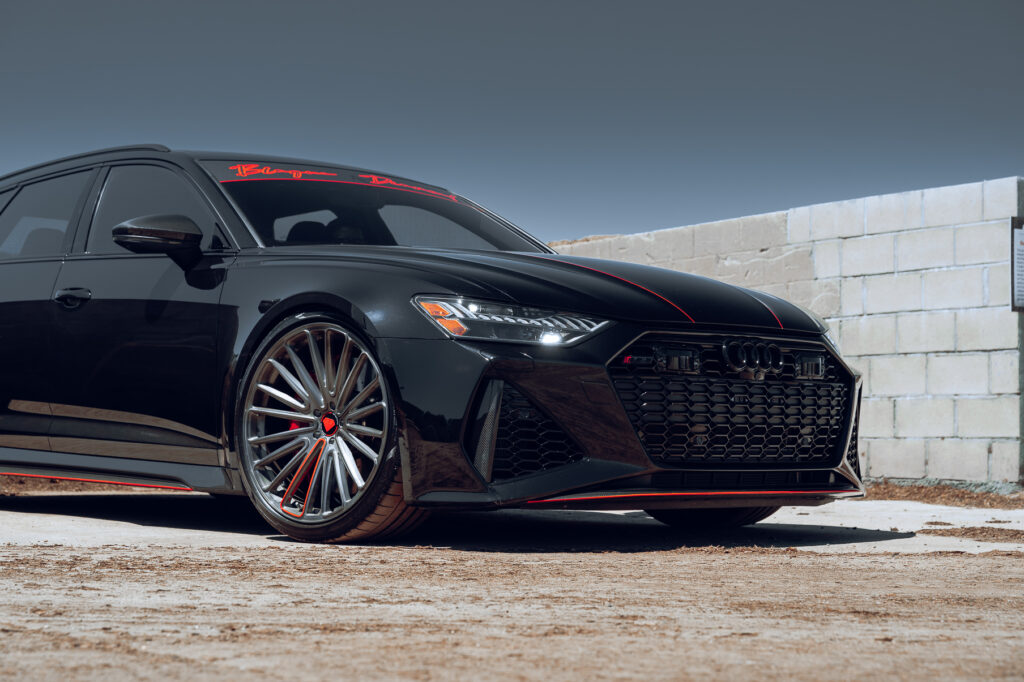 With our Custom Finishes Program, not only can you achieve precise fitment, but you can also unleash your creativity and bring your wildest visions to life on your Blaque Diamond Wheels. Imagine the possibilities! From matching your OEM colors to creating custom hues, our program offers a wide range of options including powder coating, anodized, gloss, matte, brushed, hydro-dipped, polished, and chrome finishes. And when it comes to the 2022 Audi RS6, picture the stunning combination of our custom brushed graphite BD-715 wheels with captivating red accents, making your vehicle truly stand out in a league of its own.

To View Our Custom Wheel Finish Gallery Click HERE
Custom Drilling/ Test Fit
Experience the perfection of custom wheels with Blaque Diamond Wheels' Custom Test Fit and Custom Drilling programs. Our commitment to precision and customization sets us apart. Our Custom Test Fit program ensures a flawless fit and optimal performance by utilizing our team of fitment experts to test multiple offsets and profiles during an in-house test fitting process. Our Custom Drilling program allows for exact offsets and custom bolt patterns, accommodating even the most specific requirements. Don't settle for less—choose Blaque Diamond Wheels for unmatched style and performance.
additional fitment details
If you wish to find out more about offsets for the car, please feel free to contact our team. We are also able to accommodate custom fitments, bolt patterns, and finishes as per our customer's requests If you have any requests for custom fitments, please don't hesitate to reach out to our team of fitment experts for more information.
Here are some fitment details:
Wheel Model – BD-715 
Wheel Size – 22×10.5 – Squared
Tire Model – Pirelli P-Zero (PZ4-Sport) 
Tire Size – 285/30/ZR22 – Squared