The 2022 Tesla Model y on custom Multi-spoke blaque Diamond Wheels
At Blaque Diamond Wheels, we believe that every journey should be an unforgettable experience. That's why we've curated the perfect blend of style and performance, tailored specifically for the Tesla Model Y. Introducing our 22″ BD-715 wheels from the Classic Series, a seamless fusion of timeless design and cutting-edge engineering. As you embark on your electric adventure, these wheels are poised to take your Model Y to new heights of elegance, turning heads and setting new standards on the road. Get ready to embrace the future of luxury and performance with the mesmerizing beauty of the BD-715 wheels, designed to redefine the art of driving.
To View the Full Photo Gallery of the Tesla Model Y, Click HERE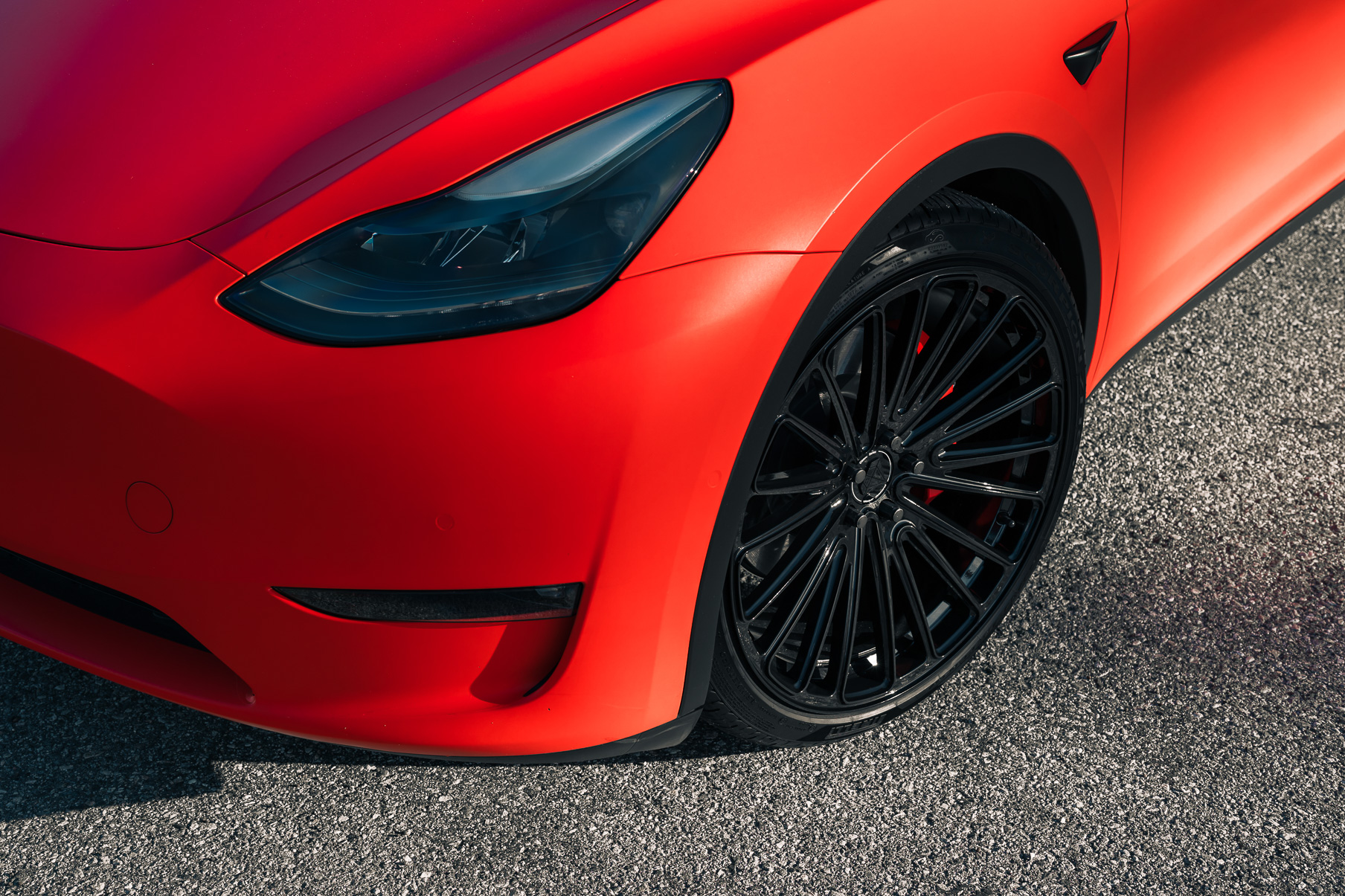 This Tesla Model Y represents the future of the automobile market, capturing the essence of where the industry is heading, with a growing preference for SUVs and electric vehicles. Embracing this progressive vision, we couldn't resist featuring one of our newest wheels, the BD-715, on this remarkable vehicle! The BD-715 wheels perfectly complement the modern aesthetic of the Model Y, adding a touch of sophistication to its already striking design.
Crafted with our state-of-the-art Flow Forged Technology, the BD-715 wheels not only enhance the Model Y's appearance but also offer the advantage of being incredibly lightweight. For electric vehicles like the Model Y, where efficiency is paramount, these lightweight wheels play a vital role in increasing the effective range, ensuring you can venture further on every charge.
These BD-715 wheels come in a Squared Setup, with a Flush Fitment, boasting 22×10.5 measurements to provide a commanding presence on the road. Fitted with high-performance 265/35/ZR22 Pirelli Scorpion Zero Tires, these wheels deliver exceptional grip and handling, allowing you to maneuver with confidence and precision.
Notably, the Concave Profile of the BD-715 wheels serves a practical purpose as well; providing ample brake clearance, crucial for optimizing the Model Y's braking performance and ensuring safety during every journey.
In our Classic Series, we present the BD-715 wheels in a stunning Gloss Black finish, elevating the Model Y's style to a new level of elegance. These wheels stand as a testament to the perfect fusion of classic design and cutting-edge technology, setting the standard for automotive refinement and sophistication.
As you drive the Tesla Model Y equipped with the BD-715 wheels, you'll not only be embracing the future of mobility but also making a bold statement about your commitment to style, efficiency, and performance. Experience the pinnacle of automotive excellence and unlock the full potential of your Model Y with the BD-715 wheels, designed to take you beyond the ordinary, and into a realm where luxury and innovation converge seamlessly.
To See More Details About the BD-715 Classic Series Wheels, Click HERE
achieving The perfect fitment
With the incredible popularity and sales numbers of the Tesla Model Y, it becomes difficult to stand out amongst the crowd, thats why for this Tesla we spec'd the perfect flush fitment for the eye-catching BD-715 design. The aggressive multi-spoke design paired with the exact fitment gives the Model Y a whole new look, unlike any other Tesla on the road.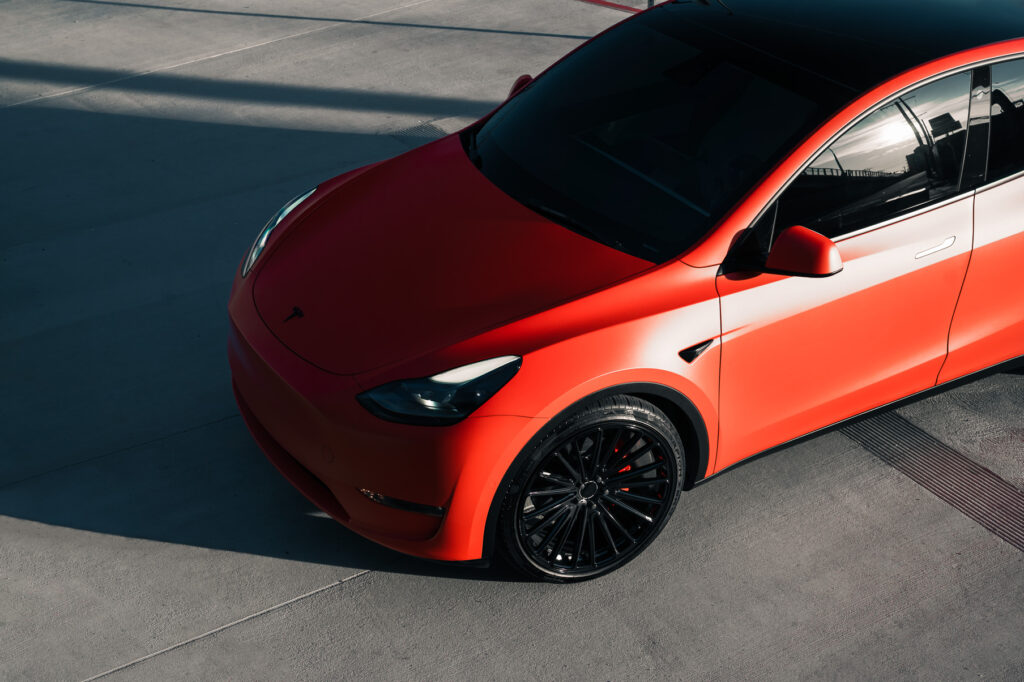 Discover the endless customization possibilities with Blaque Diamond Wheels' Custom Finish program. Our vast network of wheel finish specialists offers unlimited options, including powder coating, gloss, matte, chrome, OEM color matched, anodized, brushed, and more. Transform your wheels into unique works of art that reflect your style. Elevate your vehicle's aesthetic with Blaque Diamond Wheels' Custom Finish program.

To View Our Custom Wheel Finish Gallery Click HERE
Custom Drilling/ Test Fit
Experience the perfection of custom wheels with Blaque Diamond Wheels' Custom Test Fit and Custom Drilling programs. Our commitment to precision and customization sets us apart. Our Custom Test Fit program ensures a flawless fit and optimal performance by utilizing our team of fitment experts to test multiple offsets and profiles during an in-house test fitting process. Our Custom Drilling program allows for exact offsets and custom bolt patterns, accommodating even the most specific requirements. Don't settle for less—choose Blaque Diamond Wheels for unmatched style and performance.
Additional fitment details
If you wish to find out more about offsets for the car, please feel free to contact our team. We are also able to accommodate custom fitments, bolt patterns, and finishes as per our customer's requests If you have any requests for custom fitments, please don't hesitate to reach out to our team of fitment experts for more information.
Here are some fitment details:
Wheel Model – BD-715
Wheel Finish – Gloss Black
Wheel Size – 22×10.5 Squared
Tire Size – 265/35/ZR22 Squared
Tire Model – Pirelli Scorpion Zero