Off-road Spec Jeep Wrangler Rubicon
The Jeep Wrangler Rubicon Unlimited 392 is arguably the most capable factory off-road vehicle in the world, pair that with a Liberty Walk Wide-body Kit, Big Knobby Tires, and the Blaque Diamond BD-O102 Wheels, and you get a truly capable off-road beast to make all your friends jealous on the trails.
The BD-O102 wheels compliment the all-black exterior dramatically with the Matte Bronze finish and rugged design. Coming in a 20″ size and a squared aggressive fitment, this wheel and tire combo is ready to take on any terrain you throw at this Jeep.
To See the Full Photo Gallery of the Jeep Wrangler Unlimited Rubicon 392, Click HERE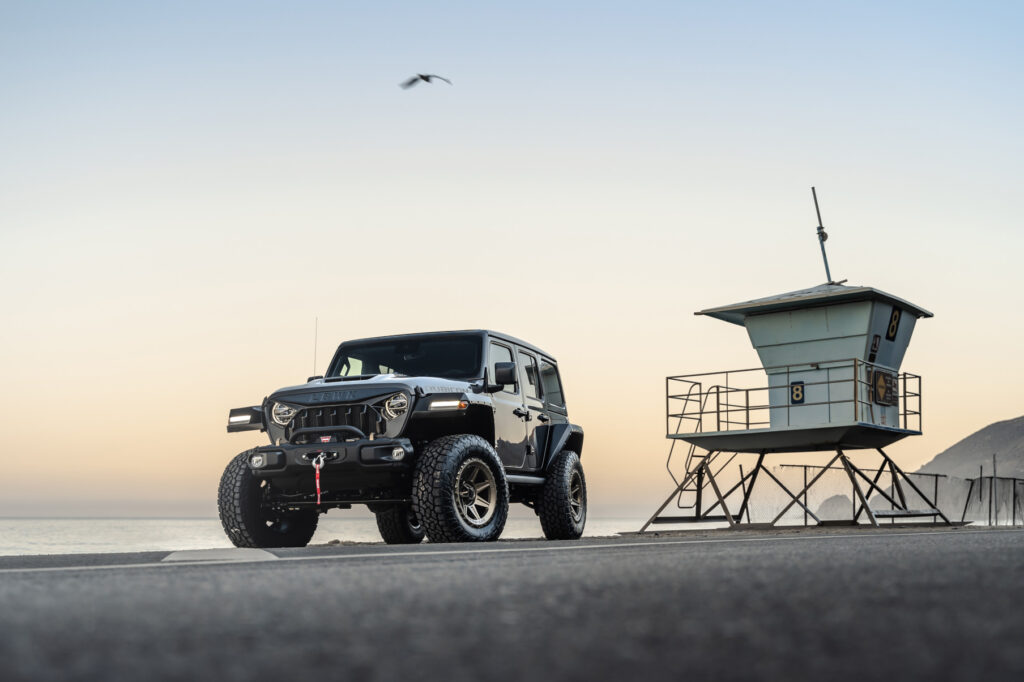 The BD-O102 on the Jeep 392 Unlimited
In a squared setup of 20×10 inches, the BD-O102 wheels enhance the Wrangler's stance, ensuring stability and control on any terrain. The Matte Bronze finish exudes a sense of rugged elegance, perfectly blending with the Wrangler's aggressive exterior. With these wheels on your Wrangler, get ready to turn heads and make a statement wherever you roam.
The aggressive fitment style of the BD-O102 wheels not only enhances the Jeep's appearance but also provides the perfect balance of style and performance. Paired with 37/12.50/R20 Toyo Open Country A/T tires, this setup offers excellent grip and traction, allowing you to conquer even the most challenging off-road trails with confidence.
Designed with a raised center cap, the BD-O102 wheels add a touch of flair and ruggedness, further accentuating the Jeep's adventurous persona. Embrace the thrill of off-road exploration with the perfect blend of style and functionality.
Upgrade your Jeep Wrangler 392 Unlimited with the BD-O102 wheels and embark on an adventure like never before. From rocky trails to sandy dunes, these wheels are engineered to handle it all. 
To See More Details About the Blaque Diamond BD-O102 Click HERE
JEEP WRANGLER RUBICON BUILD DETAILS
The owner of this Jeep included a plethora of upgrades to increase its off-road capabilities. In addition to the body kit and wheels, this off-roader is equipped with a front winch, Lighting kit, and the Unlimited 392 Package from Jeep. The 392 package includes a whopping 6.4L HEMI V8 producing 470 lb/ft of torque bringing the jeep 0-60 mph in a time of 4.5 seconds. (Faster than a 2023 Porsche Cayman)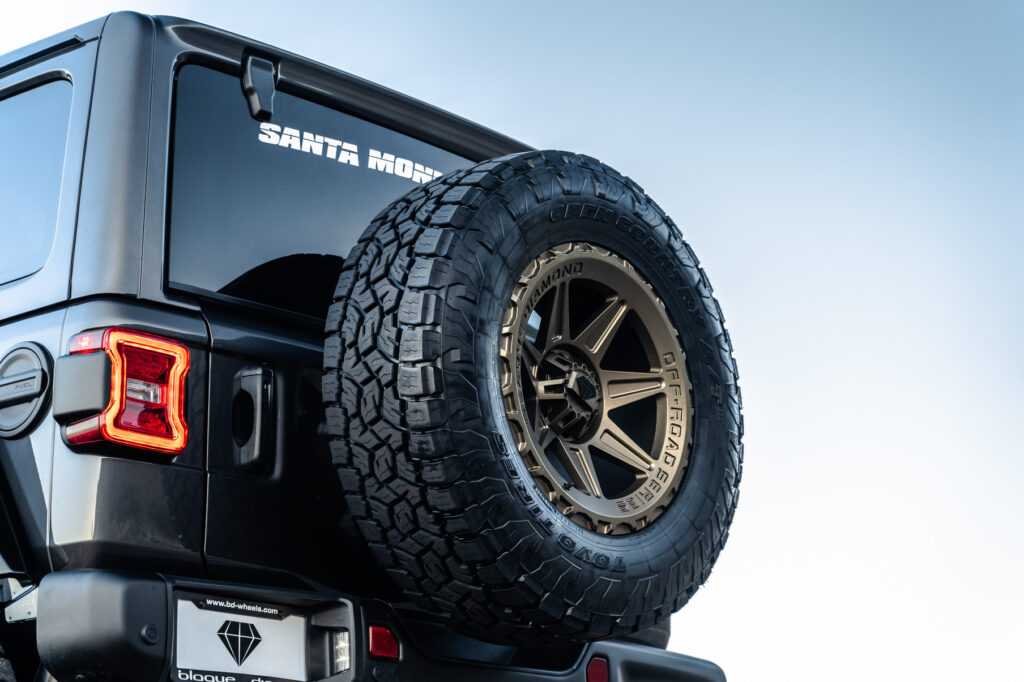 More Details about BD OFF-ROAD WHEELS
Our Off-Road wheels are able to accommodate custom fitment, along with custom finishes, just like our other series of wheels. We understand that tire sizes may be a little more complex than a regular sedan, so please feel free to reach out to our team if you have any fitment related questions. If you are curious about offset ranges, we'd be happy to provide the information as well.
Discover the endless customization possibilities with Blaque Diamond Wheels' Custom Finish program. Our vast network of wheel finish specialists offers unlimited options, including powder coating, gloss, matte, chrome, OEM color matched, anodized, brushed, and more. Transform your wheels into unique works of art that reflect your style. Elevate your vehicle's aesthetic with Blaque Diamond Wheels' Custom Finish program.

To View Our Custom Wheel Finish Gallery Click HERE
Custom Drilling/ Test Fit
Experience the perfection of custom wheels with Blaque Diamond Wheels' Custom Test Fit program. Our commitment to precision and customization sets us apart. Our Custom Test Fit program ensures a flawless fit and optimal performance by utilizing our team of fitment experts to test multiple offsets and profiles during an in-house test fitting process. With our Custom Test Fit Program we can maximize wheel width, concavity, and fitment. Don't settle for less—choose Blaque Diamond Wheels for unmatched style and performance.
Additional Fitment Details
Here are some fitment details:
Wheel Model – BD – 0102
Wheel Finish – Matte Bronze
Wheel Size – 20×10 Squared
Tire Model – Toyo Open Country A/T
Tire Size – 37/12.50/ R20 Squared