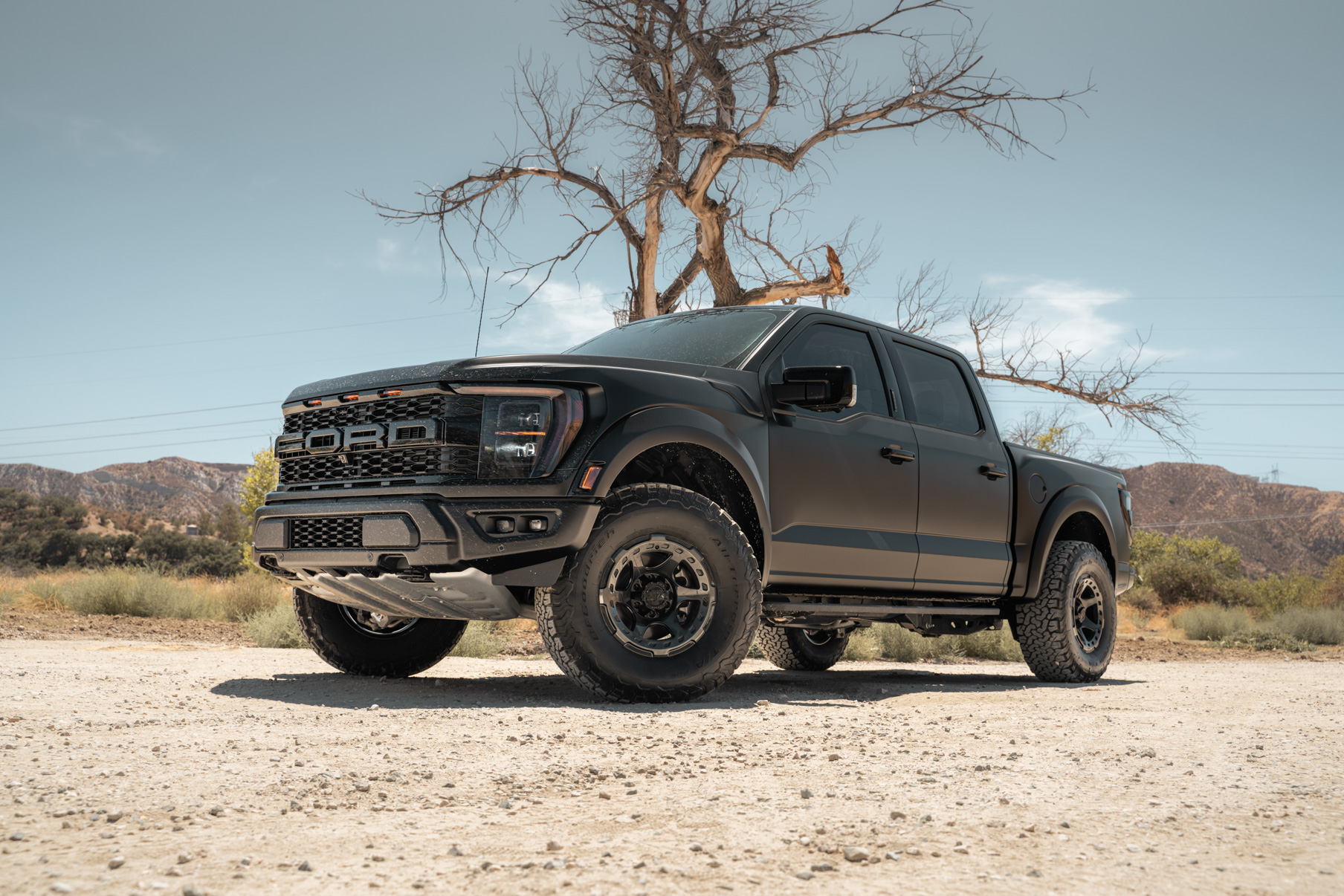 rugged Wheels For the perfect off-road truck
The Ford F-150 Raptor has earned widespread acclaim as one of the most exceptional off-road vehicles on the market. Equipped with a 5-Link Rear end, Fox shocks, high ground clearance, and bold wide-body fenders straight from the factory, this truck is all set up for off-road adventures—except for one missing piece: our perfectly fitted BD-O728 wheels! Featuring the 17″ BD-O728 Wheel in the striking Tinted Machined Black finish, this truck boasts a squared setup and an aggressive fitment style. The Blaque Diamond Off-Road Series presents the ideal companion for all off-road trucks/SUVs, offering a distinct and capable aftermarket wheel choice that guarantees you'll stand out on the trails.
To View the Full Photo Gallery of this Ford F-150 Raptor Click HERE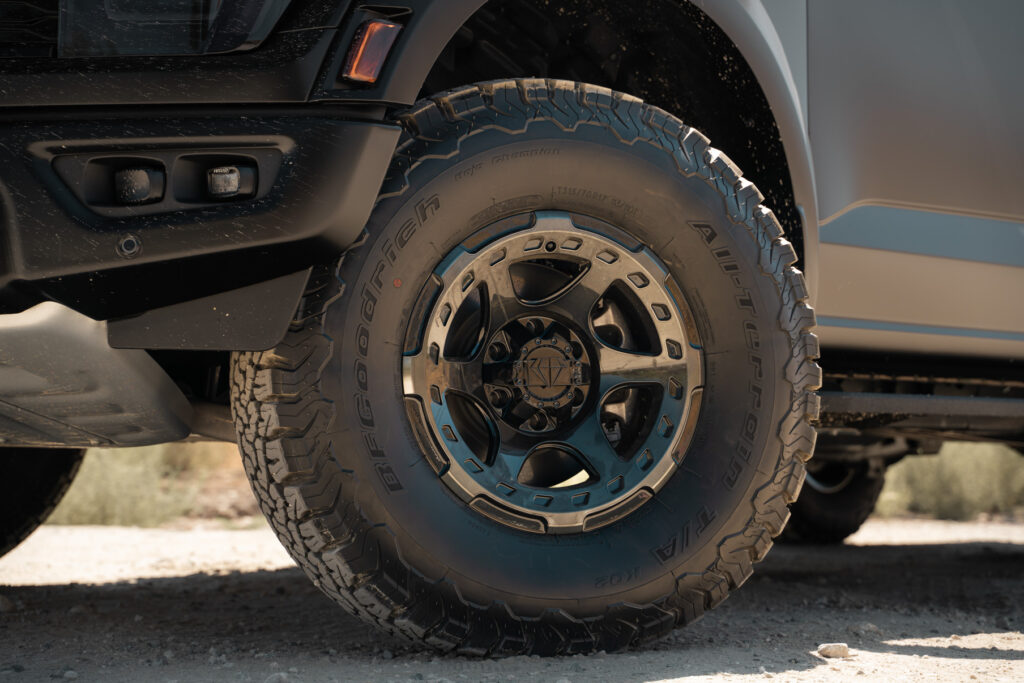 Presenting the formidable Blaque Diamond BD-O728: a robust and rugged wheel hailing from our esteemed Off-Road Series, boasting an unparalleled swept spoke design. The BD-O728 stands ready to conquer any terrain you dare to challenge it with, simultaneously enhancing the aesthetic appeal of your vehicle. In the case of this Raptor, it's been tailored with the sleek Gloss Black/Tinted Machined Face finish, a remarkable option among the trio of factory finishes, which also comprises Textured Black and Matte Bronze. The BD-O728, as part of our expansive Off-Road Series lineup, is offered in various dimensions, including the 17″ size exhibited on this F-150, wrapped in the robust BF Goodrich All-Terrain A/T tires, measuring 315/70/ZR17, in a squared configuration of 17 x 9. This harmonious pairing creates a commanding presence that ensures both style and performance with perfect off-road fitment.
To See More Details About the BD-O728 Wheel Click HERE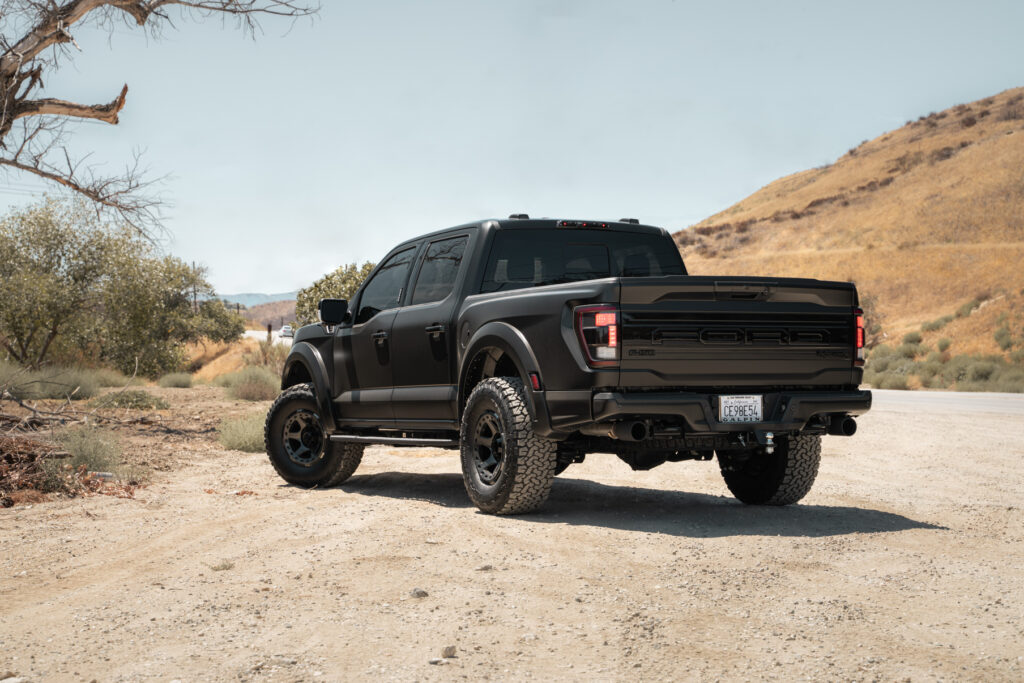 Discover the endless customization possibilities with Blaque Diamond Wheels' Custom Finish program. Our vast network of wheel finish specialists offers unlimited options, including powder coating, gloss, matte, chrome, OEM color matched, anodized, brushed, and more. Transform your wheels into unique works of art that reflect your style. Elevate your vehicle's aesthetic with Blaque Diamond Wheels' Custom Finish program. Our Off-Road Series also includes an option to customize the 3-D Blaque Diamond Center Cap to any custom finish separate from the wheel.

To View Our Custom Wheel Finish Gallery Click HERE
Experience the perfection of custom wheels with Blaque Diamond Wheels' Custom Test Fit program. Our commitment to precision and customization sets us apart. Our Custom Test Fit program ensures a flawless fit and optimal performance by checking multiple offsets and profiles during an in-house test fitting process. Our team of fitment experts with over 20 years of experience is at your service to find the perfect fitment for your ride.
To See More Perfect BD-O728 Fitment Click HERE
Additional Fitment Details
If you wish to find out more about offsets for the car, please feel free to contact our team. We are also able to accommodate custom fitments, bolt patterns, and finishes as per our customer's requests If you have any requests for custom fitments, please don't hesitate to reach out to our team of fitment experts for more information.

Here are some fitment details:
Wheel Model – BD O728 

Wheel Size – 17 x 9 Squared

Wheel Finish – Tinted Machined Black

Tire Model – BF Goodrich All-Terrain A/T
Tire Size – 315/70/ZR17 Squared