Blaque Diamond Off-Road King - Ram 1500 TRX
Prepare to experience the epitome of off-road prowess as we introduce the formidable 2022 Ram 1500 TRX, now elevated with the Blaque Diamond 20″ BD-O801 wheels in a striking matte bronze finish. Embodying aggressive fitment, this powerhouse of a truck radiates unyielding dominance, leaving no doubt that it's designed to conquer any terrain in its path. As the Ram TRX takes to the road and trails with confidence, the BD-O801 wheels ensure that style meets strength for an unforgettable driving experience.
To View the Full Photo Gallery of This Ram TRX Click HERE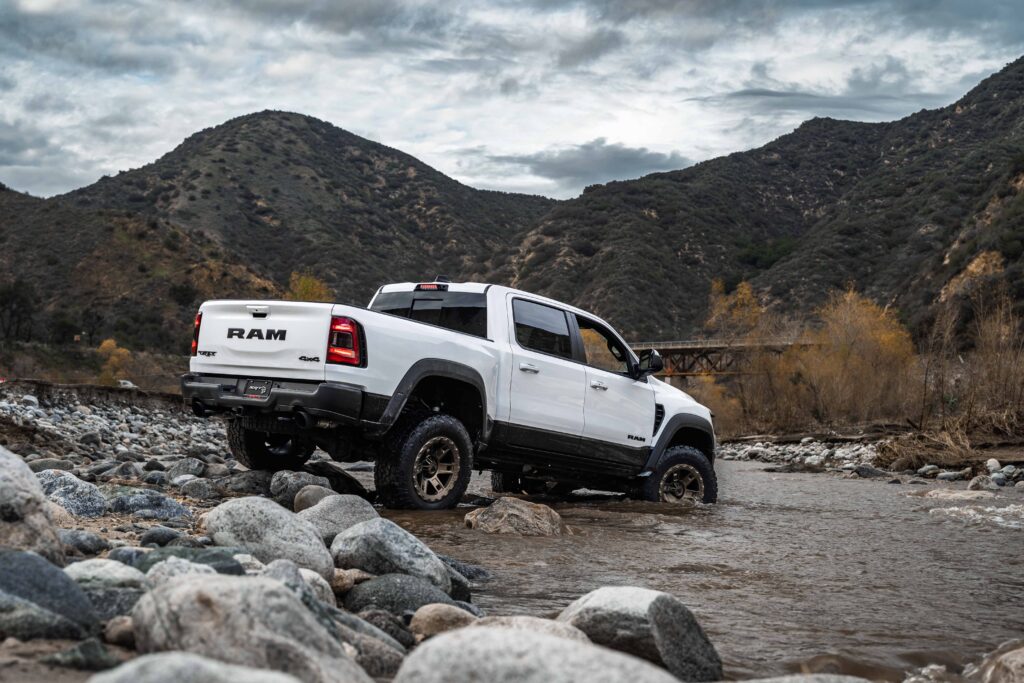 Unparalleled Performance - Rugged Design, Squared Setup, Aggressive Fitment
Prepare to be awe-inspired as we delve into the performance-enhanced capabilities of the Ram 1500 TRX equipped with the Blaque Diamond BD-O801 wheels. With a squared setup and aggressive fitment, these 20 x 10″ Blaque Diamond BD-O801 wheels provide unparalleled stability and control, enhancing the TRX's aggressive stance and empowering it to take on the most challenging terrains with ease.
Complementing the aggressive fitment are the rugged Toyo Open Country A/T tires, measuring an impressive 37/12.5/R20LT. Specifically designed to conquer the most demanding off-road adventures, these tires ensure remarkable grip and traction, allowing the TRX to unleash its full potential. The concave profile of the BD-O801 wheels adds an element of depth and style, further accentuating the Ram 1500 TRX's commanding presence on the road.
The BD-O801 wheels, a pinnacle of engineering, are robust, strong, and capable of enduring the most demanding conditions. The BD-O801 is designed to withstand the rigors of off-road exploration while maintaining its eye-catching appearance. As the Ram 1500 TRX dominates with its incredible performance, the Blaque Diamond BD-O801 wheels complement its capabilities, ensuring a seamless fusion of style and strength.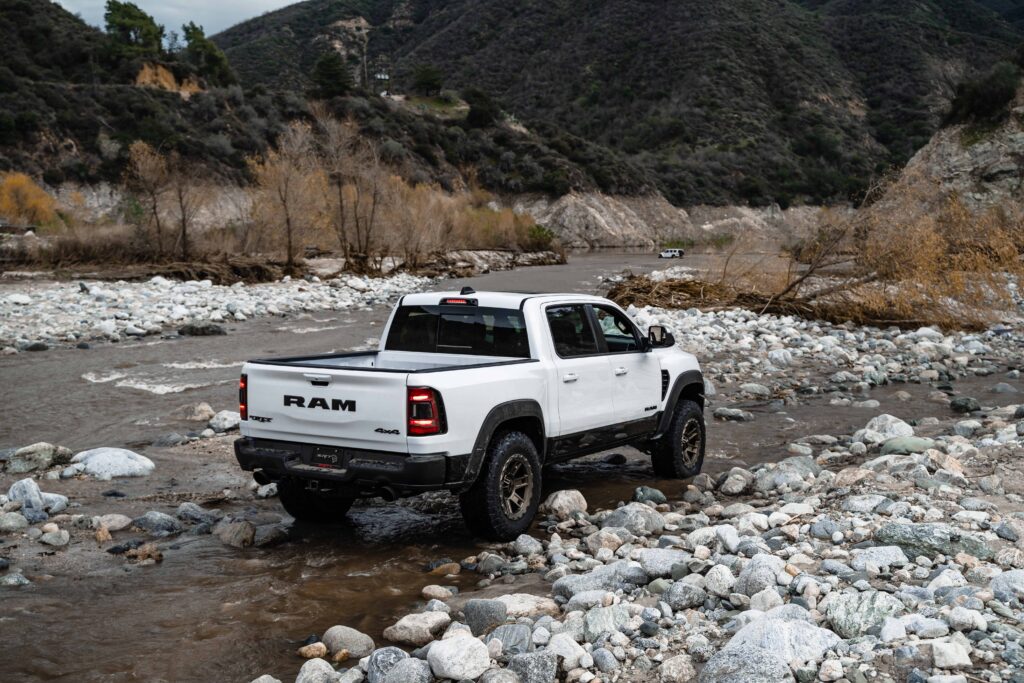 The Beastly TRX Pushed further by Blaque Diamond Wheels BD-O801
Witness the arrival of a true off-road legend; The TRX boasts remarkable off-road capabilities, underpinned by its very powerful 797hp 6.2L HEMI engine, reminiscent of the Dodge Hellcat Redeye. Enhanced by the strength and ruggedness of the BD-O801 wheels, the Ram 1500 TRX emerges as a force to be reckoned with, conquering the toughest trails and commanding attention with its unmatched presence.
The combination of the 2022 Ram 1500 TRX and Blaque Diamond BD-O801 wheels showcases a perfect harmony of style and performance. With strength, ruggedness, eye-catching design, and unmatched capabilities, the BD-O801 wheels elevate the TRX to new heights of excellence. Whether navigating rocky terrains or commanding city streets, this extraordinary pairing promises an unforgettable adventure, a testament to the precision engineering and artistry of Blaque Diamond Wheels. Prepare to be captivated as the Ram TRX 1500 dominates both on and off the road, leaving an indelible mark on the world of off-road exploration.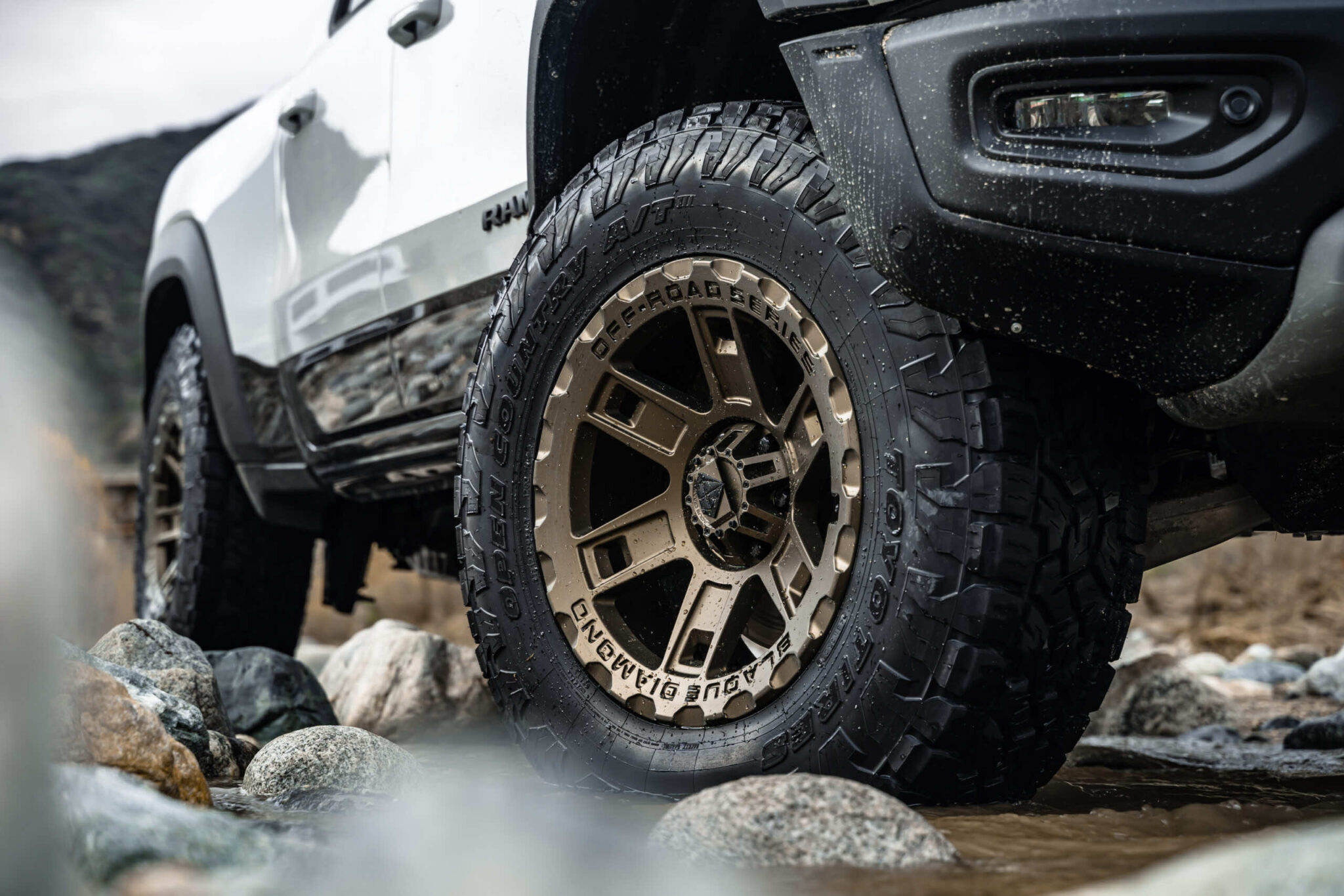 The BD-O801 is an aggressive wheel from our Off-Road Series. This concave 6-spoke design will give a whole new look to any Off-Road Build; with its notched lip, 3-D center cap, and windowed spokes the BD-O801 boasts a truly unique design. The BD-O801 comes in a multitude of factory finishes, Matte Bronze as pictured, Textured Black, and Tinted Machined Black. While the BD-O801 can not be machined like out Flow-Forged and Classic Series, all Blaque Diamond Off-Road Series Wheels come with two drilled blot patters, as well as a positive or negative offset option for achieving the perfect fitment on your off-road vehicle.
To See More Details on the Blaque Diamond BD-O801 Wheel Click HERE
Discover the endless customization possibilities with Blaque Diamond Wheels' Custom Finish program. Our vast network of wheel finish specialists offers unlimited options, including powder coating, gloss, matte, chrome, OEM color matched, anodized, brushed, and more. Transform your wheels into unique works of art that reflect your style. Elevate your vehicle's aesthetic with Blaque Diamond Wheels' Custom Finish program.

To View Our Custom Wheel Finish Gallery Click HERE
Custom Drilling/ Test Fit
Experience the perfection of custom wheels with Blaque Diamond Wheels' Custom Test Fit program. Our commitment to precision and customization sets us apart. Our Custom Test Fit program ensures a flawless fit and optimal performance by checking multiple offsets and profiles during an in-house test fitting process. Our team of fitment experts with over 20 years of experience is at your service to find the perfect fitment for your ride.
Additional Fitment Details
If you wish to find out more about offsets for the car, please feel free to contact our team. We are also able to accommodate custom fitments, bolt patterns, and finishes as per our customer's requests If you have any requests for custom fitments, please don't hesitate to reach out to our team of fitment experts for more information.

Here are some fitment details:
Wheel Model – BD-O801
Wheel Finish – Matte Bronze
Wheel Size – 20×10 – Squared 
Tire Model – Toyo Open Country A/T Tires
Tire Size – 37/12.5/R20LT – Squared