Electric Cars Are Taking Over
As many OEMs evolve with the times and go electric, we are starting to see many of the legacy car manufactures release their take on the next stage of the automotive industry. This 2022 E-tron GT was one of our first builds when the car came out, but definitely not our last. With an elegant yet aggressive silhouette, the E-Tron GT received the Blaque Diamond flow-forged treatment.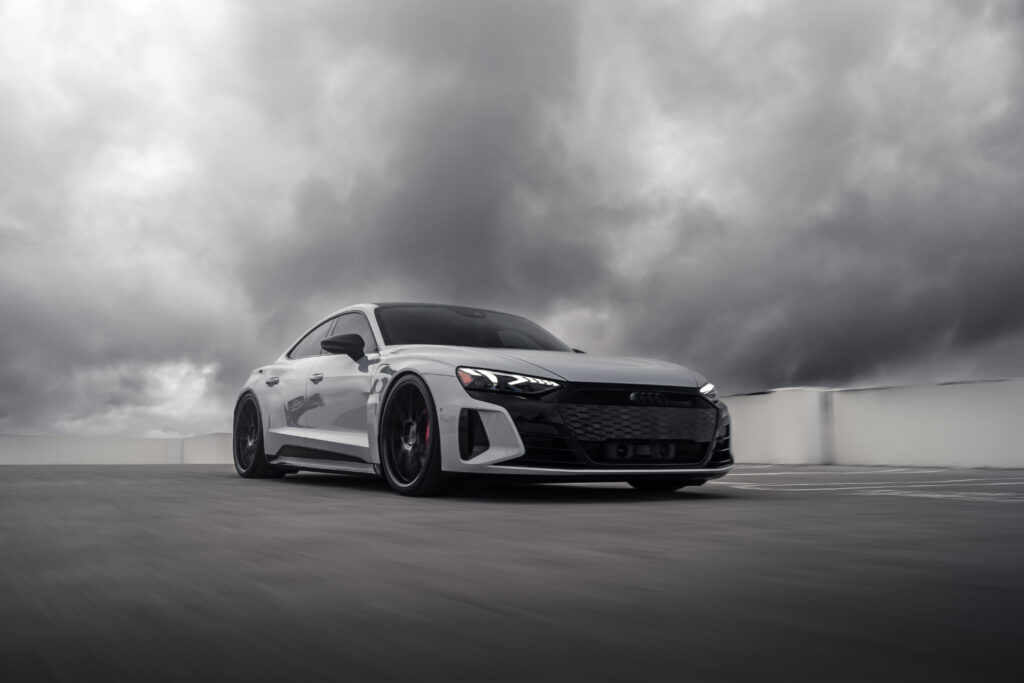 BD-F18 Wheel Specs
As one of our most popular designs from the flow-forged series, the BD-F18 was the wheel of choice for a performance-oriented street car like the E-Tron GT. The wheels were finished in our standard Gloss Black, with 22×9 up front, and 22×11 in the rears. The choice of the finish complemented the gloss red factory calipers to maintain a certain degree of subtlety. The lines of the split spokes of the F18 is the perfect blend of aggressive looks while preserving the elegant lines of the Audi. 
Tire Specs
As with all of our wheels, we are able to accommodate any custom finishes, and custom offsets according to your build. From your OEM+ look, to going full wide-body, we have the ability to accommodate your needs. The tire sizes up front for this E-Tron GT is running 265/30/22, with 315/25/22 in the rears. These Pirelli P Zeros keep the BD-F18s tucked nicely, and is ready to prance on the open road.
Getting the Perfect Stance
The owner is also running some lower links, which offers a modest drop for that proper battle stance, without compromising daily driveability and performance.
If you have any questions on fitment specs like offsets, or is just unsure about how to get the most aggressive fitment possible, speak to our team of fitment specialists! Our team can help you achieve the look you're going for.