About The Toyota Tundra
The new Toyota Tundra has been one of the most covered vehicles in the last year since its debut. Its bold lines and performance options for the 
offroad 
community have been widely celebrated. With a new, community-favorite release like this, it was the perfect platform to show off our new 
off road series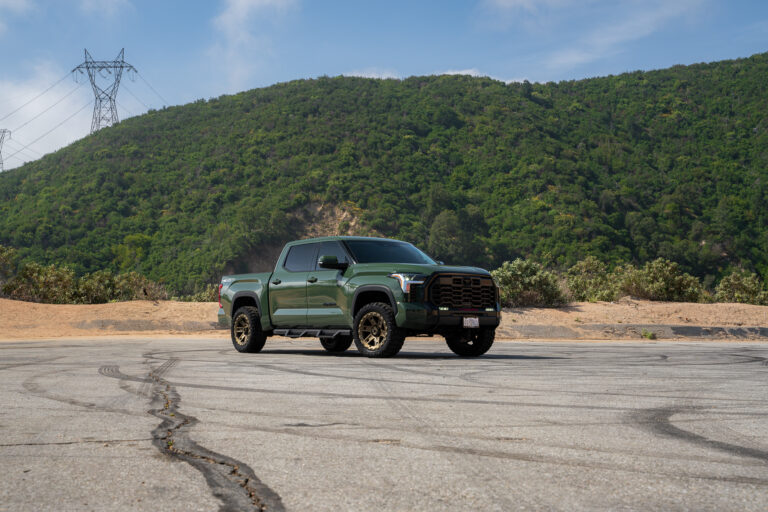 The Perfect Off Road Wheel For The Tundra
As one of our releases to our new 
off road line
, the 
BD-O801
 was the perfect choice for the off road enthusiast who wants the blend of rugged look in a modern, minimal design. Our entire 
offroad 
line including the other models were designed with this mentality in mind. The BD 
offroad 
line is popular amongst the newly released trucks for this exact reason. The 
0801 
comes in Matte Bronze, Textured Black, Tinted Machined Black as standard finishes, and custom finishes upon request.
More Details About The BD-O801
Our offroad wheels are able to accommodate custom fitment, along with custom finishes, just like our other series of wheels. We understand that tire sizes may be a little more complex than a regular sedan, so please feel free to reach out to our team if you have any fitment related questions. If you are curious about offset ranges, we'd be happy to provide the information as well.
If you have more questions about our newly released off road series, you can find more information about them here.
Toyota Tundra Build Details
For extra mods on the car, the owner was able to upgrade a new leveling kit, with factory brake systems on a custom gloss red calipers. Since the car was recently delivered, the owner wanted to enjoy how the car came from the OEM before giving into the mod bug.
Additional Fitment Details
Here are some fitment details:
BD – 0801 finished in Matte Bronze in 20×10 Squared
Running RDR Red Firt Road M/T
Front Tire Size at 33×12.50R20
Rear Tire Size at 33×12.50R20