ABOUT THE G80 BMW M3
The G80 M3 has been one of the most controversial releases from BMW in recent years. Regardless of opinions, we wanted to put our Blaque Diamond touch to the build the best way we knew how.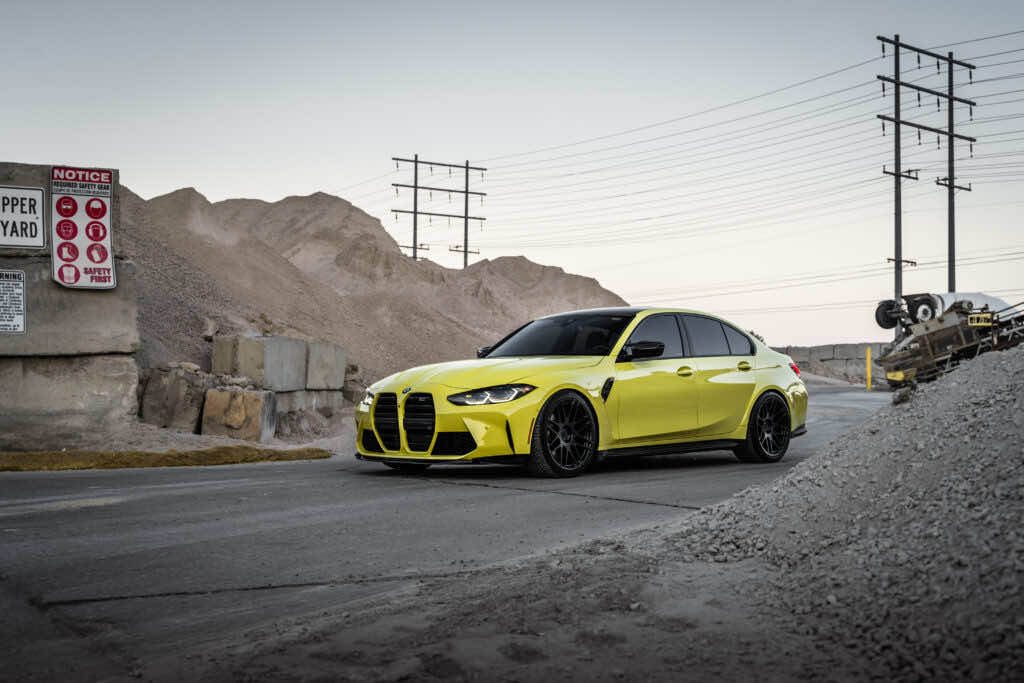 About the BD-F12
The BMW M3 has long been the staple of compact sport sedans. This particular one has a gorgeous Sao Paola Yellow with multiple black and carbon accents all around. Hence why the owner decided on the Satin Black F12 from our flow forged series. Our F12 was our take on the motorsport-inspired look. We love how the cross-spoke design looks and wanted to make sure we gave it the extra details that make it a true Blaque Diamond design.
As part of our flowforged series, the F12 was constructed to be the perfect blend of lightweight construction, and durability. The F12 is one of those wheels that looks right at home in any sports sedans. The standard finishes include Satin Black this M3 is rocking, as well as brushed silver. Although the F12 is only available in the 20s, the concave profile of the wheels can add to the side profile and lines of your car.
Options For the BD F-12
As with all Blaque Diamond wheels, the F12 is able to be custom finished, with custom fitments and PCD to make sure we nail the look you're going for. These are all done in-house, with in-house measurements – meaning you'll be able to get quality straight from the manufacturer. We also have the ability to customize the center caps as you wish, giving you extra detail on the list to be able to customize.
BMW M3 Build Details
This particular M3 is running some aftermarket AST Springs for a nice drop, along with some Brembo blue calipers. It also has a custom exhaust and downpipe for a nice-sounding rear end. Our vendor Lopez Tire in La Puente, California, was the shop behind this clean build. Special thanks to their team for killing it on the look!