An OEM+ Mercedes S580 on Blaque Diamond BD-715
In the luxury vehicles market, the Mercedes-Benz S-Class has always stood in a class of its own. Uniting power, elegance, and cutting-edge technology, the 2023 Mercedes-Benz S580 takes refinement to new heights. To enhance its sophisticated appearance, Blaque Diamond Wheels introduces the 22″ Blaque Diamond BD-715 Classic Series wheels, meticulously fitted to the S580's fender, delivering luxurious aesthetics and an unparalleled driving experience with a flush staggered fitment.
To View the 2023 Mercedes-Benz S580 Full Photo Gallery Click HERE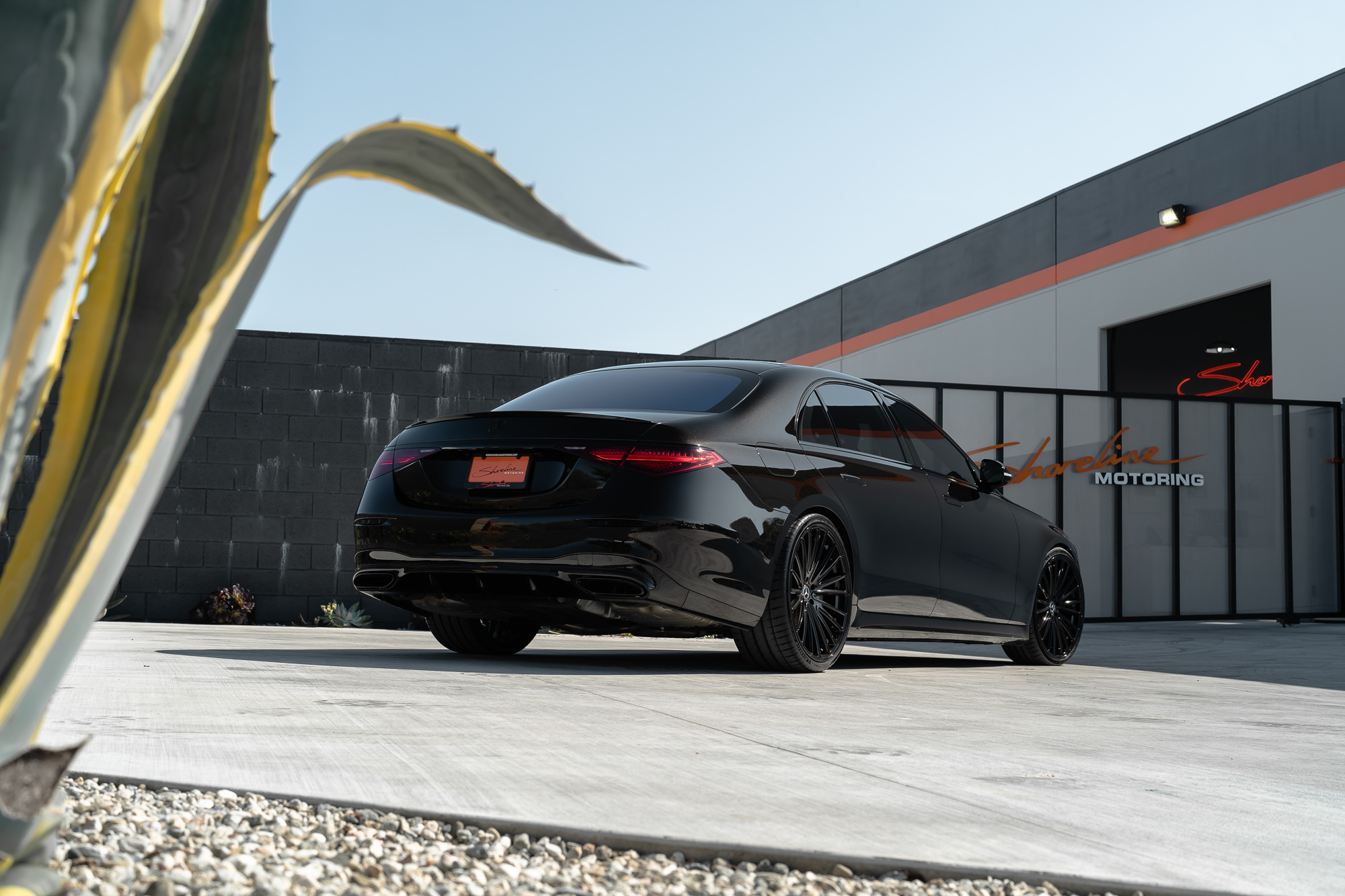 perfectly fitted wheels for the Premier Mercedes
The visual impact of a vehicle often relies heavily on its fitment, and the Blaque Diamond BD-715 wheels excel in this role. Presented in Gloss Black, the BD-715 wheels are equipped with 22 x 9 inches in the front and 22 x 10.5 inches in the rear, perfectly complementing the S580's opulent appeal. These luxurious Blaque Diamond wheels are manufactured with advanced techniques, resulting in a design that exudes sophistication.
Featuring a sleek yet bold design, the BD-715 wheels effortlessly combine modernity and elegance, accentuating the vehicle's lines and contours. The multi-spoke configuration adds a touch of dynamism to the overall profile of the S580. Each spoke is meticulously crafted, creating a sense of motion that conveys the power and agility of this magnificent luxury sedan. With a harmonious balance between strength and grace, the brand-new Blaque Diamond BD-715 wheel delivers a captivating visual treat that turns heads wherever you go.
To complete the package, the S580 is equipped with Michelin Pilot Sport 4S tires, ensuring exceptional performance on the road. The front tires boast a size of 255/30/ZR22, while the rear tires are sized at 295/25/ZR22. This fitment perfectly complements the BD-715 wheels, providing a seamless combination of style and functionality.
To See More Details About the Blaque Diamond BD-715 Wheels Click HERE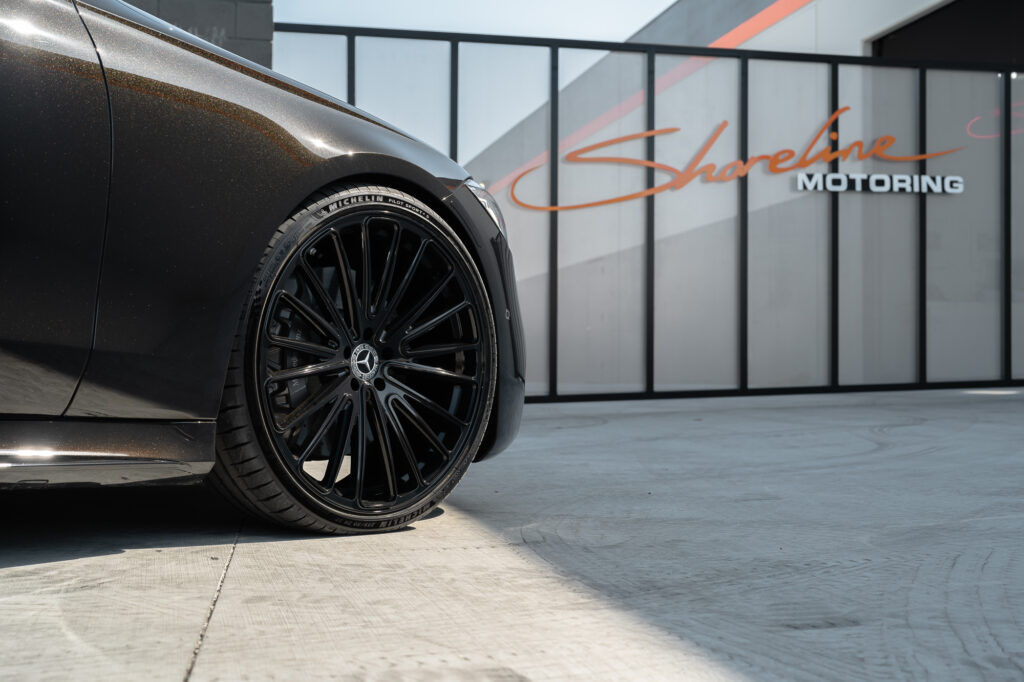 Achieving Perfect Flush Fitment on the S580
Blaque Diamond Wheels is renowned for its commitment to precision and quality. The BD-715 wheels exemplify this dedication through their impeccable fitment on the Mercedes-Benz S580. Our team of in-house fitment experts helps all our customers reach the ideal fitment for their vehicle, and this S580 is no different. When our friends at Shoreline Motoring asked us for new wheels for their S580 we knew precisely the wheel for the job, the BD-715 with exact fitment achieved through an in-house test fit with our team. 
The BD-715 wheels are available in various sizes and finishes, allowing you to customize your ride according to your unique taste and style. Whether you prefer a classic silver finish for a timeless appeal or a bold black finish for a contemporary edge, Blaque Diamond offers options to suit every preference. Blaque Diamond Wheels also offers an extensive Custom Finish Program for next-level wheel customization. Our wheels are designed to fit perfectly on many luxury vehicles, including this S580, ensuring optimal performance and a comfortable ride.
Custom Drilling/ Test Fit Program
Immerse yourself in the world of flawless custom wheels with Blaque Diamond Wheels' exceptional Custom Test Fit and Custom Drilling programs. Our unwavering dedication to precision and customization sets us apart from the rest. With our Custom Test Fit program, we guarantee a seamless fit and unparalleled performance by meticulously checking multiple offsets and profiles during an in-house test fitting process. This ensures that your wheels not only look stunning but also deliver optimal functionality.
Furthermore, our Custom Drilling program allows for precise offsets and tailor-made bolt patterns, accommodating even the most specific requirements. Whether you seek maximum width or an alluring concave look, we have you covered. Our experts will work closely with you to maximize width and concave for any vehicle, ensuring a truly customized and head-turning appearance.
At Blaque Diamond Wheels, we understand that time is of the essence. That's why we prioritize a quick turnaround, so you can enjoy your personalized wheels sooner than you think. Say goodbye to compromises and settle for nothing less than perfection—choose Blaque Diamond Wheels for an unrivaled combination of style and performance.
Discover the endless customization possibilities with Blaque Diamond Wheels' Custom Finish program. Our vast network of wheel finish specialists offers unlimited options, including powder coating, gloss, matte, chrome, OEM color matched, anodized, brushed, and more. Transform your wheels into unique works of art that reflect your style. Elevate your vehicle's aesthetic with Blaque Diamond Wheels' Custom Finish program.

To View Our Custom Wheel Finish Gallery Click HERE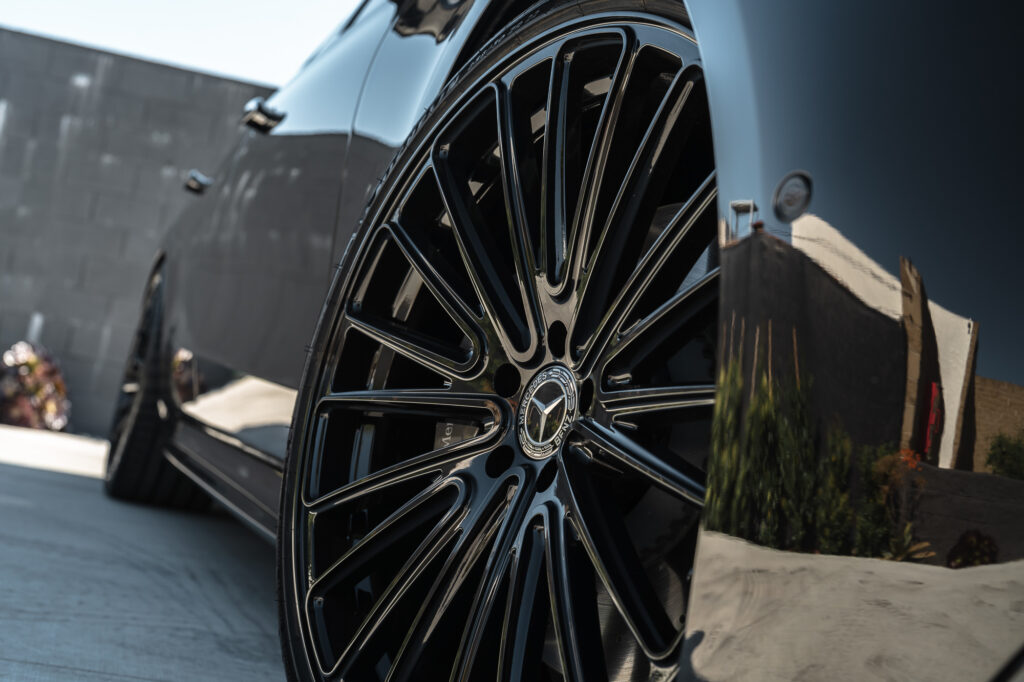 The Best Wheels for the S580
In the world of luxury vehicles, every detail matters, and the wheels play a pivotal role in elevating the overall aesthetic. With the Blaque Diamond BD-715 wheels on your 2023 Mercedes-Benz S580, you can enhance its luxurious look, making a statement with every turn. Crafted with precision and designed to seamlessly fit the vehicle, these wheels are an embodiment of sophistication and style.
Upgrade your S580 with Blaque Diamond's BD-715 wheels and experience the pinnacle of luxury and refinement. Indulge in the flawless fusion of performance, design, and craftsmanship that will leave an indelible impression on all who encounter your magnificent ride.
Additional Fitment Details
If you wish to find out more about offsets for the car, please feel free to contact our team. We are also able to accommodate custom fitments, bolt patterns, and finishes as per our customer's requests If you have any requests for custom fitments, please don't hesitate to reach out to our team of fitment experts for more information.

Here are some fitment details:
Wheel Model – BD 715 
Wheel Finish Gloss Black
Wheel Size Front – 22 x 9
Wheel Size Rear – 22 x 10.5
Tire Model – Michelin Pilot Sport 4S
Tire size Front – 255/30/ZR22
Tire Size Rear – 295/25/ZR22