The Electric Rivian on Custom off-road wheels
In the realm of electric vehicles, Rivian has established itself as a pioneer, and its latest offering, the 2023 Rivian R1T, exemplifies its commitment to innovation. This revolutionary electric pickup truck combines cutting-edge technology with rugged capability, making it a true game-changer. Blaque Diamond Wheels proudly presents the 20″ BD-O801, a wheel that enhances the rugged appearance of the Rivian R1T as well as its capabilities and durability.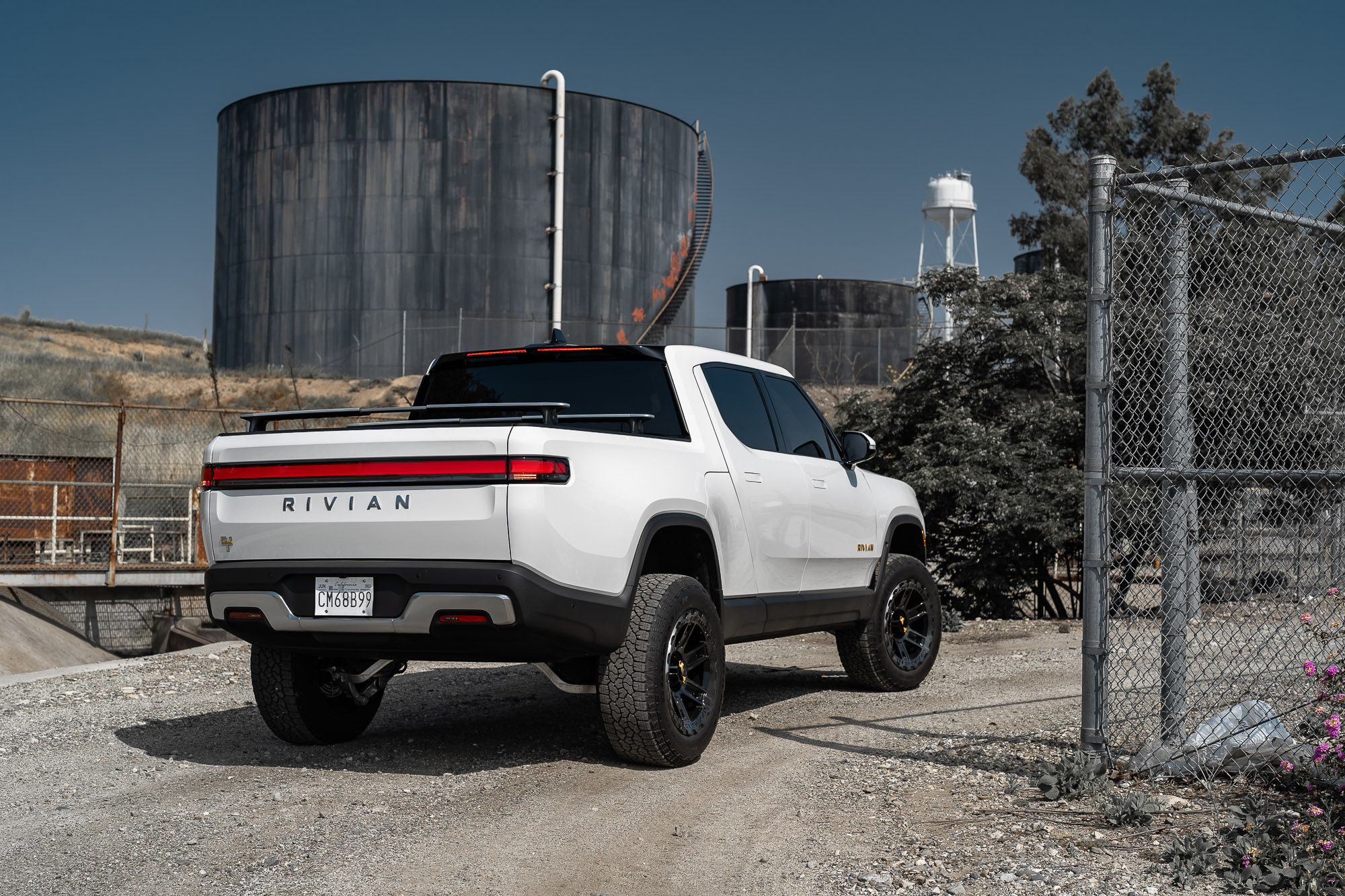 Superior Performance, fitment, and Durability
Built to withstand the harshest conditions, the BD-O801 wheel ensures the Rivian R1T is ready to conquer new frontiers. Blaque Diamond Wheels has always been synonymous with exceptional performance and durability, and the BD-O801 is no exception. Designed with off-road capabilities in mind, these wheels are constructed using high-quality materials and advanced manufacturing techniques. The BD-O801 strikes the perfect balance between strength, weight, and performance, allowing the Rivian R1T to tackle any terrain with ease.
Featuring a sleek and stylish Tinted Machined Black finish, the BD-O801 wheels add a touch of rugged elegance to the Rivian R1T. With a size of 20 x 9 in the front and rear, these wheels provide a balanced and aggressive stance, ensuring a commanding presence on and off the road.
To complement the exceptional performance of the BD-O801 wheels, the Rivian R1T is rocking Goodyear Trail Runner A/T tires. These all-terrain tires are designed to handle the toughest of off-road conditions while providing a smooth and comfortable ride on paved surfaces. With a tire size of 275/60/R20 squared, the Rivian R1T strikes the perfect balance between grip, durability, and versatility.
Whether it's traversing rugged landscapes, hauling heavy loads, or simply embarking on an epic adventure, the combination of the BD-O801 wheels and Goodyear Trail Runner A/T tires ensures that the Rivian R1T is ready for every challenge. With durability and reliability at its core, this wheel, and tire setup guarantees optimal performance and peace of mind during any off-road expedition.
Experience the thrill of pushing boundaries with the Blaque Diamond BD-O801 wheels and Goodyear Trail Runner A/T tires. Unleash the full potential of your Rivian R1T and embrace a new level of adventure and exploration.
To See More Details About the Blaque Diamond BD-O801 Click HERE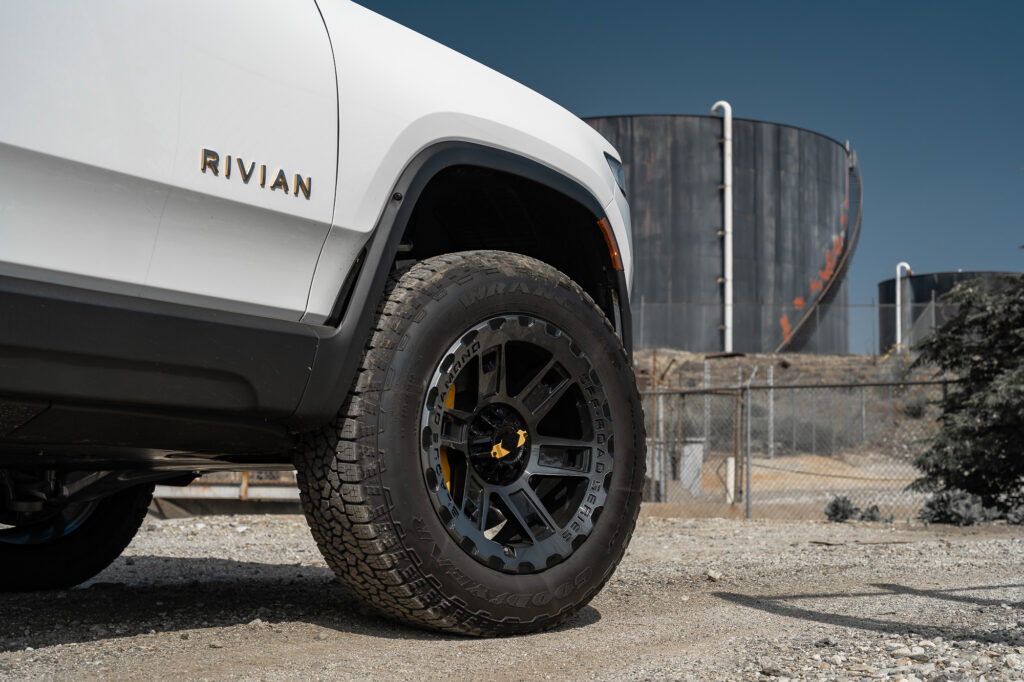 The Rugged Aesthetics of the BD-O801 off-road wheels
Blaque Diamond Wheels understand that the Rivian R1T is not just a vehicle; it's an embodiment of adventure and power. The BD-O801 wheel in Tinted Machined Black perfectly complements its rugged and robust design. With its bold and aggressive appearance, the BD-O801 adds an extra layer of strength and style to the already formidable presence of the Rivian R1T.
The BD-O801 wheel features a commanding split-spoke design that exudes confidence and toughness. Its intricate details and precise craftsmanship are a testament to Blaque Diamond's commitment to quality. The Tinted Machined Black finish accentuates the wheel's contours and adds a touch of sophistication. It's a wheel that demands attention and perfectly complements the Rivian R1T's adventurous spirit.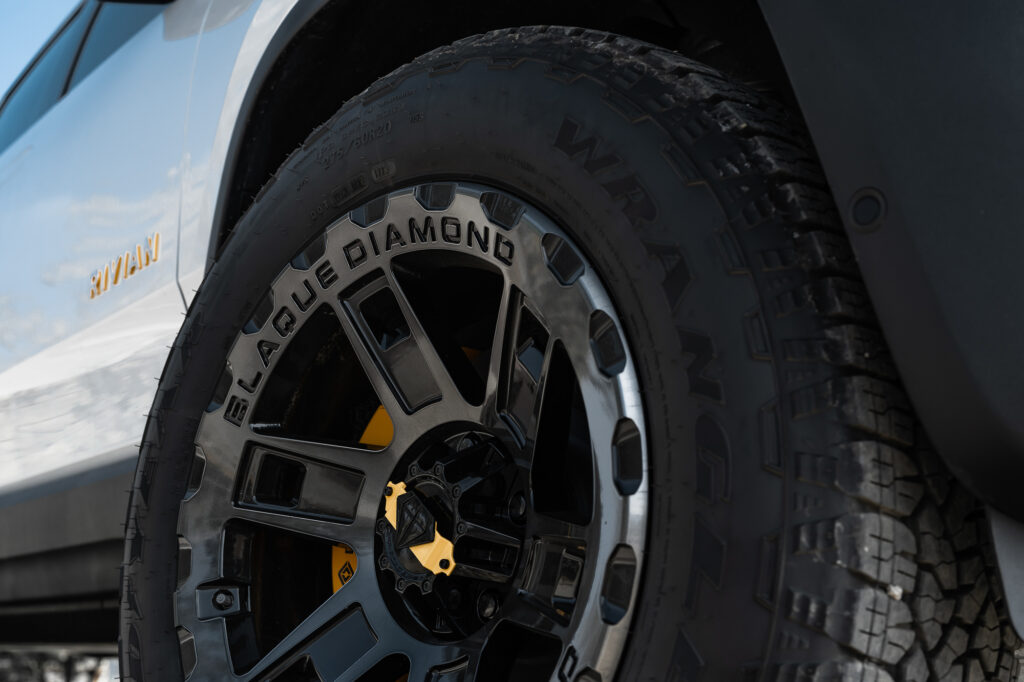 The Best custom Wheels for the Rivian R1T
The 2023 Rivian R1T is a marvel of technological innovation;  The BD-O801 is the perfect complement to the modern Rivian's aesthetics and capabilities. These rugged and aggressive wheels accentuate the Rivian R1T's adventurous nature while exemplifying Blaque Diamond's commitment to quality and performance. As you embark on your next off-road adventure, let the BD-O801 wheels redefine your journey with their exceptional design and durability. 
Here at Blaque Diamond Wheels, we continue to push the boundaries of wheel design, what better truck for our wheels to sit on than the cutting-edge Rivian R1T? The Rivian R1T equipped with BD-O801 wheels showcases a harmonious blend of advanced technology and rugged aesthetics. Prepare to conquer new frontiers with the perfect balance of innovation and style, courtesy of Blaque Diamond Wheels.
Experience the perfection of custom wheels with Blaque Diamond Wheels' Custom Test Fit program. Our commitment to precision and customization sets us apart. Our Custom Test Fit program ensures a flawless fit and optimal performance by checking multiple offsets and profiles during an in-house test fitting process.
 To See More Custom BD-O801 Fitments Click HERE
Discover the endless customization possibilities with Blaque Diamond Wheels' Custom Finish program. Our vast network of wheel finish specialists offers unlimited options, including powder coating, gloss, matte, chrome, OEM color matched, anodized, brushed, and more. Transform your wheels into unique works of art that reflect your style. Elevate your vehicle's aesthetic with Blaque Diamond Wheels' Custom Finish program.

To View Our Custom Wheel Finish Gallery Click HERE
Additional Fitment Details
If you wish to find out more about offsets for the car, please feel free to contact our team. We are also able to accommodate custom fitments, bolt patterns, and finishes as per our customer's requests If you have any requests for custom fitments, please don't hesitate to reach out to our team of fitment experts for more information.

Here are some fitment details:
Wheel Model – BD O801
Wheel Finish – Tinted Machined Black 
Wheel Size – 20 x 9 Squared
Tire Model – Goodyear Trail Runner A/T
Tire size – 275/60/R20 Squared