High-Performance custom wheels c7 z06
The C7 Z06 holds a special place in the Chevrolet line as likely the last-ever manual Corvette to ever be produced. Many purists describe this car as "the last real Corvette" because of its manual transmission option and front engine configuration, as every Corvette had been since 1953. This modified Corvette C7 Z06 is fitted with a set of 20″ Blaque Diamond BD-F25 Flow-Forged Series Wheels in stunning Gloss Black to elevate the Corvette to new levels of performance and style
To View the Full Photo Gallery Click HERE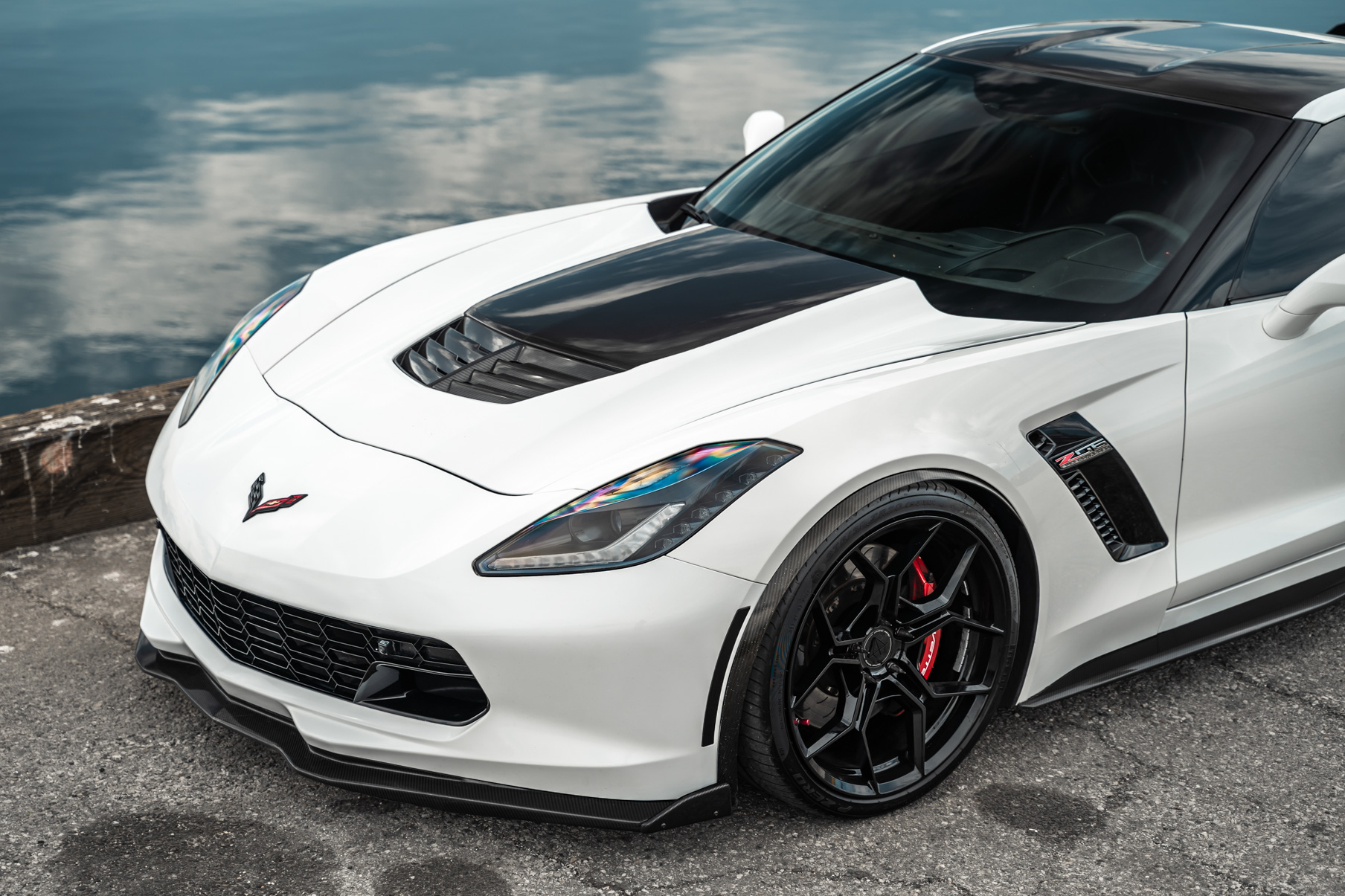 Corvette - The Ultimate Weekend Warrior
This Corvette Z06 is specced to perfect flush fitment running the Blaque Diamond BD-F25. The Flow-Forged Technology of the BD-F25 creates a wheel with increased strength and lightness to help you feel more response from the road and help your car perform at its car's best. This is vital for such a driver-focused car like the C7 Z06. This car is fast and light, riding on performance coil-overs, 20×10″ Front, and 20×12″ Rear Blaque Diamond BD-F25 wheels, The BD-F25 is from our Flow-Forged Series, all Flow-Forged Blaque Diamond Wheels are incredibly lightweight and strong thanks to the advanced flow-forming manufacturing and advanced high-performance design. The BD-F25 comes in multiple deep concave profiles, the concavity and high clearance design of the BD-F25 allowed for ideal clearance of the Z06 brake calipers and ideal fitment. Wrapping up the BD-F25s are the Michelin Pilot Sport A/S 3 tires, 275/30/ZR20 Front, 335/25/ZR20 Rear. Pair this with the famously powerful LS V8 engine and you get one of the purest sports car driving experiences available.
The Perfect wheels for the z06
The BD-F25 wheel fits perfectly with the styling of the modern angular C7, it's like it was made for wheels like the F25. The Corvette's styling is very sharp and aggressive, and with its clean white finish and bright red big brake kit, we knew the build would look best with the more subtle yet refined Gloss Black BD-F25. The owner's customization also includes smoked headlights, blacked-out trim, clear taillights, and red hardware accents to add to the high performance Z06 package.
To See More Details About the BD-F25 wheel Click HERE
Discover the endless customization possibilities with Blaque Diamond Wheels' Custom Finish program. Our vast network of wheel finish specialists offers unlimited options, including powder coating, gloss, matte, chrome, OEM color matched, anodized, brushed, and more. Transform your wheels into unique works of art that reflect your style. Elevate your vehicle's aesthetic with Blaque Diamond Wheels' Custom Finish program.

To View Our Custom Wheel Finish Gallery Click HERE
Custom Drilling/ Test Fit
Experience the perfection of custom wheels with Blaque Diamond Wheels' Custom Test Fit and Custom Drilling programs. Our commitment to precision and customization sets us apart. Our Custom Test Fit program ensures a flawless fit and optimal performance by utilizing our team of fitment experts to test multiple offsets and profiles during an in-house test fitting process. Our Custom Drilling program allows for exact offsets and custom bolt patterns, accommodating even the most specific requirements. Don't settle for less—choose Blaque Diamond Wheels for unmatched style and performance.
Additional Fitment Details
If you wish to find out more about offsets for the car, please feel free to contact our team. We are also able to accommodate custom fitments, bolt patterns, and finishes as per our customer's requests If you have any requests for custom fitments, please don't hesitate to reach out to our team of fitment experts for more information.

Here are some fitment details:
Wheel Model – BD F25
Wheel Finish – Gloss Black 
Wheel Size Front – 20×10
Wheel Size Rear – 20×12 in Rear
Tire Model Front – Pirelli P-Zero 
Tire Model Rear – Michelin Pilot Sport A/S 3
Tire Size Front – 275/30/ZR20
Tire Size Rear – 335/25/ZR20