Clean wheels for a clean mustang Build
Everything about this build is just clean to the max, from the uniform silver color with black roof and side stripes, to the RTR front lights, to the stunning 20″ BD-F25 wheels fitted flush in Brushed Silver; This Mustang is just too clean to ignore.
To View the Full Photo Gallery of This Ford Mustang Click HERE
Achieving the perfect fitment for the Mustang
The 2016 Ford Mustang is a great-looking car from the factory, but the factory wheels definitely leave a lot to be desired. The BD-F25 transforms the look of this car from just another Mustang to a truly unique and aggressive build. The aggressive look of this car is helped greatly by the angular modern design of the BD-F25 and the clean flush fitment specced by our team of in-house fitment experts.
But the customization doesn't end there. For those seeking even more performance and style, we offer the option of the Blaque Diamond BD-F25 wheels for your Ford Mustang. Available in sizes 20×10 in the front and 20×11 in the rear, these wheels are precisely engineered to provide the perfect fitment for your Mustang, enhancing its stance and performance.
Paired with high-performance Nitto NTSSS G2 Tires, measuring 275/35/ZR20 in the front and 305/35/ZR20 in the rear, the BD-F25 wheels offer exceptional grip and handling. Embrace the perfect combination of style and functionality as you unleash the full potential of your Ford Mustang with these exquisite wheels.
Transform your Mustang into an aggressive and head-turning machine with the BD-F25 wheels. With the angular modern design and clean flush fitment, your Mustang will stand out from the crowd and make a bold statement wherever it goes. Elevate your driving experience with Blaque Diamond's unparalleled craftsmanship and style, and redefine the way you experience the road with the BD-F25 wheels.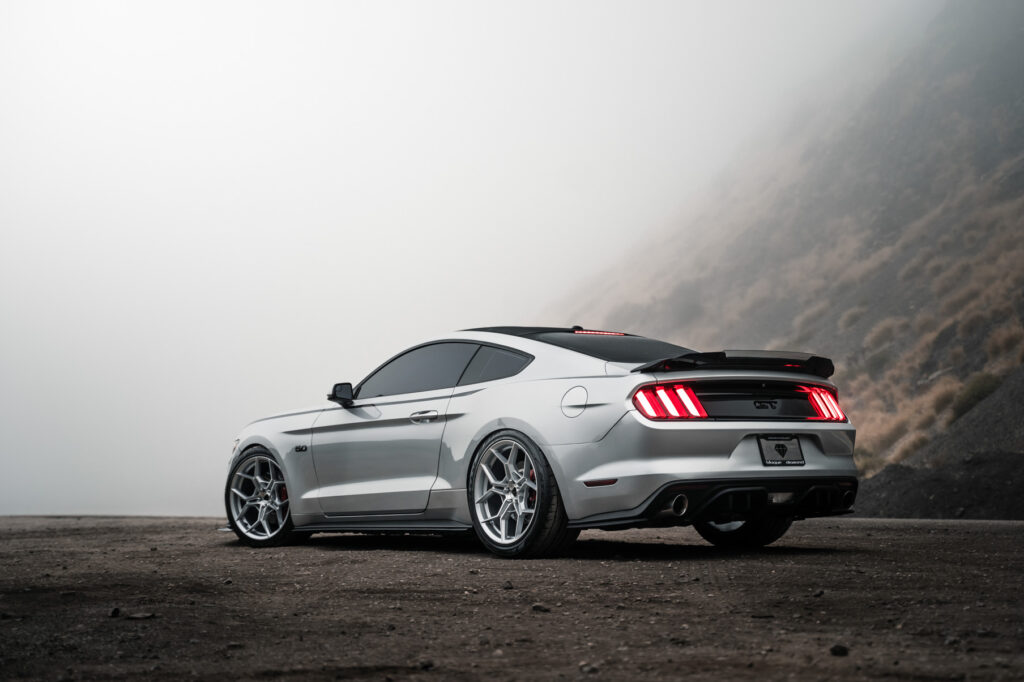 The BD-F25 is one of our most popular wheel design, and for good reason! This design stands out from the crowd and pairs very well with modern cars with aggressive styling like the Mustang. The F25 is a part of our Flow-Forged Series, our forged wheels are very light and performance-oriented, providing better road feel and handling for your ride. The BD-F25 comes in a wide variety of sizes from 19″-24″ in diameter, and widths of 9″-12″. The factory finish options include the pictured Brushed Silver, and the elegant Gloss Black; For those looking for a little more color in their build check out our Custom Finish Program where we can accommodate any custom finish on our wheels through our vast network of wheel finishing locations.
Discover the endless customization possibilities with Blaque Diamond Wheels' Custom Finish program. Our vast network of wheel finish specialists offers unlimited options, including powder coating, gloss, matte, chrome, OEM color matched, anodized, brushed, and more. Transform your wheels into unique works of art that reflect your style. Elevate your vehicle's aesthetic with Blaque Diamond Wheels' Custom Finish program.

To View Our Custom Wheel Finish Gallery Click HERE
Custom Drilling/ Test Fit
Experience the perfection of custom wheels with Blaque Diamond Wheels' Custom Test Fit and Custom Drilling programs. Our commitment to precision and customization sets us apart. Our Custom Test Fit program ensures a flawless fit and optimal performance by utilizing our team of fitment experts to test multiple offsets and profiles during an in-house test fitting process. Our Custom Drilling program allows for exact offsets and custom bolt patterns, accommodating even the most specific requirements. Don't settle for less—choose Blaque Diamond Wheels for unmatched style and performance.
Additional Fitment Details
If you wish to find out more about offsets for the car, please feel free to contact our team. We are also able to accommodate custom fitments, bolt patterns, and finishes as per our customer's requests If you have any requests for custom fitments, please don't hesitate to reach out to our team of fitment experts for more information.

Here are some fitment details:
Wheel Model – Blaque Diamond BD-F25 
Wheel Finish – Brushed Silver
Wheel Size Front – 20×10
Wheel Size Rear – 20×11 in the Rear
Tire Model – Nitto NTSSS G2 tires
Tire Size Front – 275/35/ZR20
Tire Size Rear – 305/35/ZR20