The Ultimate ferrari 488 build
The owner of this Ferrari 488 GTB truly went all out with the customization of his car, from the aggressive aero package, custom teal wrap, and the stunning 20″ Blaque Diamond BD-F18 Flow-Forged Series wheels in a custom gloss white finish. This Ferrari is truly the pinnacle of performance and styling.
To View the Full Photo Gallery of This Ferrari 488 Click HERE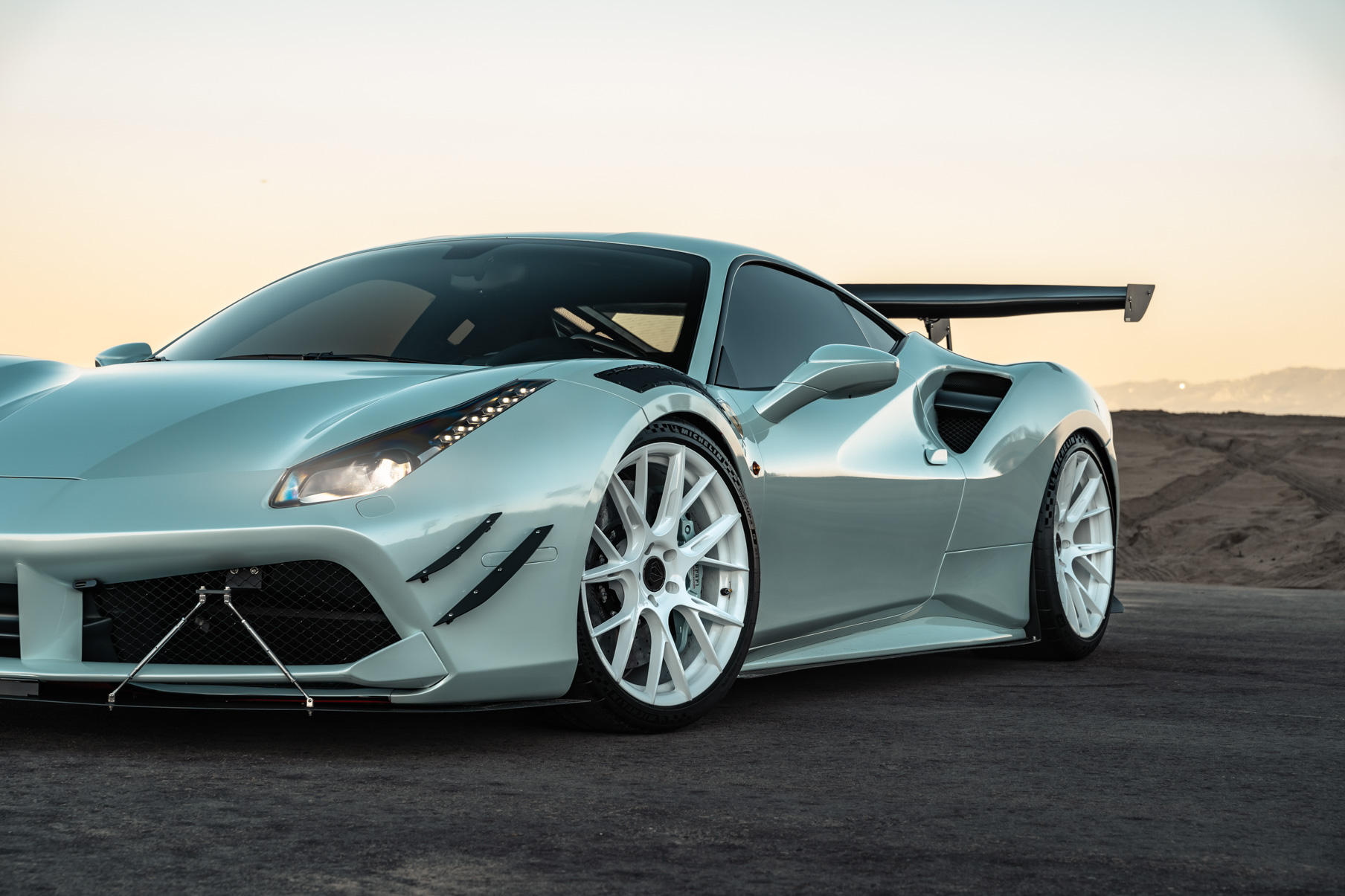 Perfect fitment for a perfect build
Welcome to a world where power and performance meet unparalleled style and elegance. We are thrilled to introduce to you this highly modified Ferrari 488 GTB, a true masterpiece that redefines automotive perfection in every detail. At the heart of this extraordinary supercar lies the awe-inspiring 20″ Blaque Diamond BD-F18 Flow Forged Series wheels, customized in a stunning Gloss White finish. With an eye-catching teal wrap that accentuates its aggressive lines, this GTB exudes an aura of unmistakable allure. These custom BD-F18 wheels serve as the epitome of sophistication, complementing the 488 GTB's iconic silhouette with a touch of refinement and opulence.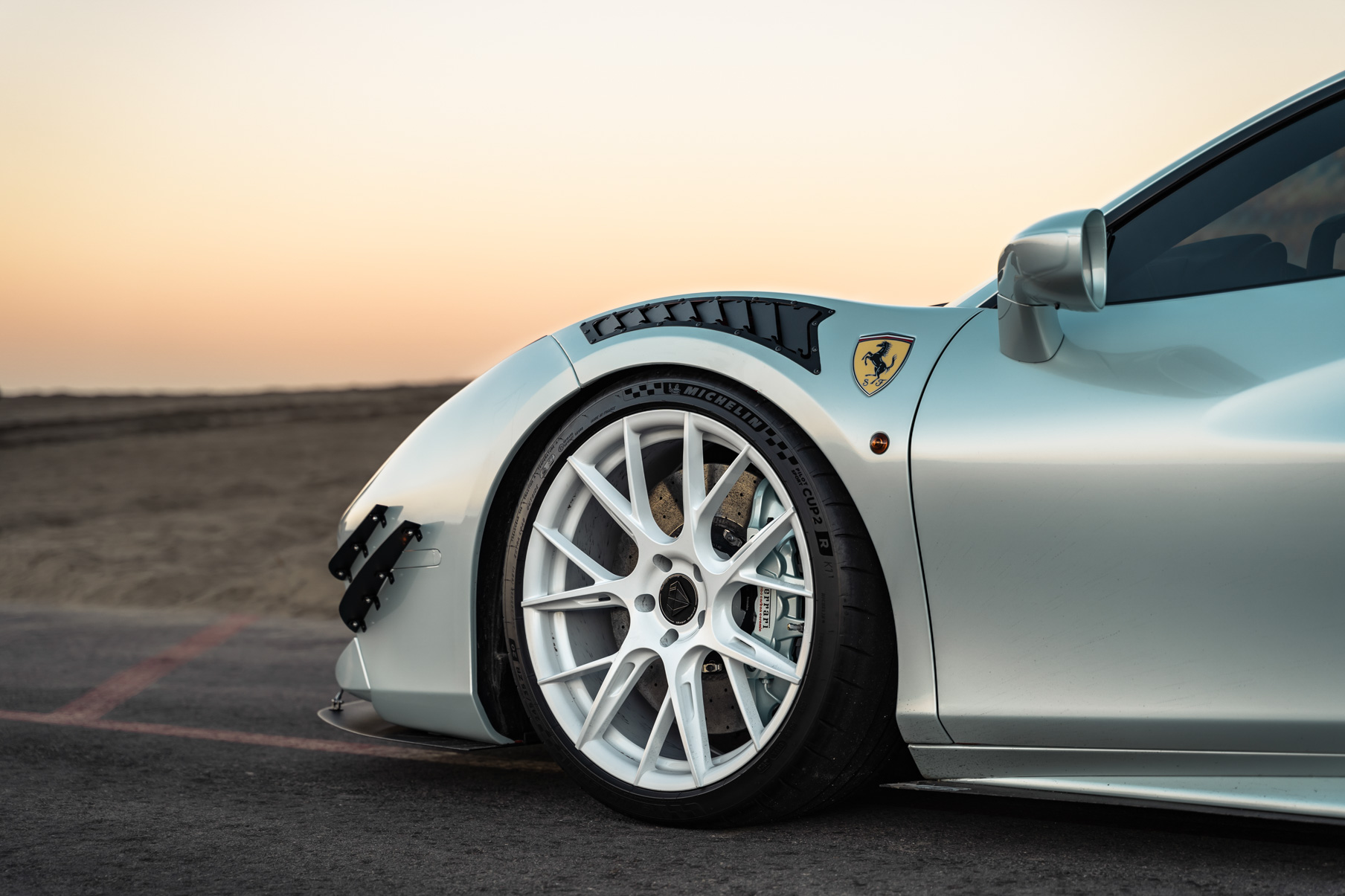 Blaque Diamond - Ferrari 488 GTB Build Details
Prepare for an exhilarating driving experience with the highly modified Ferrari 488 GTB, featuring a perfect fusion of aesthetics and performance. Equipped with custom Blaque Diamond BD-F18 wheels in a staggered setup, this GTB strikes the ideal stance between front and rear, enhancing its aggressive aesthetic and delivering precise handling on every twist and turn. The flush fitment ensures a seamless connection between the tires and the body, accentuating the GTB's dynamic appearance.
The extraordinary performance of this GTB is further elevated by the inclusion of Michelin Pilot Sport Cup 2 R tires, measuring 245/35/20 in the front and an impressive 315/30/20 in the rear. These high-performance tires offer optimal grip and responsiveness, allowing the supercar to unleash its true potential on the open road and track.
Beyond their captivating design, the Blaque Diamond BD-F18 wheels are also renowned for their lightweight and robust construction. Built using cutting-edge Flow-Forged technology, these wheels enhance the GTB's agility while maintaining exceptional strength and durability for the most demanding driving conditions. With an eye-catching design and superior performance attributes, this highly modified Ferrari 488 GTB promises an unparalleled driving experience, embodying the artistry and engineering prowess of Blaque Diamond Wheels.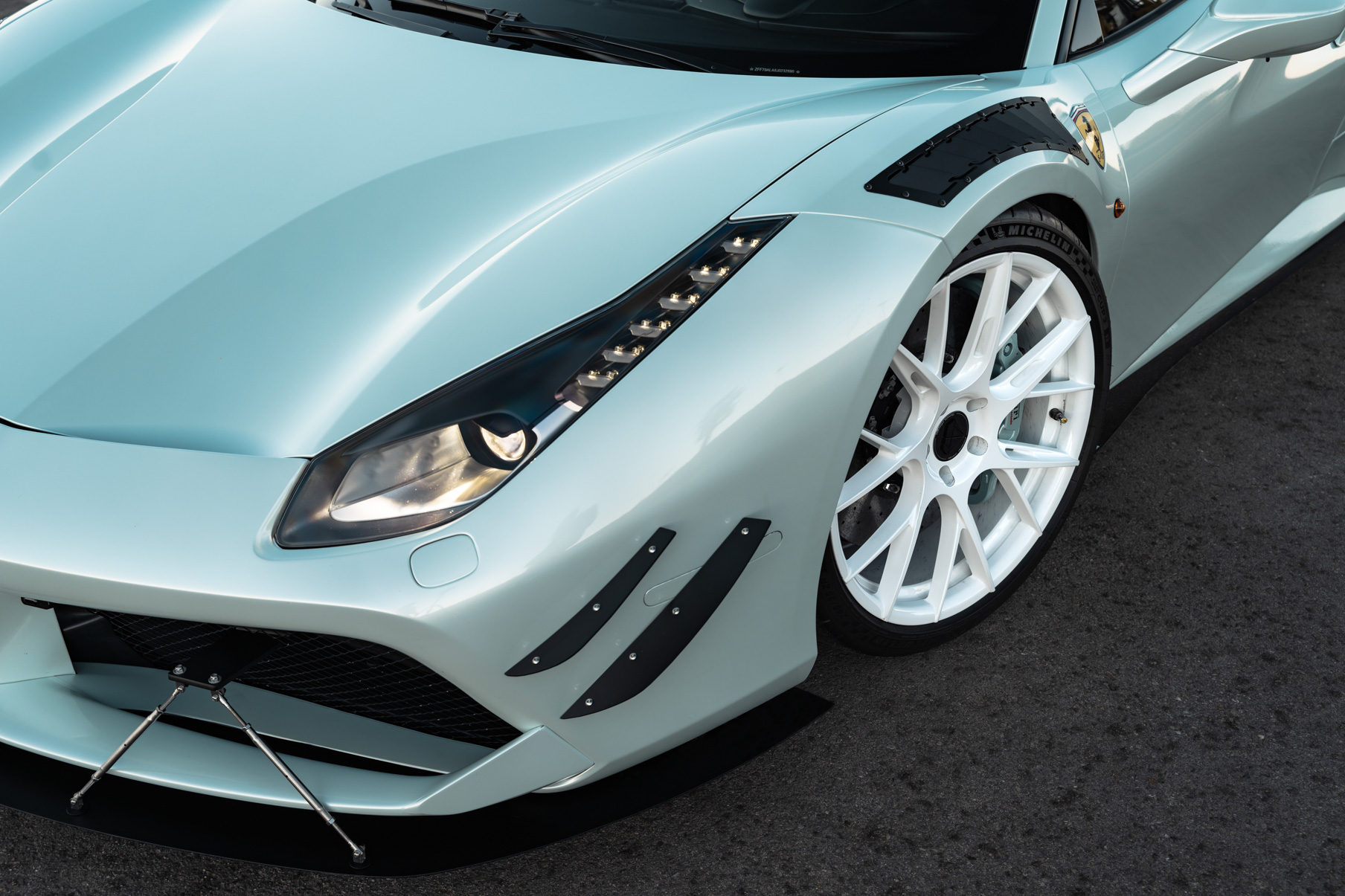 Discover the endless customization possibilities with Blaque Diamond Wheels' Custom Finish program. Our vast network of wheel finish specialists offers unlimited options, including powder coating, gloss, matte, chrome, OEM color matched, anodized, brushed, and more. Transform your wheels into unique works of art that reflect your style. Elevate your vehicle's aesthetic with Blaque Diamond Wheels' Custom Finish program.

To View Our Custom Wheel Finish Gallery Click HERE
Custom Drilling/ Test Fit
Experience the perfection of custom wheels with Blaque Diamond Wheels' Custom Test Fit and Custom Drilling programs. Our commitment to precision and customization sets us apart. Our Custom Test Fit program ensures a flawless fit and optimal performance by utilizing our team of fitment experts to test multiple offsets and profiles during an in-house test fitting process. Our Custom Drilling program allows for exact offsets and custom bolt patterns, accommodating even the most specific requirements. Don't settle for less—choose Blaque Diamond Wheels for unmatched style and performance.
Additional Fitment Details
If you wish to find out more about offsets for the car, please feel free to contact our team. We are also able to accommodate custom fitments, bolt patterns, and finishes as per our customer's requests If you have any requests for custom fitments, please don't hesitate to reach out to our team of fitment experts for more information.

Here are some fitment details:
Wheel Model – Blaque Diamond BD-F18 
Wheel Finish – Custom Gloss White
Wheel Size Front – 20×9
Wheel Size Rear – 20×12
Tire Model – Michelin Pilot Sport Cup 2 R
Tire Size Front – 245/35/20
Tire Size Rear – 315/30/20