BD-F12 on the Cadillac CT5-V
When it comes to upgrading your vehicle's aesthetics, there's nothing quite like a set of eye-catching wheels to transform its appearance. Blaque Diamond Wheels, a leading name in the aftermarket wheel industry, has a stellar solution for Cadillac CT5-V owners seeking a perfect blend of style and performance. The 20″ BD-F12 wheels with a staggered flush fitment enhance the sporty look of your 2021 Cadillac CT5-V and incorporate cutting-edge lightweight Flow-Forged technology, ensuring an unparalleled driving experience.
To View the 2021 Cadillac CT5-V Full Photo Gallery Click HERE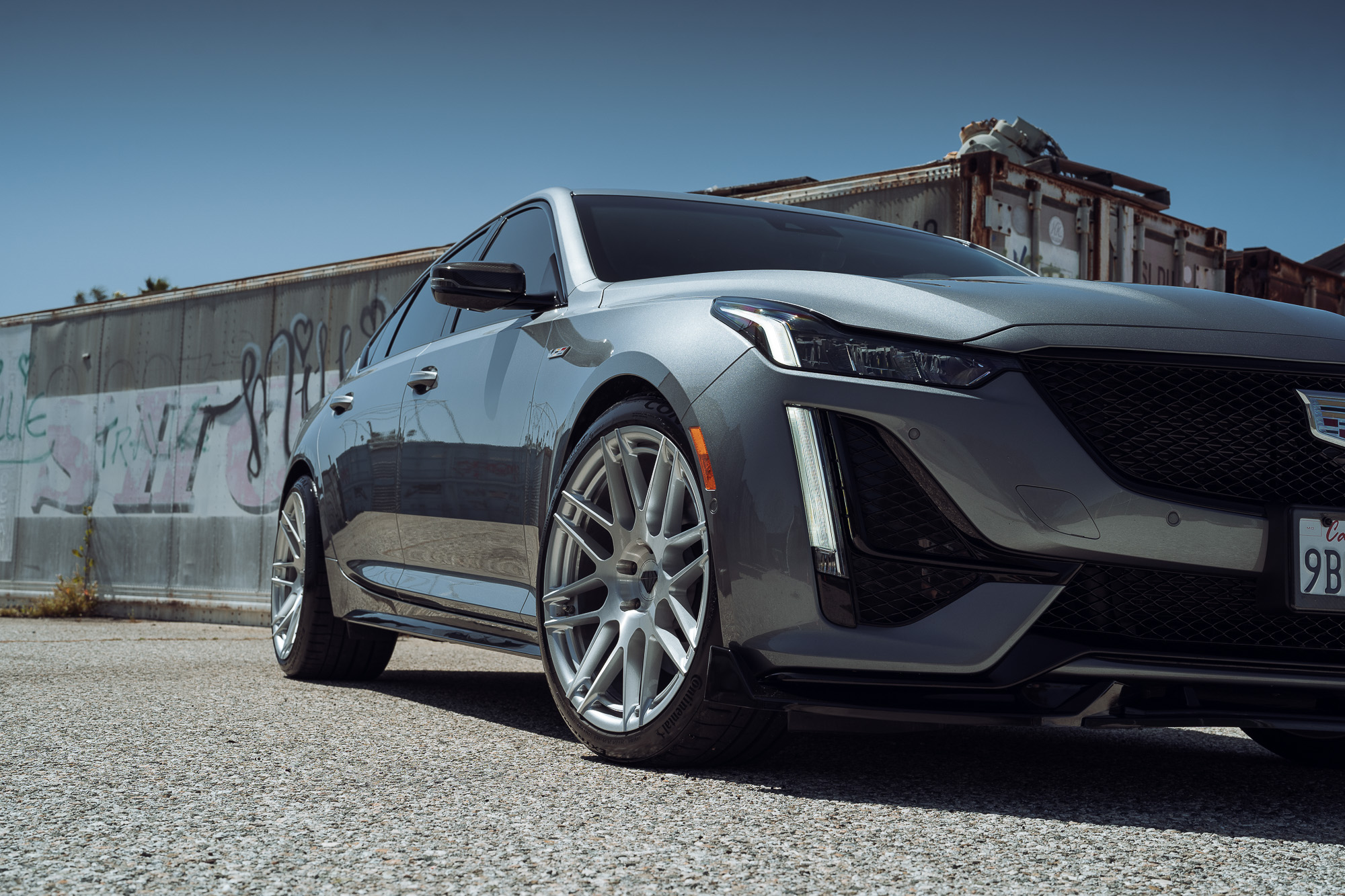 Fitment for the CT5-V with BD-F12 Custom WHeels
When it comes to enhancing the aesthetics and performance of your Cadillac CT5-V, the right wheel and tire combination can make all the difference. Blaque Diamond Wheels is proud to present the perfect match for this high-performance sedan – the BD-F12 in a Brushed Silver finish. With its sleek design and impeccable craftsmanship, these wheels are sure to turn heads on the streets.
The front wheels feature a bold 20 x 10 size, providing a balanced yet aggressive stance for the CT5-V. Adding to the sporty look and performance capabilities of the 2021 CT5-V, the rear wheels are sized at an impressive 20 x 12, giving this sedan an even more commanding presence on the road. The wider rear wheels enhance the overall aesthetic and improve traction and handling, especially during high-speed maneuvers.
To ensure optimal performance, this Cadillac CT5-V has been fitted with Continental Extreme Contact Tires. These high-performance tires are designed to deliver exceptional grip and responsiveness, allowing you to make the most of your driving experience. The front tires boast a size of 265/35/ZR20, offering a perfect balance between comfort and cornering ability. Meanwhile, the rear tires measure 305/30/ZR20, providing excellent traction for acceleration and stability at high speeds.
The combination of the BD F12 wheels in a Brushed Silver finish and the Continental Extreme Contact Tires enhance the overall look of the CT5-V and improve its performance on the road. Whether you're cruising along the highway or carving through twisty backroads, this wheel and tire setup will elevate your driving experience to new heights.
To See More Details About the Blaque Diamond BD-F12 Wheels Click HERE

Lightweight Flow-Forged Technology
The foundation of the BD-F12 wheels lies in their advanced lightweight Flow-Forged construction. Blaque Diamond has harnessed this state-of-the-art manufacturing process to craft wheels that are not only exceptionally stylish but lighter than traditional cast wheels. Flow-Forged wheels employ high-pressure rollers to stretch and form the wheel's barrel, Blaque Diamond achieves a stronger and more durable wheel without compromising weight.
To See More Flow-Forged Series Blaque Diamond Wheels Click HERE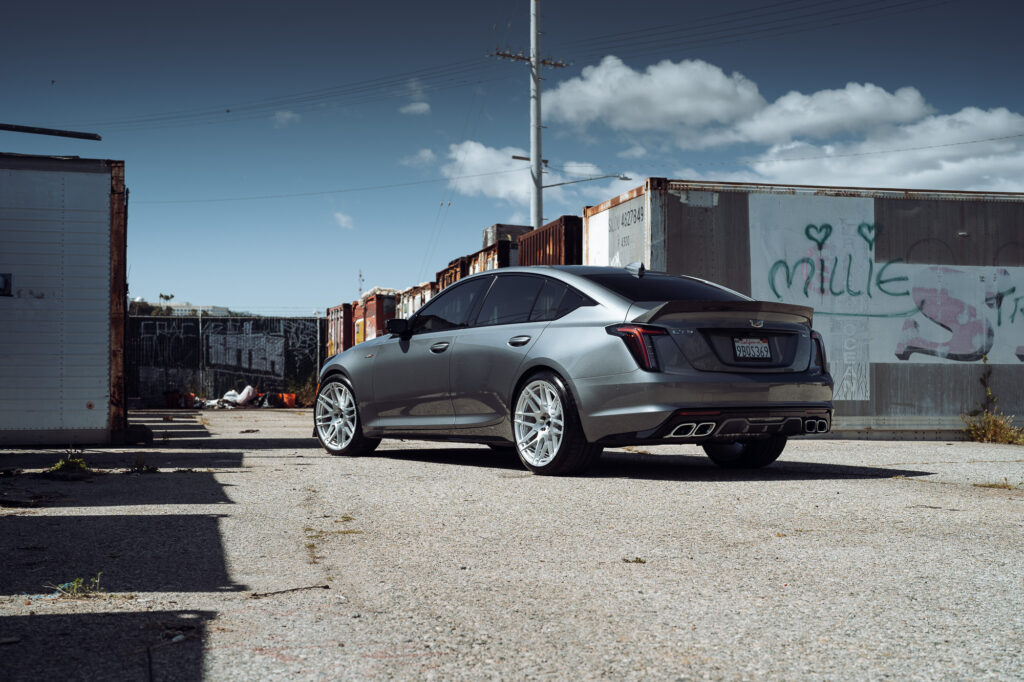 Unleash the Sporty Look of the BD-F12
The BD-F12 wheels are engineered to complement aggressive styling like that of the 2021 Cadillac CT5-V. Their bold, multi-spoke design adds a touch of sophistication while exuding a sense of athleticism that perfectly matches the character of the vehicle. Available in a range of finishes, including Gloss Black, Silver with Brushed Face, and Matte Bronze, these wheels offer customization options to suit every individual's taste.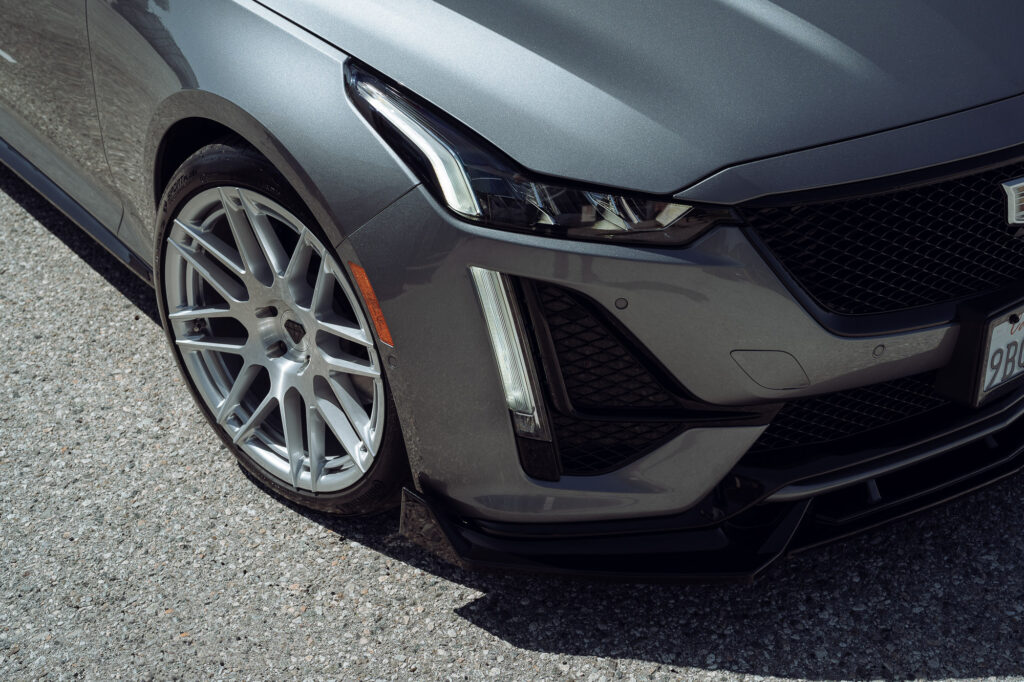 High Performance Custom Wheels for Cadillac
Apart from their stunning appearance, the BD-F12 wheels also offer tangible performance benefits. The reduced unsprung weight of these lightweight wheels enhances the overall driving dynamics of your Cadillac CT5-V. With less mass to accelerate, brake, and corner, you can expect improved handling, quicker acceleration, and better fuel efficiency. These wheels are a true testament to Blaque Diamond's commitment to blending style and performance seamlessly.
Exceptional Craftsmanship
Blaque Diamond takes pride in their meticulous craftsmanship, and the BD-F12 wheels are no exception. Each wheel is engineered with precision and attention to detail, ensuring a perfect fit and finish for your 2021 Cadillac CT5-V. The wheels undergo rigorous quality control measures to meet the highest industry standards, guaranteeing a product that exceeds expectations.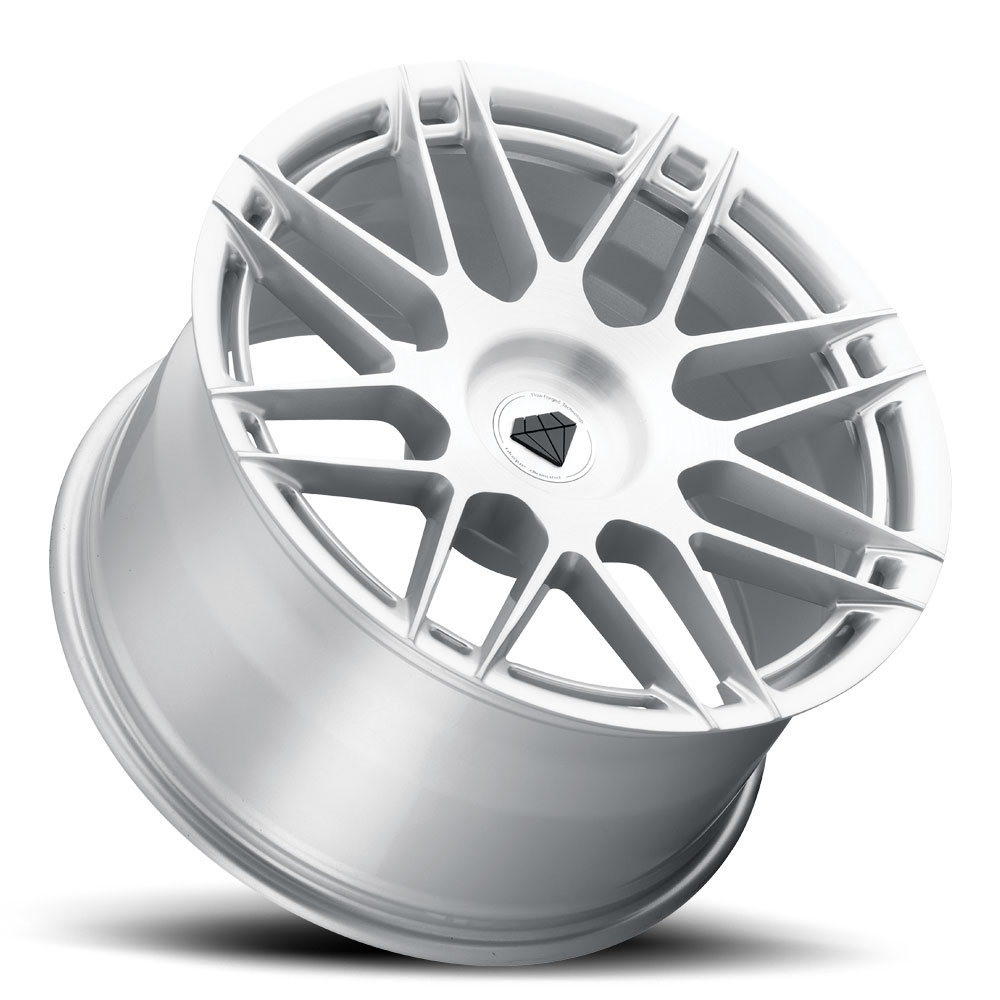 THE PERFECT WHEELS FOR THE CADILLAC CT5-V
 If you're a proud owner of a 2021 Cadillac CT5-V and want to take its sporty appeal to the next level, the Blaque Diamond BD-F12 wheels are a must-have addition. With their lightweight Flow-Forged technology, these wheels enhance performance while adding a touch of sophistication to your vehicle's appearance. Explore the range of finishes offered by Blaque Diamond and let your Cadillac CT5-V make a bold statement on the road. Upgrade to the BD-F12 wheels and experience the perfect blend of style and performance today.
Custom Drilling and Test Fit Program
Experience the perfection of truly custom wheels with Blaque Diamond Wheels' Custom Test Fit and Custom Drilling programs. Our commitment to precision and customization sets us apart. With our Custom Test Fit program, we ensure a flawless fit and optimal performance by checking multiple offsets and profiles during an in-house test fitting process. Our Custom Drilling program allows for exact offsets and custom bolt patterns, accommodating even the most specific requirements. Don't settle for less—choose Blaque Diamond Wheels for unmatched style and performance.
To see More Perfect BD-F12 Fitment Click HERE
Discover the endless possibilities of customization with Blaque Diamond Wheels' Custom Finish program. Our vast network of wheel finish specialists offers unlimited options, including powder coating, gloss, matte, chrome, OEM color matched, anodized, brushed, and more. Transform your wheels into unique works of art that reflect your personal style. Elevate your vehicle's aesthetic with Blaque Diamond Wheels' Custom Finish program.

To view our Custom Wheel Finish Gallery Click HERE
Additional Fitment Details
If you wish to find out more about offsets for the car, please feel free to contact our team. We are also able to accommodate custom fitments, bolt patterns, and finishes as per our customer's requests If you have any requests for custom fitments, please don't hesitate to reach out to our team of fitment experts for more information.

Here are some fitment details:
Wheel Model – BD F12 
Wheel Finish – Brushed Silver
Wheel Size Front – 20 x 10
Wheel Size rear – 20 x 12 in Rear
Tire Model – Continental Extreme Contact
Tire Size Front – 265/35/ZR20
Tire Size Rear – 305/30/ZR20