A Stealthy Ride with BD-F25 Custom Wheels on the Tesla Model 3
When it comes to elevating a Tesla Model 3, it's undeniable that the perfect set of wheels has the power to revamp its visual appeal. Enter the 20″ Gloss Black Blaque Diamond BD-F25 wheels from the Flow-Forged Series – they embody the epitome of style and sophistication. Paired with a custom airbag suspension and a carbon fiber aero kit, this Tesla Model 3 with its squared setup and flush fitment, is sure to capture attention and provide an unforgettable driving experience. Let's delve into the remarkable fitment and superior wheel quality that sets Blaque Diamond apart.
To View the Full Photo Gallery of this Tesla Model 3 Click HERE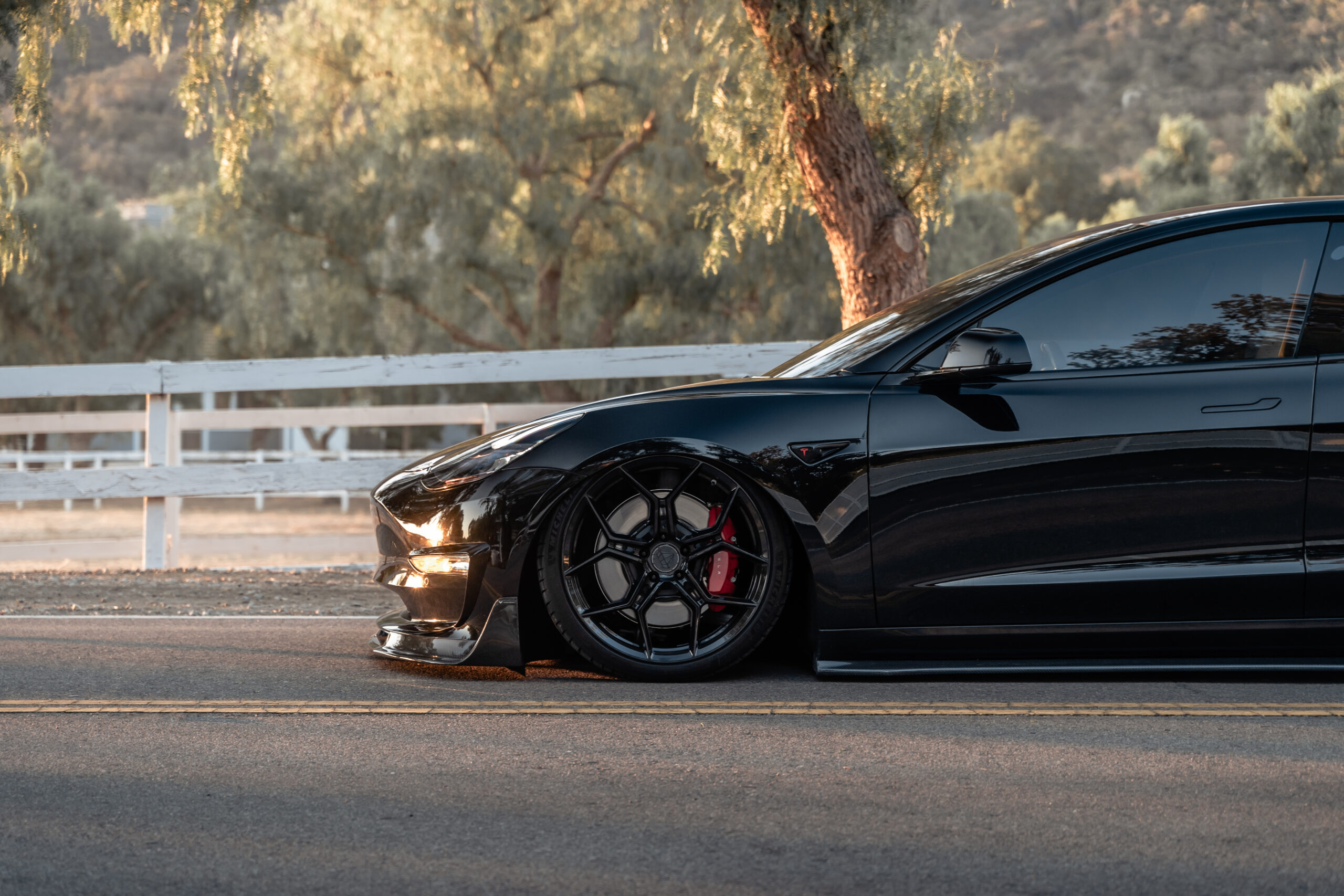 Perfect Fitment for a Flawless Look
Introducing the stunning combination of a black Tesla Model 3 equipped with the sleek Gloss Black BD-F25 Wheels from Blaque Diamond. These remarkable wheels, with a squared setup of 20×8.5″, perfectly complement the Model 3's modern aesthetic. Paired with Michelin Pilot Sport 4S 235/25/ZR20 tires, they provide outstanding performance and grip on the road. To elevate this Tesla Model 3 to a new level the owner has kitted a custom Air-Ride Suspension system, ensuring precise control and a comfortable ride. Carbon aero elements further enhance the vehicle's sportiness and visual appeal. With its flush fitment, this Tesla Model 3 showcases the ultimate combination of style, performance, and impeccable attention to detail.
To See More Details About the Blaque Diamond BD-F25 Wheels Click HERE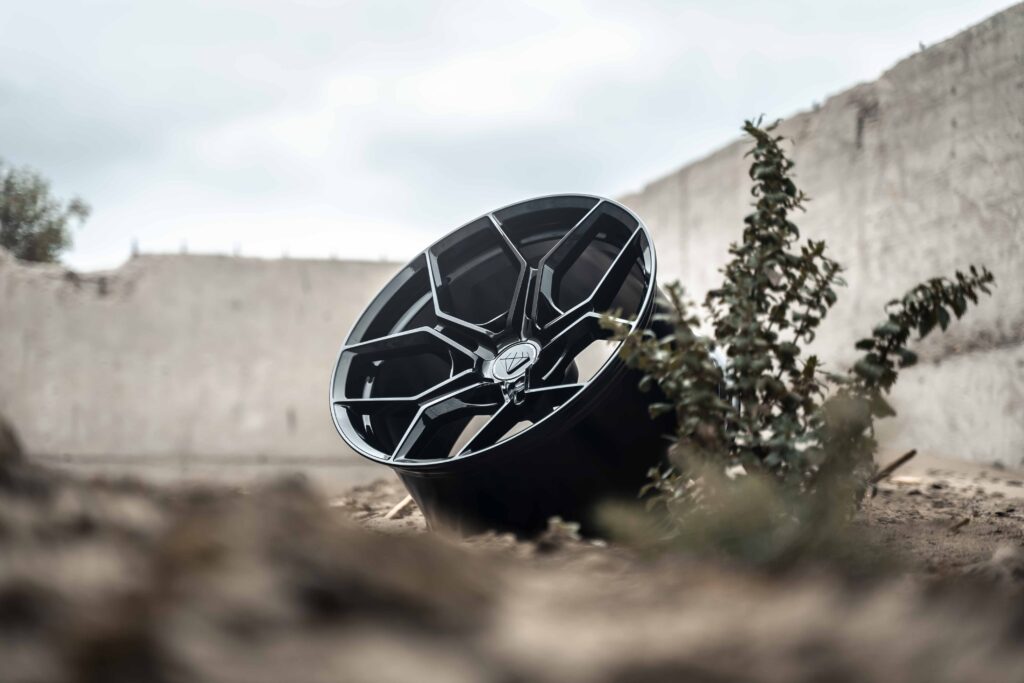 BD-F25 Superior Wheel Quality and Lightness
At Blaque Diamond, we understand that wheel quality goes beyond appearance. Our Gloss Black BD-F25 wheels are meticulously crafted using the finest materials and advanced Flow-Forming manufacturing techniques. This ensures a perfect balance of strength and lightness, enhancing the performance and handling characteristics of your Tesla Model 3. By reducing unsprung weight, these wheels deliver a responsive and precise driving experience, whether you're cruising on the highway or tackling sharp corners. As part of our premium Flow-Forged Series, the BD-F25 maintains a robust yet lightweight construction. Its unique aesthetic has made it one of our most popular wheels, capable of transforming the look of any vehicle it adorns. With a wide range of sizes available, from 19″ to 24″, the BD-F25 is a versatile choice, suitable for various vehicle types, from track toys to luxury daily drivers. Choose between the sleek Gloss Black or the sophisticated Brushed Silver finish, and elevate your driving experience with Blaque Diamond.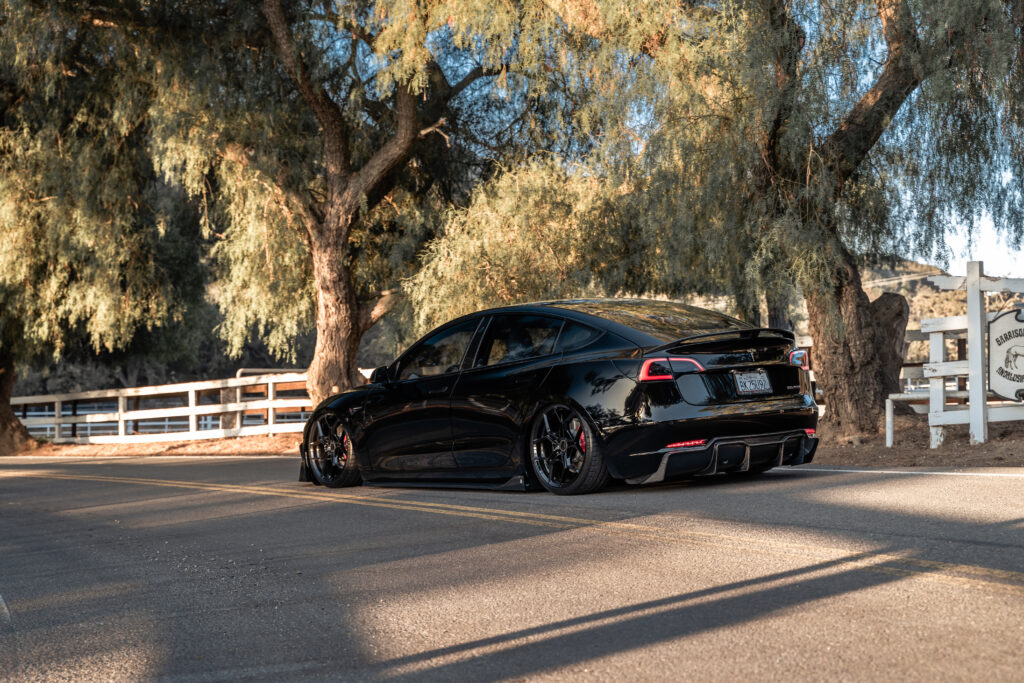 Custom Airbag Suspension for a Smooth Ride
This Tesla Model 3 is modified with a custom airbag suspension system, allowing the Tesla to lower far beyond driving height for the perfect fitment and look. This innovative solution allows for ride height adjustment with the push of a button. Whether you prefer a sporty and aggressive look or a more comfortable and relaxed ride, the airbag suspension can be set to your preference. This Model 3 is also modified with a carbon fiber aero package which greatly adds to the aggressive look of the build.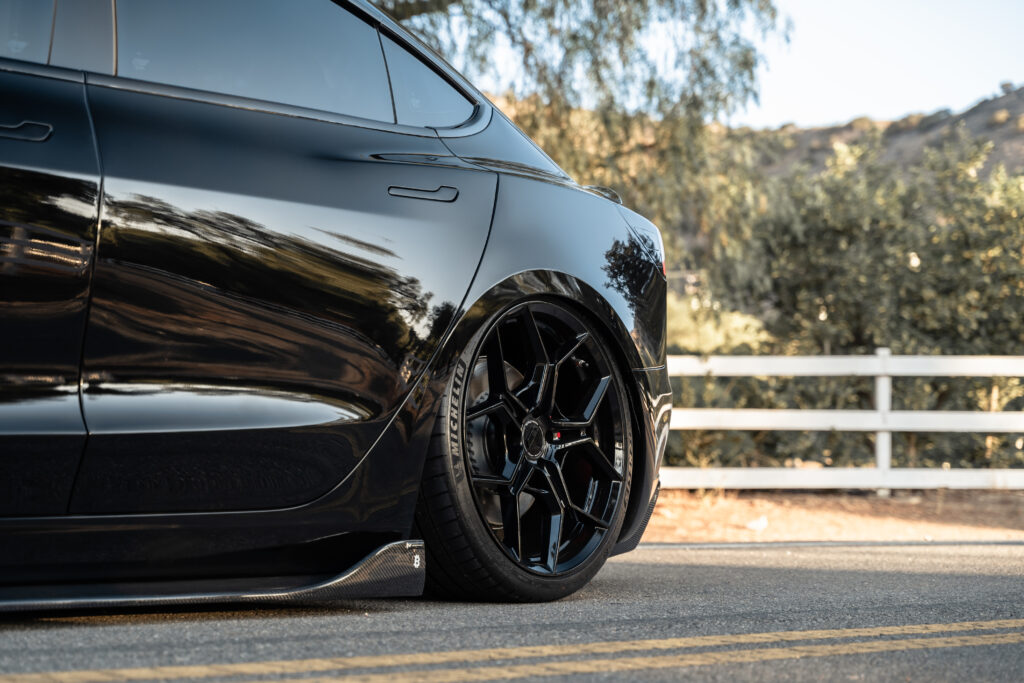 The Best WHeels For the Tesla Model 3
If you're looking to take your Tesla Model 3 to the next level,  the Blaque Diamond Wheels BD-F25's are a perfect choice. With our impeccable fitment and exceptional wheel quality, your vehicle will exude a sense of luxury and sophistication. Add in the custom airbag suspension, and you'll experience a driving experience and fitment like no other. Elevate your Tesla Model 3 with Blaque Diamond Wheels and make a statement on the road.
Custom Drilling and Test Fit Program
Experience the perfection of truly custom wheels with Blaque Diamond Wheels' Custom Test Fit and Custom Drilling programs. Our commitment to precision and customization sets us apart. With our Custom Test Fit program, we ensure a flawless fit and optimal performance by checking multiple offsets and profiles during an in-house test fitting process. Our Custom Drilling program allows for exact offsets and custom bolt patterns, accommodating even the most specific requirements. Don't settle for less—choose Blaque Diamond Wheels for unmatched style and performance.
Discover the endless possibilities of customization with Blaque Diamond Wheels' Custom Finish program. Our vast network of wheel finish specialists offers unlimited options, including powder coating, gloss, matte, chrome, OEM color matched, anodized, brushed, and more. Transform your wheels into unique works of art that reflect your personal style. Elevate your vehicle's aesthetic with Blaque Diamond Wheels' Custom Finish program.
To view our Custom Wheel Finish Gallery Click HERE
Additional Fitment Details
If you wish to find out more about offsets for the car, please feel free to contact our team. We are also able to accommodate custom fitments, bolt patterns, and finishes as per our customer's requests If you have any requests for custom fitments, please don't hesitate to reach out to our team of fitment experts for more information.

Here are some fitment details:
Wheel Model – BD F25 
Wheel Finish – Gloss Black 
Wheel Size – 20 x 8.5 Squared
Tire Model – Michelin Pilot Sport 4S
Tire Size – 235/25/ZR20 Squared