Electrifying speed in Chrome
When it comes to electric vehicles, Tesla has been leading the charge with its innovative designs and unparalleled performance. One of their latest offerings, the 2021 Tesla Model S Plaid, is a game-changer in the realm of electric sports sedans. To further enhance its performance and aesthetics, Blaque Diamond Wheels presents the BD-F25 wheel, incorporating advanced Flow-Forged technology and a feather-light construction. Let's dive into why this combination is a match made in automotive heaven.
To View the Full Photo Gallery Click HERE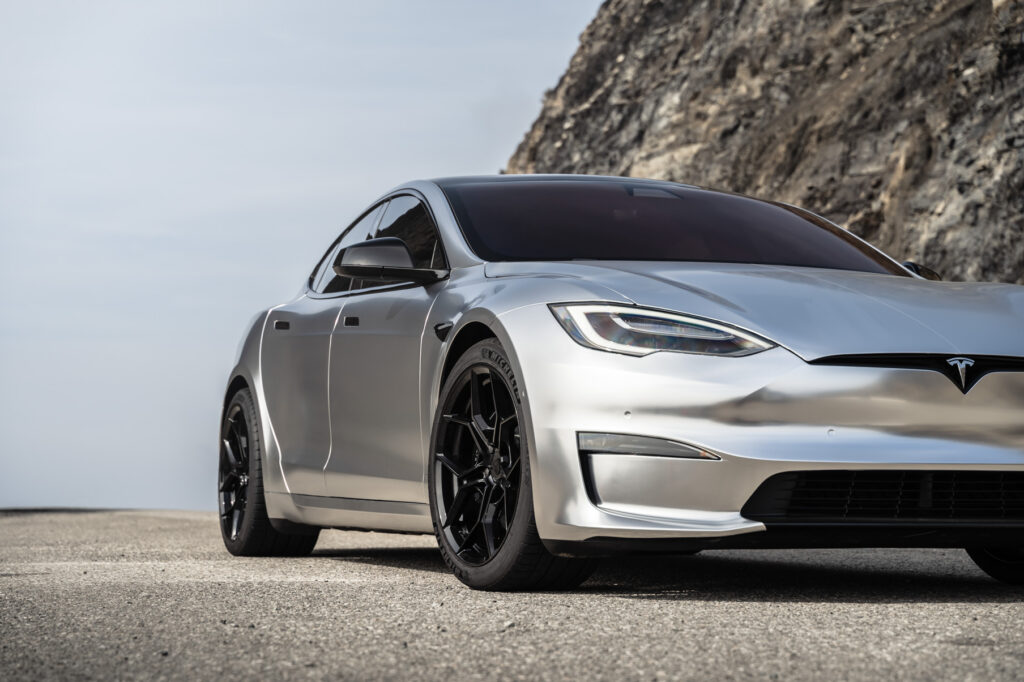 Lightweight Custom wheels - Tesla Model s Plaid
The Tesla Model S Plaid is an engineering marvel, with mind-boggling acceleration and cutting-edge technology. But every extraordinary machine deserves equally exceptional wheels, and that's where the Blaque Diamond BD-F25 steps in. Crafted with performance in mind, these wheels are designed to complement the Plaid's dynamic capabilities.
The Blaque Diamond BD-F25 wheels, coming in Gloss Black with a size of 20 x 10 inch in the front and 20 x 11 inches in the rear, are a perfect match for the Tesla Model S Plaid. With their sleek and aggressive design, they enhance the already striking appearance of the Plaid, giving it a bold and purposeful stance.
But it's not just about looks. The lightweight construction of the BD-F25 wheels plays a crucial role in improving the Plaid's overall performance. By reducing unsprung weight with performance wheels like the BD-F18, you get enhanced handling, acceleration, and an exceptional driving experience. The reduced mass allows for quicker response time, sharper cornering, and increased agility on the road.
To further enhance the performance capabilities of the Tesla Model S Plaid, the BD-F25 wheels are paired with Michelin Pilot Sport 4S tires. The front tires boast a size of 285/35/ZR20, providing excellent grip and precise steering response. In the rear, tires are sized at 305/30/ZR20, offering enhanced traction and stability, especially during high-speed maneuvers.
The combination of the BD-F25 wheels in Gloss Black, the carefully chosen tire sizes, and the Michelin Pilot Sport 4S tires truly maximize the Plaid's performance potential. Whether you're pushing the boundaries on a racetrack or enjoying spirited drives on the open road, this setup ensures that every turn, every acceleration, and every moment behind the wheel is a thrilling experience.
The Blaque Diamond BD-F25 wheels in Gloss Black, perfectly sized with 20 x 10 inches in the front and 20 x 11 inches in the rear, running Michelin Pilot Sport 4S tires with tire sizes of 285/35/ZR20 in the front and 305/30/ZR20 in the rear, offer the Tesla Model S Plaid an unrivaled combination of style, performance, and control. Upgrade your Plaid with these exceptional wheels, and prepare to unleash the true potential of this remarkable electric sports sedan.
To See More Details About the Blaque Diamond BD-F25 Wheels Click HERE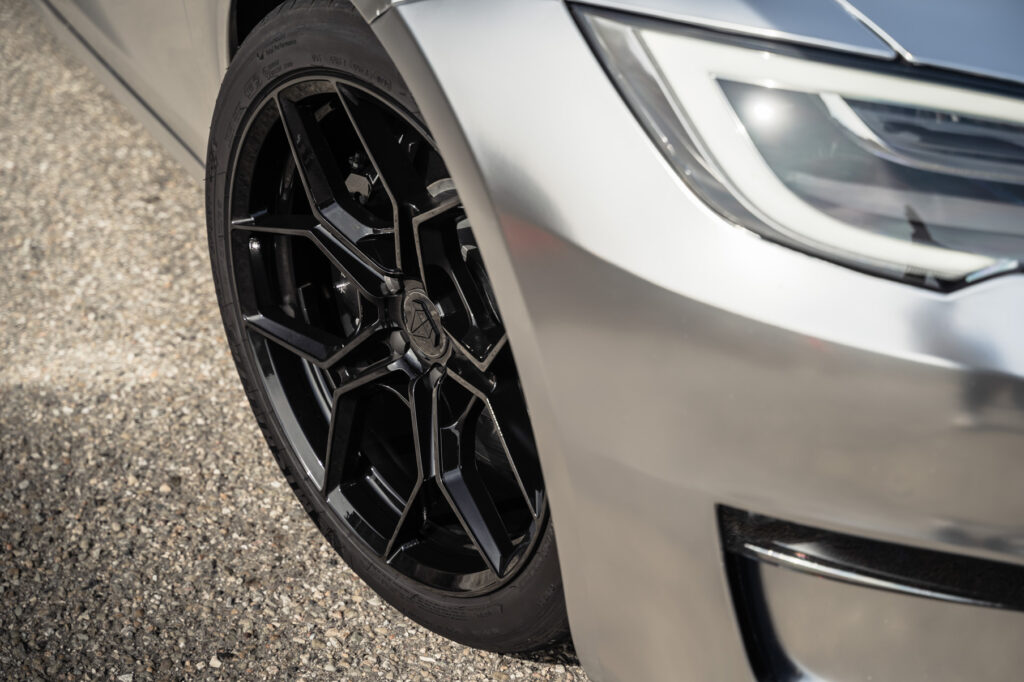 high performance Lightweight Wheels
Weight reduction is a crucial aspect of performance enhancement, and Blaque Diamond Wheels has perfected the art. The BD-F25 wheel is engineered using Flow-Forming technology, a manufacturing process that allows for a lighter and stronger wheel compared to traditional cast wheels. This advanced technique involves the application of high-pressure rollers to shape the wheel's rim under extreme heat and pressure. The result is a wheel that's not only remarkably lightweight but also significantly more durable, ensuring longevity even under demanding driving conditions.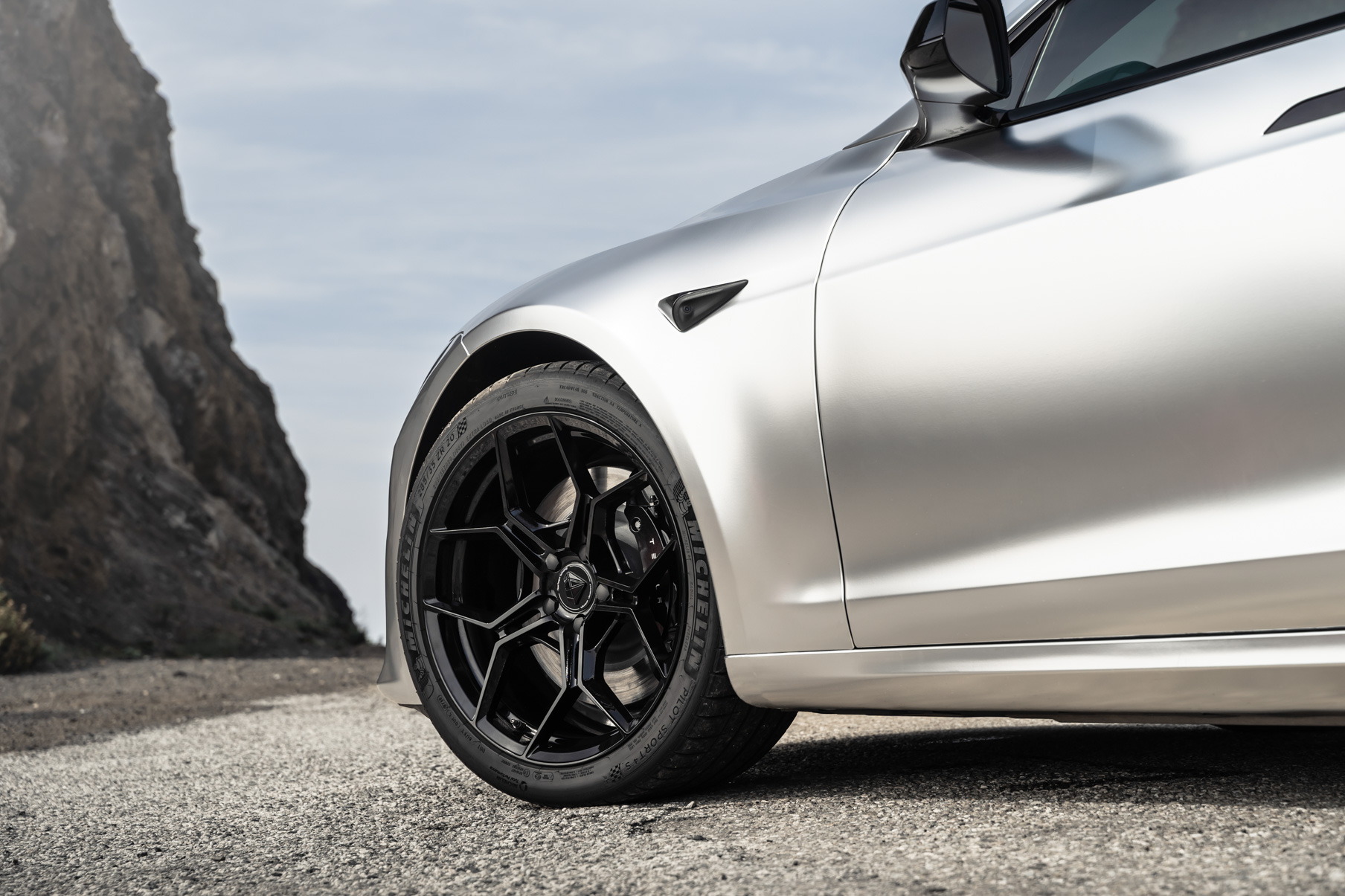 While performance is undoubtedly the focus, the Tesla Model S Plaid with the Blaque Diamond BD-F25 wheels is a sight to behold. The distinct design of the BD-F25 complements the Plaid's aerodynamic body, creating an unforgettable visual package that turns heads wherever it goes. With various finishes available, including Gloss Black, Brushed Silver, and extensive custom finish options, you can customize the wheels to match your style, enhancing the overall look of the already stunning Tesla Model S Plaid.
The Best Wheels for the Plaid
The Tesla Model S Plaid with Blaque Diamond BD-F25 wheels is a testament to the merging of cutting-edge technology and unrivaled performance. Blaque Diamond Wheels' commitment to excellence shines through in the Flow-Forged construction of the BD-F25, offering a lightweight, durable, and visually striking upgrade to the Plaid's already impressive capabilities. Whether you're craving enhanced performance or a stunning aesthetic transformation, the combination of the Tesla Model S Plaid and BD-F25 wheels is a winning formula that exceeds expectations. Get ready to experience the future of electric performance in style!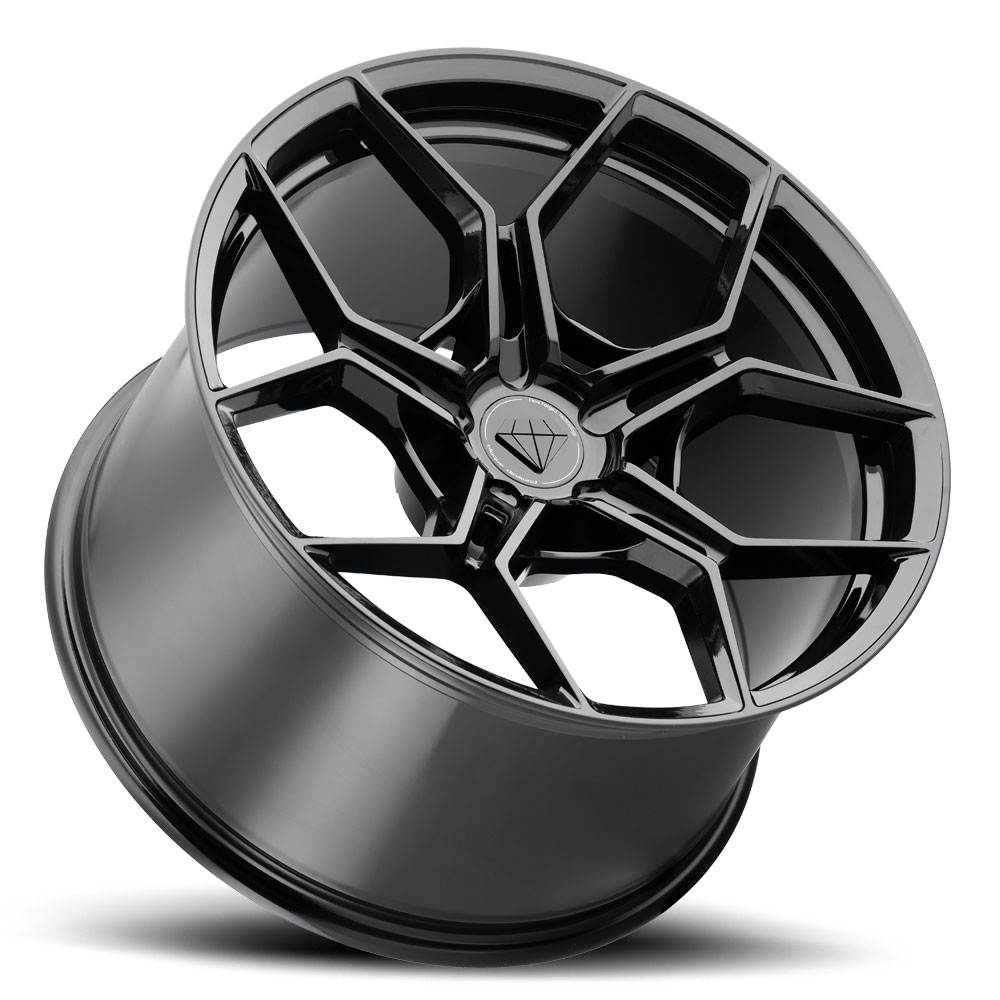 The Blaque Diamond BD-F25 is a part of our premium Flow-Forged Series, maintaining a strong and very lightweight construction. The F25 is one of our most popular wheels, and for good reason, its unique aesthetic is sure to transform the look of any build you put them on. The BD-F25 also has the most sizes available from our entire wheel lineup, from 19″ – 24″. This wheel is a great fit for all types of vehicles, from weekend track toys to high end luxury cars. The F25 comes in two factory finishes, Gloss Black and Brushed Silver; If you need just a little more color in your wheels check out our Wheel Gallery to see some custom finish examples. Our Custom Finish program allows you to customize any Blaque Diamond Wheel to your heart's content; any color/ finish can be achieved via our extensive custom finish network.
Custom Drilling and Test Fit Program
Experience the perfection of custom wheels with Blaque Diamond Wheels' Custom Test Fit and Custom Drilling programs. Our commitment to precision and customization sets us apart. Our Custom Test Fit program ensures a flawless fit and optimal performance by utilizing our team of fitment experts to test multiple offsets and profiles during an in-house test fitting process. Our Custom Drilling program allows for exact offsets and custom bolt patterns, accommodating even the most specific requirements. Don't settle for less—choose Blaque Diamond Wheels for unmatched style and performance.
Discover the endless customization possibilities with Blaque Diamond Wheels' Custom Finish program. Our vast network of wheel finish specialists offers unlimited options, including powder coating, gloss, matte, chrome, OEM color matched, anodized, brushed, and more. Transform your wheels into unique works of art that reflect your personal style. Elevate your vehicle's aesthetic with Blaque Diamond Wheels' Custom Finish program.
To view our Custom Wheel Finish Gallery Click HERE
Additional Fitment Details
If you wish to find out more about offsets for the car, please feel free to contact our team. We are also able to accommodate custom fitments, bolt patterns, and finishes as per our customer's requests If you have any requests for custom fitments, please don't hesitate to reach out to our team of fitment experts for more information.

Wheel Model – BD F25 
Wheel Finish – Gloss Black
Wheel Size Front – 20 x 10
Wheel Size Rear – 20 x 11
Tire Model – Michelin Pilot Sport 4S Tires
Tire Size Front – 285/35/ZR20
Tire Size Rear – 305/30/ZR20