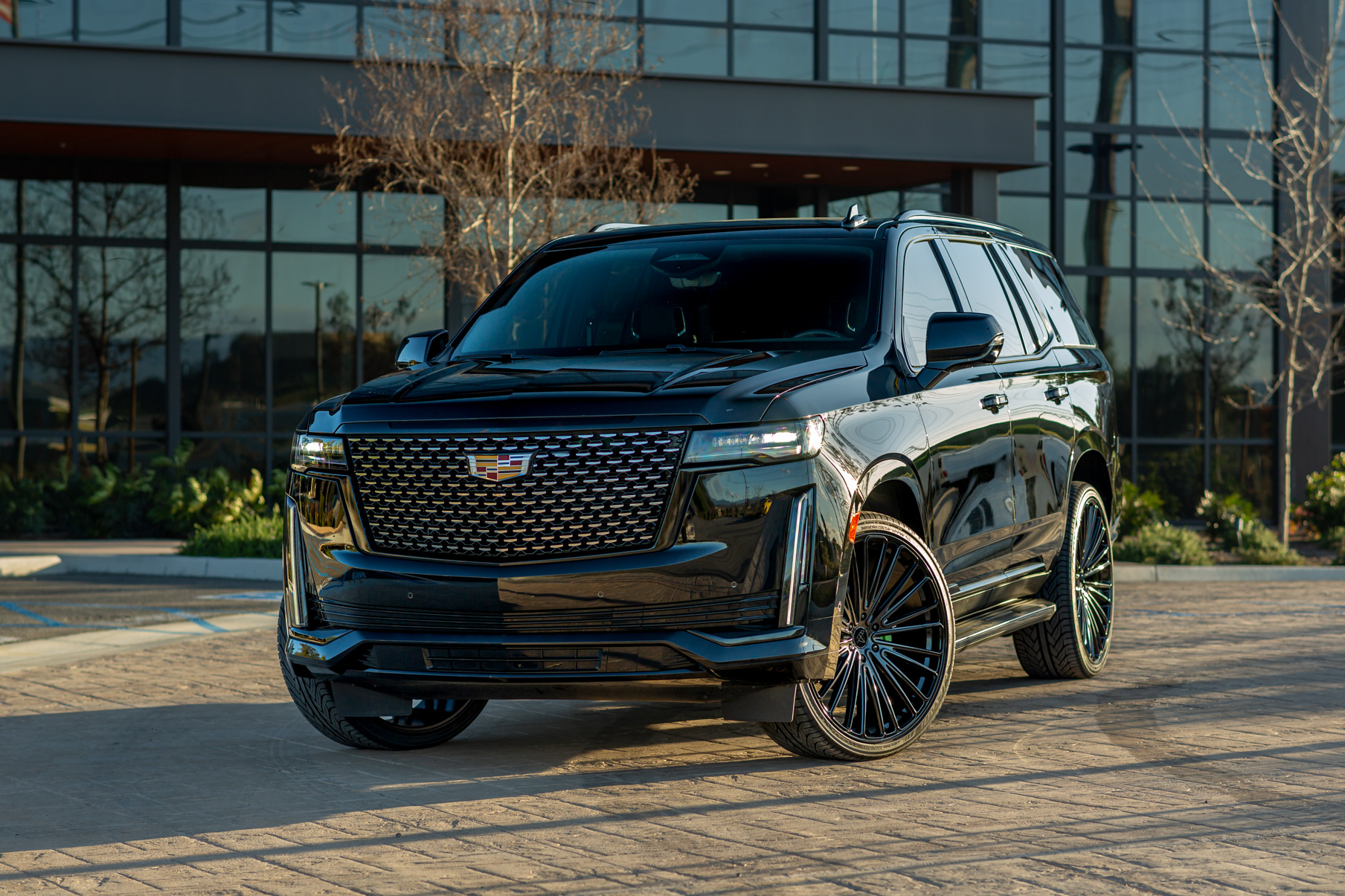 The BEst Wheels for the Cadillac Escalade
The Blaque Diamond BD-716 wheels are the perfect fit for the new Escalade, its multi-spoke eye-catching design blends perfectly with the angular powerful presence of the Escalade 600. The Escalade being a full-sized SUV looks best with large wheels to fill in its big fenders, the 26″ BD-716 in Gloss Black fits the bill perfectly, giving a clean OEM+ aesthetic to the build.
To See the Full Photo Gallery of this Cadillac Escalade 600, Click HERE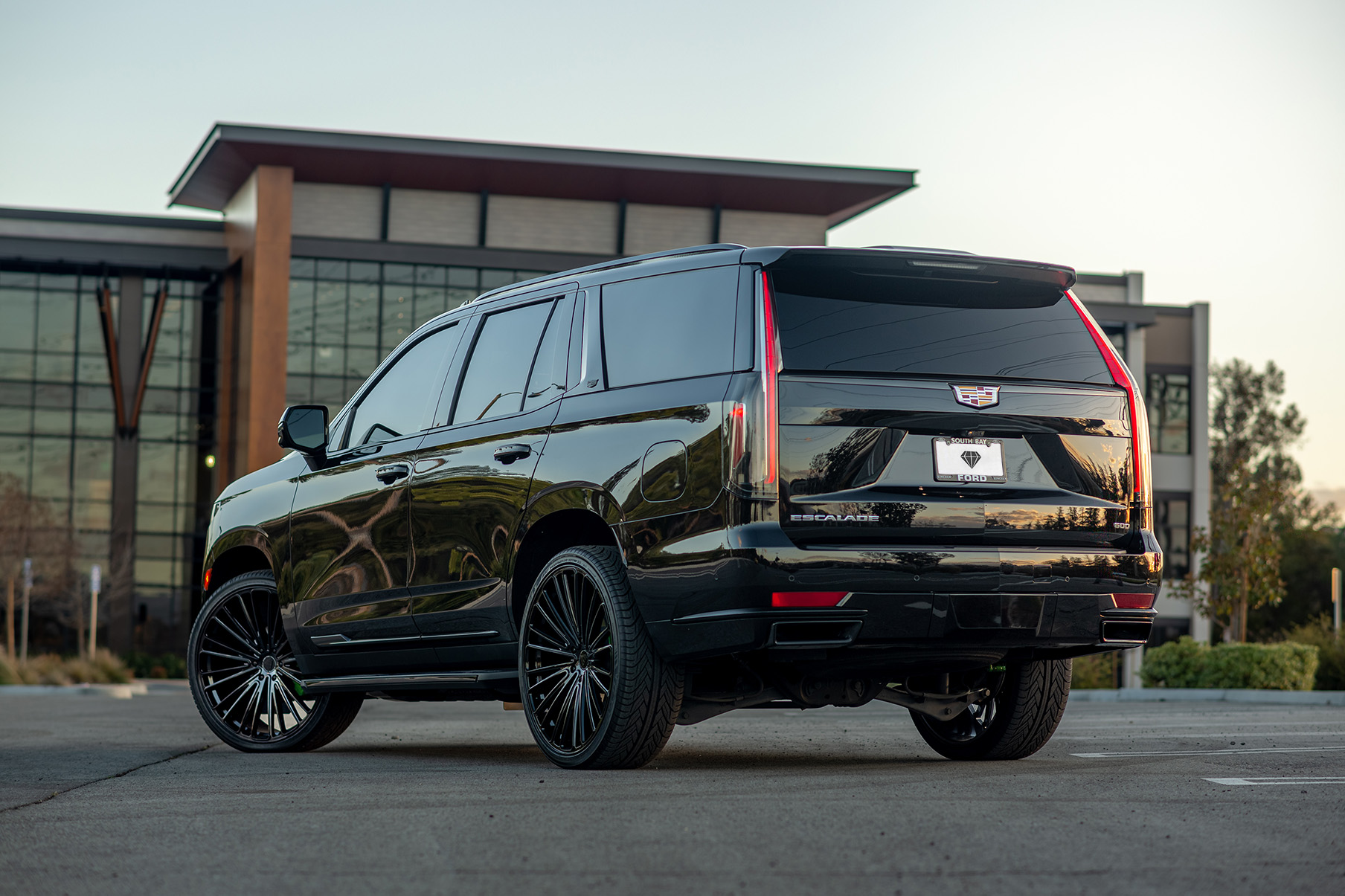 Ideal flush fitment on the Cadillac Escalade
Indulge in a new level of luxury and style with the Blaque Diamond BD-716 wheels, perfectly designed to elevate your Cadillac Escalade's aesthetics and performance. The Gloss Black finish exudes sophistication, beautifully complementing the Escalade's opulent exterior. Crafted to perfection, these wheels boast an elegant design that captures attention and leaves a lasting impression wherever you go.
With a generous size of 26×10 inches, the BD-716 wheels make a bold statement, adding a touch of grandeur to your Escalade's appearance. Paired with high-performance 305/30/ZR26 Lexani LX Thirty Tires, these wheels provide exceptional grip and a smooth ride, ensuring you experience the pinnacle of driving pleasure.
The Flush Fitment of the BD-716 wheels ensures seamless integration with the Escalade's body, creating a clean and polished look. Paired with a Squared Setup, this fitment offers optimal stability and handling, making every drive a captivating and exhilarating experience.
Transform your Cadillac Escalade into a symbol of luxury and performance with the Blaque Diamond BD-716 wheels. Embrace the perfect fusion of elegance and functionality, and let these exquisite wheels redefine the way you experience the road. Elevate your driving experience with Blaque Diamond's impeccable craftsmanship and style, and turn heads wherever your Escalade takes you.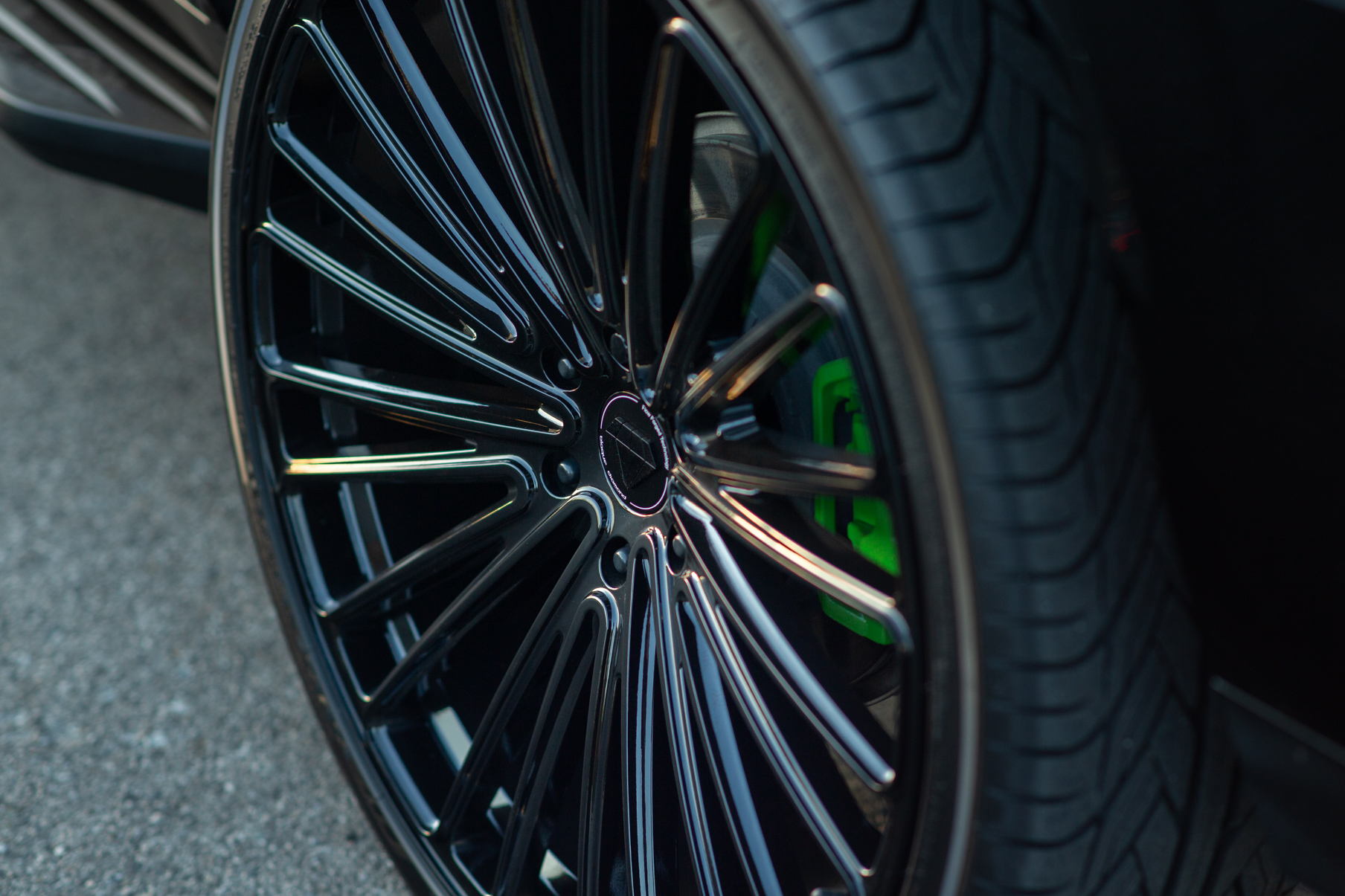 The BD-716 is a brand new wheel from us at Blaque Diamond Wheels, Being in our Classic Series this wheel is meant to give a fresh modern look at a cost-effective price. The BD-716 comes in 22″-26″, pairing best with full-size luxury cars such as the Escalade. For those wanting this style wheel on their 5-Lug car check out the BD-715, we can accommodate any custom bolt pattern with our in-house CNC drilling and fitment testing. In addition to custom drilling, any custom finish requested can be delivered through our extensive Custom Finish Program.
About the Cadillac Escalade
The Cadillac Escalade has proved itself a staple in the luxury full-size SUV market. The new generation Escalade represents a change in ethos for the model, with a more aggressive and angular styling paired with a further refined luxurious interior. This Escalade is the 600 trim, representing its 600nm of torque coming from its 6.2L V8 engine. This 2021 model comes equipped with a massive curved OLED dashboard screen, leather interior, Magnetic Air Ride Control, and highly advanced self driving capabilities.
Discover the endless customization possibilities with Blaque Diamond Wheels' Custom Finish program. Our vast network of wheel finish specialists offers unlimited options, including powder coating, gloss, matte, chrome, OEM color matched, anodized, brushed, and more. Transform your wheels into unique works of art that reflect your style. Elevate your vehicle's aesthetic with Blaque Diamond Wheels' Custom Finish program.

To View Our Custom Wheel Finish Gallery Click HERE
Custom Drilling/ Test Fit
Experience the perfection of custom wheels with Blaque Diamond Wheels' Custom Test Fit and Custom Drilling programs. Our commitment to precision and customization sets us apart. Our Custom Test Fit program ensures a flawless fit and optimal performance by utilizing our team of fitment experts to test multiple offsets and profiles during an in-house test fitting process. Our Custom Drilling program allows for exact offsets and custom bolt patterns, accommodating even the most specific requirements. Don't settle for less—choose Blaque Diamond Wheels for unmatched style and performance.
Additional Fitment Details
If you wish to find out more about offsets for the car, please feel free to contact our team. We are also able to accommodate custom fitments, bolt patterns, and finishes as per our customer's requests If you have any requests for custom fitments, please don't hesitate to reach out to our team of fitment experts for more information.
 Here are some fitment details:
Wheel Model – BD-716

 

Wheel Finish – Gloss Black 
Wheel Size – 26×10 Squared
Tire Size – 305/30/ZR 26 Squared
Tire Model – Lexani LX Thirty
For more information email [email protected] or call +1 (818) 362-2300