The Audi R8 V10 Decennium Edition
The 2020 Audi R8 V10 Decennium Edition is a limited-edition masterpiece, celebrating a decade of R8 V10 excellence. Our featured model is number 198 out of only 222 units worldwide. The car's captivating Mythos Black metallic color exudes mysterious elegance and power.
Brushed Silver Blaque diamond BD-F29 Wheels
Enhancing the already stunning aesthetics of the Audi R8 Decennium Edition are the Blaque Diamond BD-F29 wheels. With the mesmerizing Brushed Silver finish, these wheels perfectly complement the R8's design. Featuring a diameter of 20 inches, they strike a harmonious balance between style and performance with a staggered flush fitment.

To View the Full Photo Gallery of this Audi R8 V10 Decennium Edition Click HERE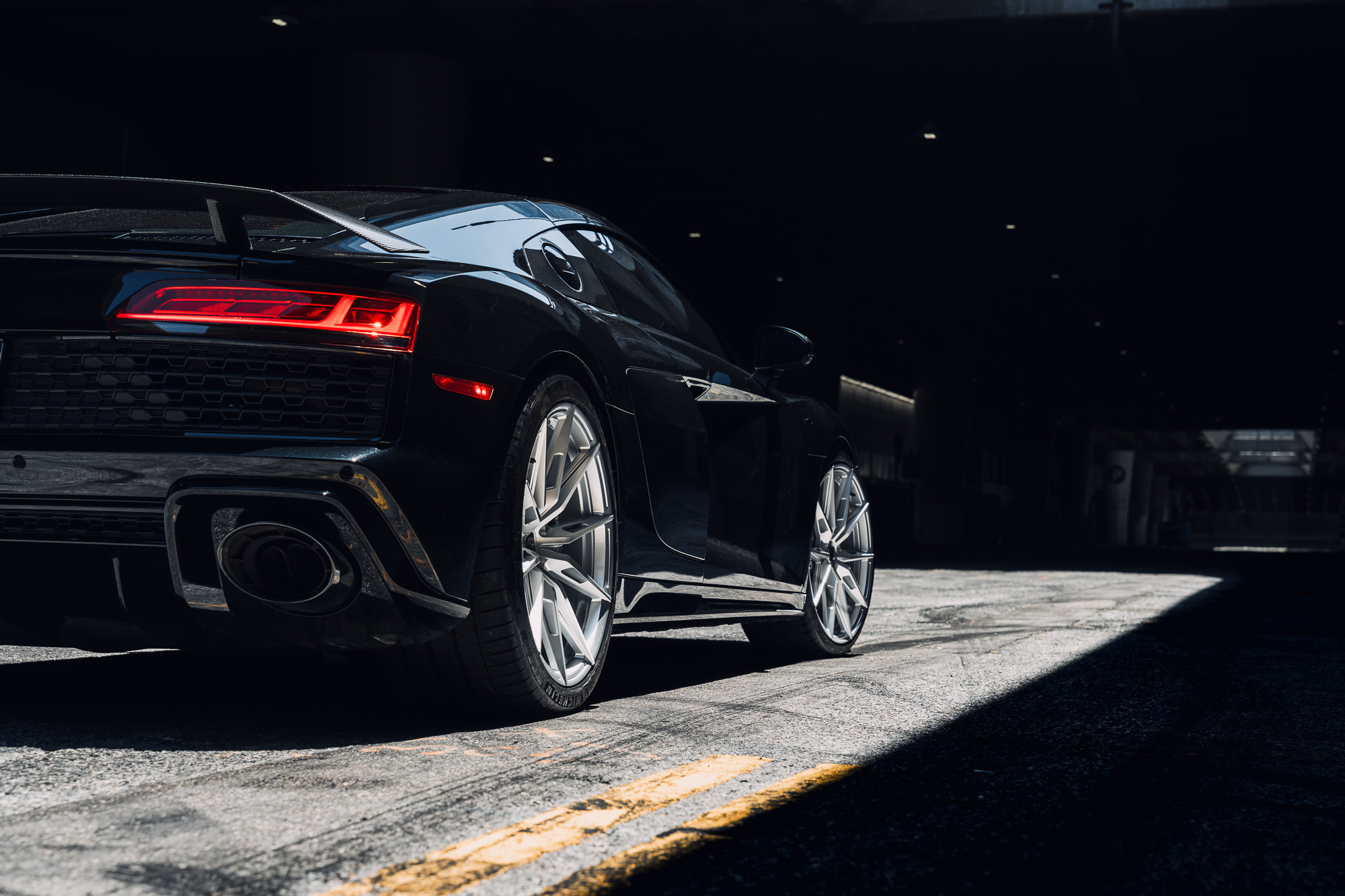 Decennium R8 In Detail - Blaque Diamond Specs
Vehicle and Wheel Specifications
The Audi R8 Decennium Edition demands attention with its striking design and exceptional performance. Paired with the BD-F29 wheels, it creates an extraordinary driving experience. The front wheels measure 20×9 inches, while the rear wheels are wider at 20×11 inches coming in a Super Deep Profile. This staggered fitment enhances the car's aggressive stance, allowing for optimal grip and precise handling.
To complement the BD-F29 wheels and unleash the full potential of the Audi R8 Decennium Edition, we recommend the Michelin Pilot Sport 4S tires. These high-performance tires offer exceptional grip, responsiveness, and comfort. With a size of 245/30/ZR20 in the front and 305/30/ZR20 in the rear, they ensure precise steering response, enhanced traction, ideal fitment, and exhilarating performance.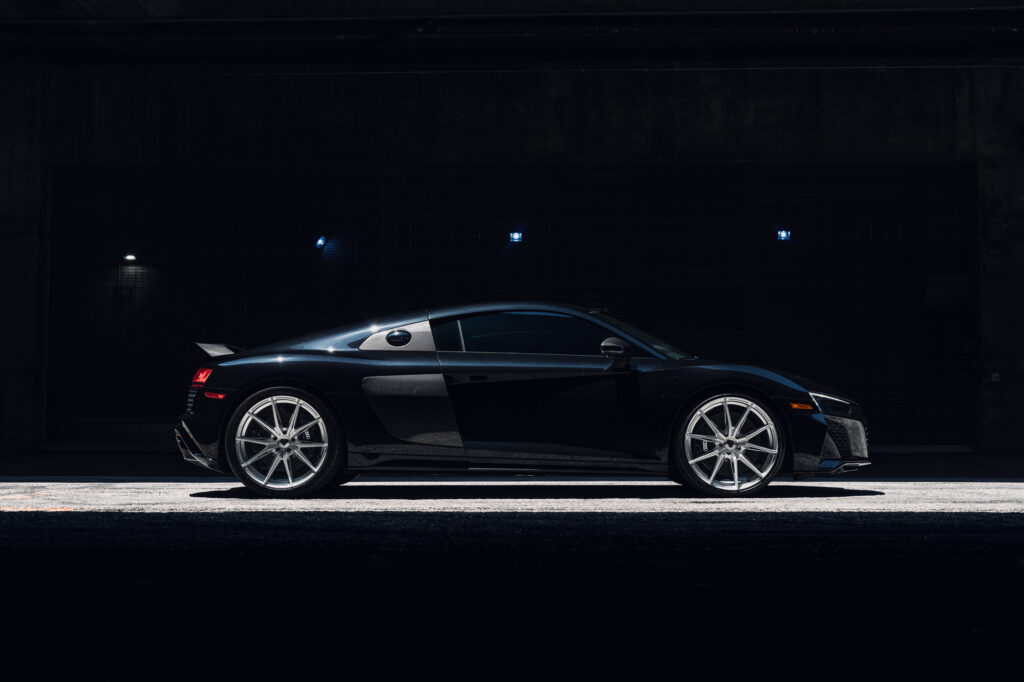 Why the BD-F29 is the best choice for the Audi R8
The Brushed Silver BD-F29 wheels are the epitome of style and refinement, making them the perfect choice for the Audi R8 Decennium Edition. Their mesmerizing Brushed Silver finish adds a touch of sophistication, effortlessly complementing the sleek lines and aggressive demeanor of the R8 Decennium. The Blaque Diamond BD-F29 wheel's design will turn heads and leave a lasting impression wherever the Audi R8 goes.
The BD-F29 wheels provide a high-end unique look while delivering exceptional performance. Crafted with precision using advanced Flow-Forged Technology, they are incredibly lightweight yet strong. Reducing unsprung weight from lightweight wheels provides improvements in acceleration, cornering ability, and braking response. With the BD-F29 wheels, drivers can experience the full performance capabilities of their vehicle.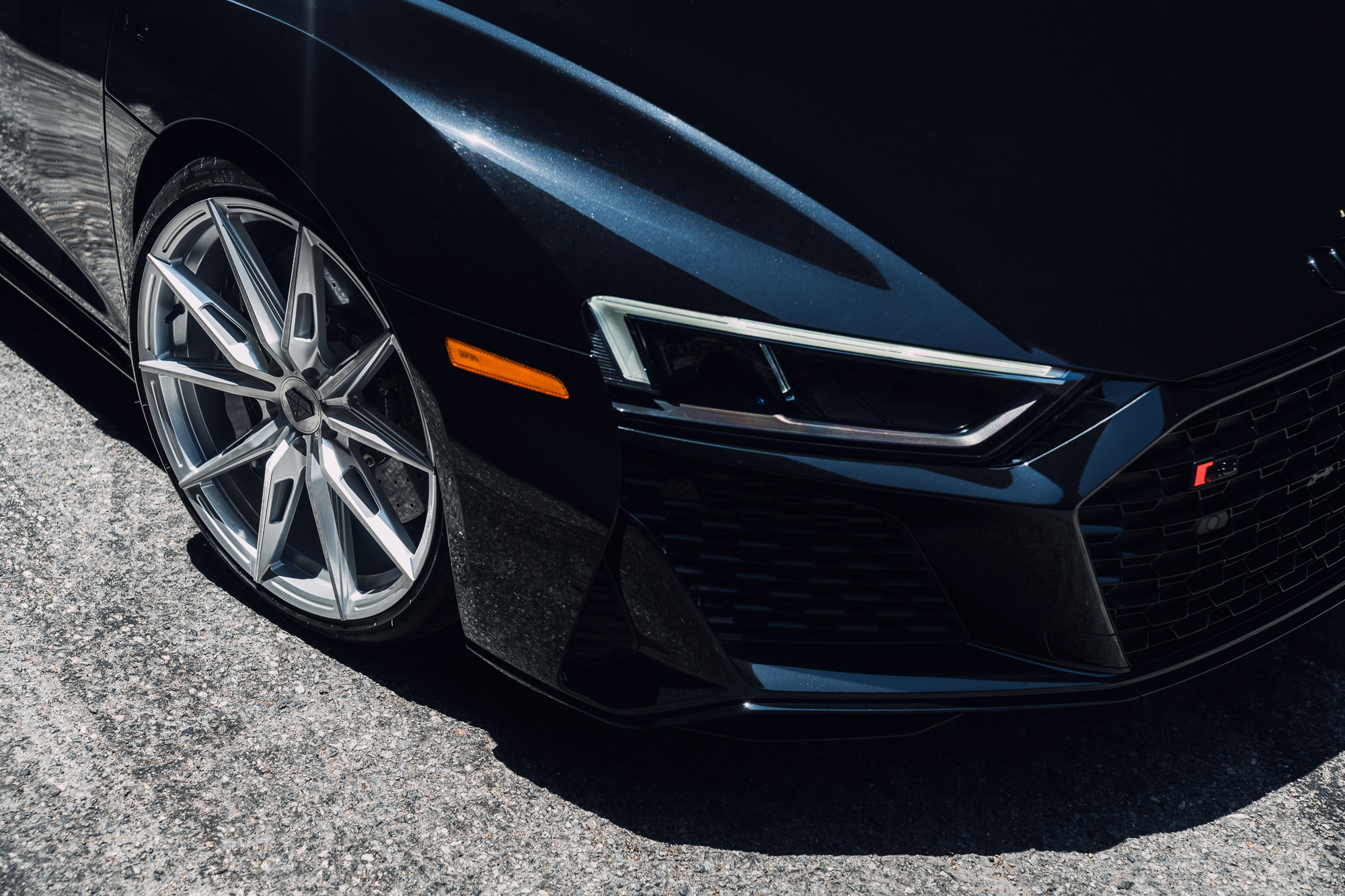 Custom Drilling/ Test Fit Program
Experience the perfection of custom wheels with Blaque Diamond Wheels' Custom Test Fit and Custom Drilling programs. Our commitment to precision and customization sets us apart. With our Custom Test Fit program, we ensure a flawless fit and optimal performance by checking multiple offsets and profiles during an in-house test fitting process. Our Custom Drilling program allows for exact offsets and custom bolt patterns, accommodating even the most specific requirements. Don't settle for less—choose Blaque Diamond Wheels for unmatched style and performance.
Discover the endless possibilities of customization with Blaque Diamond Wheels' Custom Finish program. Our vast network of wheel finish specialists offers unlimited options, including powder coating, gloss, matte, chrome, OEM color matched, anodized, brushed, and more. Transform your wheels into unique works of art that reflect your personal style. Elevate your vehicle's aesthetic with Blaque Diamond Wheels' Custom Finish program.

To View Our Custom Wheel Finish Gallery Click HERE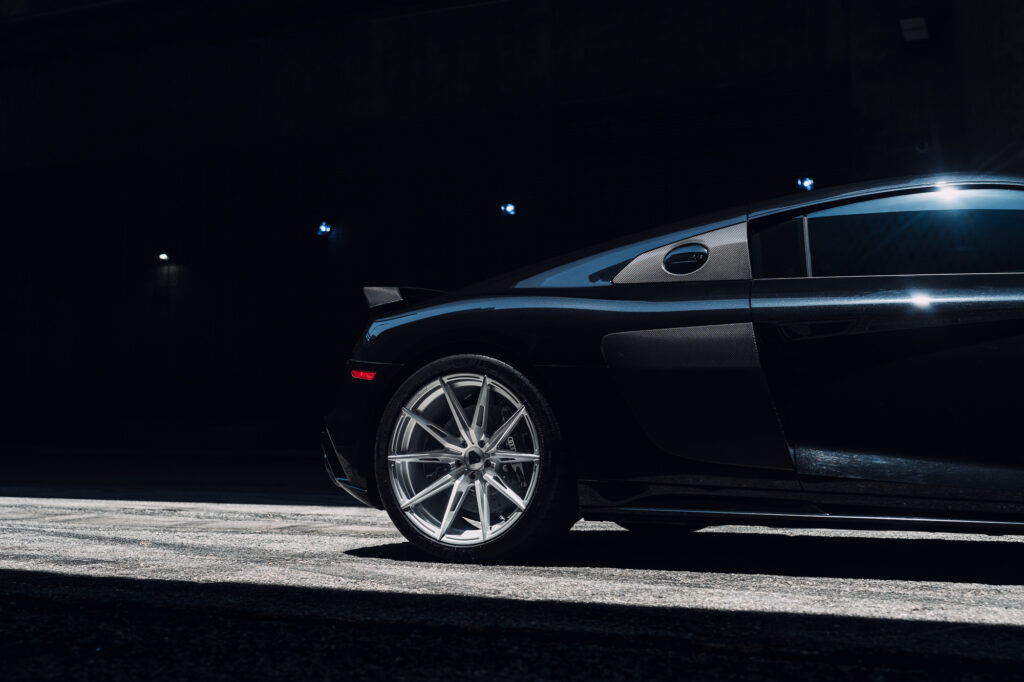 Wrapping up the BD-F29 Decennium
The 2020 Audi R8 Decennium Edition with Brushed Silver BD-F29 wheels offers a breathtaking combination of style, performance, and exclusivity. The BD-F29 wheels enhance the Audi R8's aesthetics while delivering exceptional performance capabilities. With the Custom Test Fit and Custom Drilling Program, paired with the Custom Finish Program, Blaque Diamond Wheels ensures every customer can achieve the perfect fitment and personalized look they desire. Elevate your vehicle to new heights with the Brushed Silver BD-F29 wheels and experience the ultimate driving experience.
Additional Fitment Details
If you wish to find out more about offsets for the car, please feel free to contact our team. We are also able to accommodate custom fitments, bolt patterns, and finishes as per our customer's requests If you have any requests for custom fitments, please don't hesitate to reach out to our team of fitment experts for more information.
Here are some fitment details:
●  Wheel Model – 

BD-F29

●  Wheel Finnish – Brushed Silver

●  Wheel Size Front – 20 x 9


●  Wheel Size Rear – 

20 × 11

●  

Tire Size Front – 245/35/20

●  

Tire Size Rear – 305/30/20

●  Tire Model – Michelin Pilot Sport 4S




For more information email [email protected] or call +1 (818) 362-2300