An aggressive wheel for an aggressive muscle car
Step into the world of performance and style with the perfect match for the Dodge Charger Scat Pack – the BD-F25 wheels. As if crafted to complement the Charger's flowing aggressive lines, the BD-F25 wheels feature angular and sporty styling that beautifully contrasts with the car's aesthetics. The Charger, renowned for its quick throttle response and torquey V8 engine, is a true driver's car, with one minor flaw – its weight. However, the Blaque Diamond BD-F25 wheels from our Flow-Forged Series are very light and address this concern flawlessly. With their lightweight Flow-Forged Technology, these wheels enhance the Charger's performance by providing better response in the corners and a heightened sense of agility through the steering. Experience the perfect combination of style and function as you unleash the full potential of your Dodge Charger with the BD-F25 wheels.
To View the Full Photo Gallery of this Dodge Charger, Click HERE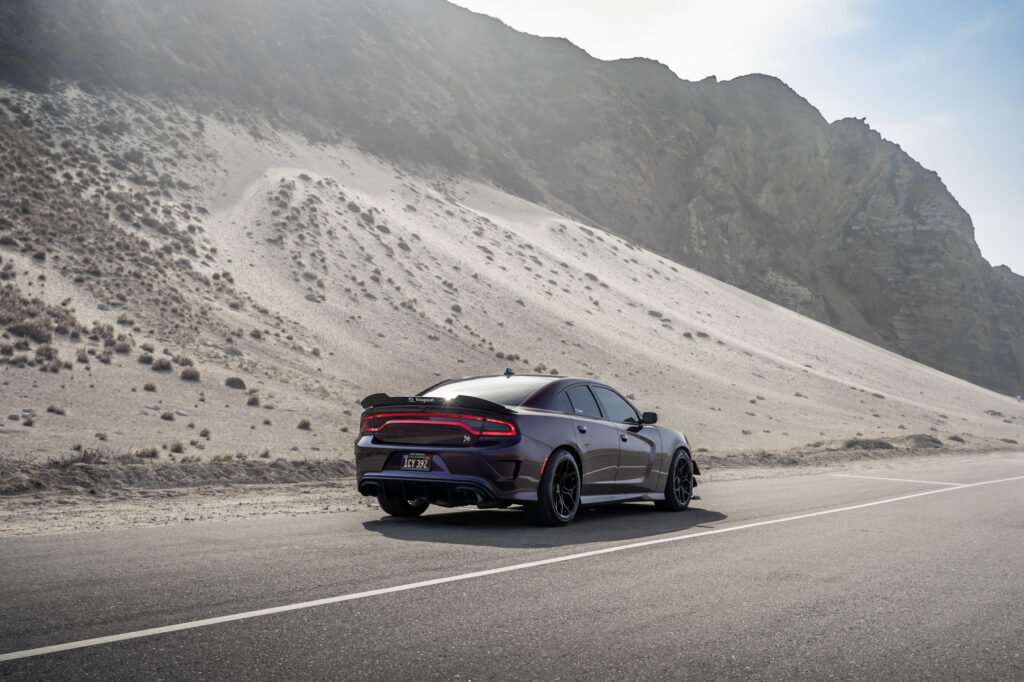 The Perfect Performance wheel for Dodge
When it comes to power and performance, the 2019 Dodge Charger Scat Pack stands in a league of its own. Now, imagine taking this already exhilarating driving experience to the next level with the sleek and dynamic BD-F25 wheels. Crafted to perfection, these wheels are the epitome of automotive style and functionality, creating an excellent combination with the Charger's aggressive aesthetics.
In the stunning Gloss Black finish, the BD-F25 wheels exude a sense of sophistication and allure, perfectly complementing the Charger's bold presence. The squared setup, with a size of 20×10 inches for both the front and rear wheels, not only adds to the vehicle's stance but also enhances its overall performance on the road.
The perfect fitment of the BD-F25 wheels ensures optimal handling and responsiveness, allowing you to take full advantage of the Charger's impressive capabilities. Up front, the wheels are paired with high-performance Pirelli P-Zero Nero tires, measuring 275/40/ZR20. This combination delivers exceptional grip and precise control, giving you the confidence to conquer every twist and turn with ease.
At the rear, the BD-F25 wheels are fitted with Toyo Proxes ST III tires, also measuring 275/40/ZR20, ensuring that the Charger's immense power is effectively transferred to the road, providing a thrilling driving experience.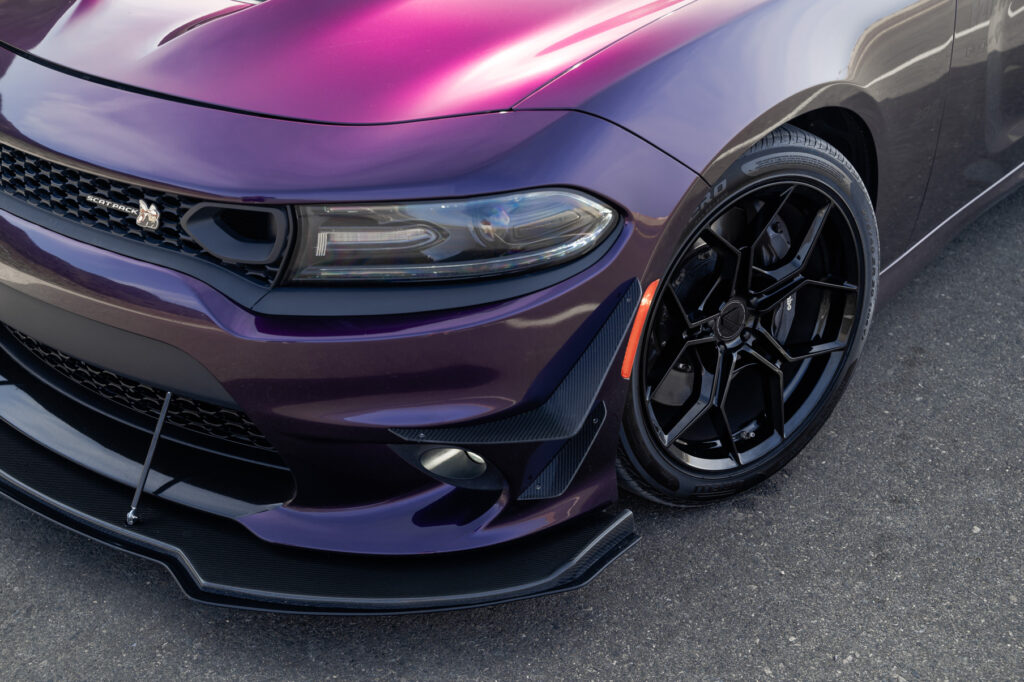 v8 fun for the whole family
While the Charger often gets overshadowed by the two-door challenger, it's hard to deny the benefits of a spacious backseat paired with the famous Dodge HEMI V8. Its refined looks, striking BD-F25 wheels, eye-catching plum crazy paint, and loud engine make this a truly special car; the perfect daily driver for the Dodge/ V8 enthusiast, even maintaining a manual transmission option. It will not be long until all naturally aspirated V8s are taken out of production for emission requirements. Even today the Charger is one of three N/A V8 sedans you can buy, and it will sadly be discontinued this year, soon to be replaced by an EV offering for the Challenger and Charger.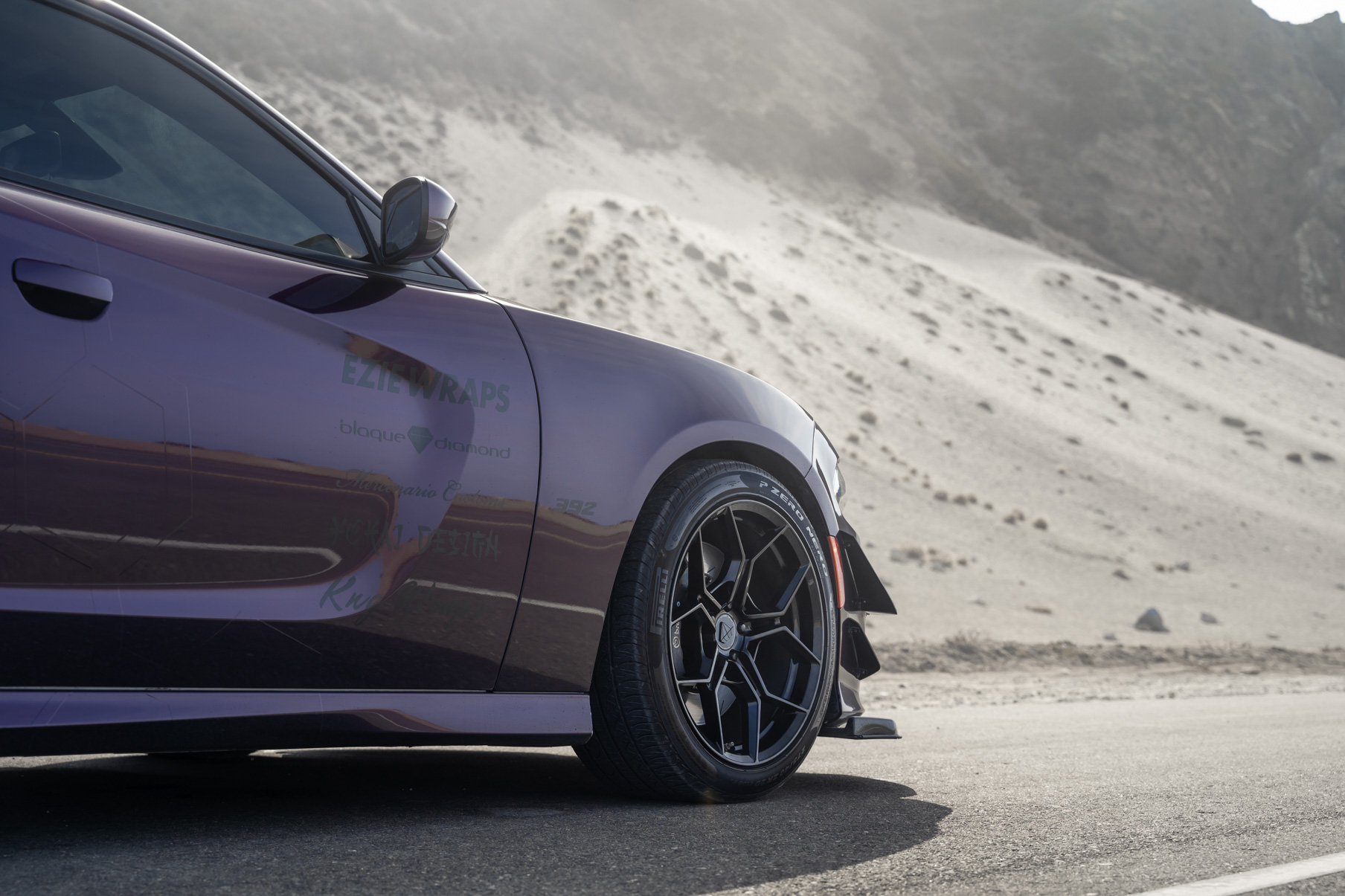 The Blaque Diamond BD-F25 is a part of our premium Flow-Forged Series, maintaining a strong and very lightweight construction. The BD-F25 is one of our most popular wheels, and for good reason, its unique aesthetic is sure to transform the look of any build you put them on. The BD-F25 also has the most sizes available from our entire wheel lineup, from 19″ – 24″. This wheel is a great fit for all types of vehicles, from weekend track toys to luxury family haulers. The BD-25 comes in two factory finishes, Gloss Black and Brushed Silver.
To See More Details About the BD-F25 Wheel Click HERE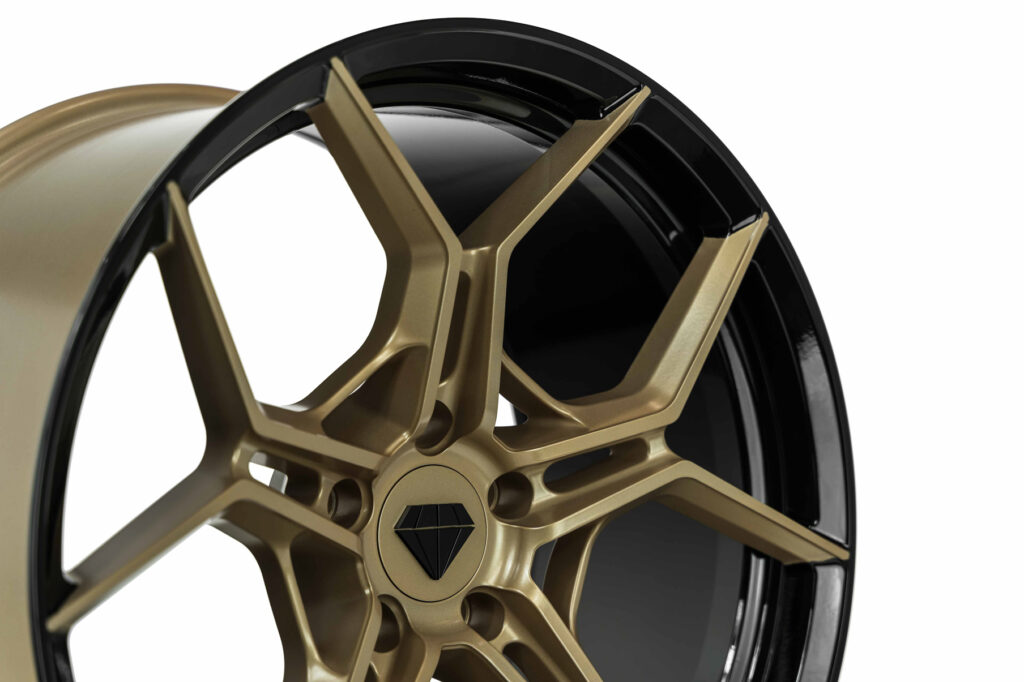 Discover the endless customization possibilities with Blaque Diamond Wheels' Custom Finish program. Our vast network of wheel finish specialists offers unlimited options, including powder coating, gloss, matte, chrome, OEM color matched, anodized, brushed, and more. Transform your wheels into unique works of art that reflect your style. Elevate your vehicle's aesthetic with Blaque Diamond Wheels' Custom Finish program.

To View Our Custom Wheel Finish Gallery Click HERE
Custom Drilling/ Test Fit
Experience the perfection of custom wheels with Blaque Diamond Wheels' Custom Test Fit and Custom Drilling programs. Our commitment to precision and customization sets us apart. Our Custom Test Fit program ensures a flawless fit and optimal performance by utilizing our team of fitment experts to test multiple offsets and profiles during an in-house test fitting process. Our Custom Drilling program allows for exact offsets and custom bolt patterns, accommodating even the most specific requirements. Don't settle for less—choose Blaque Diamond Wheels for unmatched style and performance.
Additional Fitment Details
If you wish to find out more about offsets for the car, please feel free to contact our team. We are also able to accommodate custom fitments, bolt patterns, and finishes as per our customer's requests If you have any requests for custom fitments, please don't hesitate to reach out to our team of fitment experts for more information.

Here are some fitment details:
Wheel Model – BD-F25 
Wheel Finish – Gloss Black
Wheel Size – 20 x 10 Squared
Tire Model Front – Pirelli P-Zero Nero
Tire Model Rear – Toyo Proxys ST III
Tire size: 275/40/ZR20 Squared