hellcat durango concave wheels
The 2021 Dodge Durango SRT Hellcat is coveted as one of the fastest full sized SUV in the world, coming from the factory with a roots style supercharged hellcat V8 pushing out 710 horsepower, highly advanced all-wheel drive, and room to seat seven on its way to 60mph in under 3.5 seconds and a top speed of 180 mph. This Durango has been further modified with an upgraded E-85 fuel system and tune, forged carbon fiber diffuser, upgraded supercharger pulley, and the lightweight 20″ Blaque Diamond Flow-Forged BD-F29 wheels, specced in the Brushed Silver Finish with an aggressive flush fitment style and squared setup. 
To View the Full Photo Gallery of this 2021 Dodge Durango Click HERE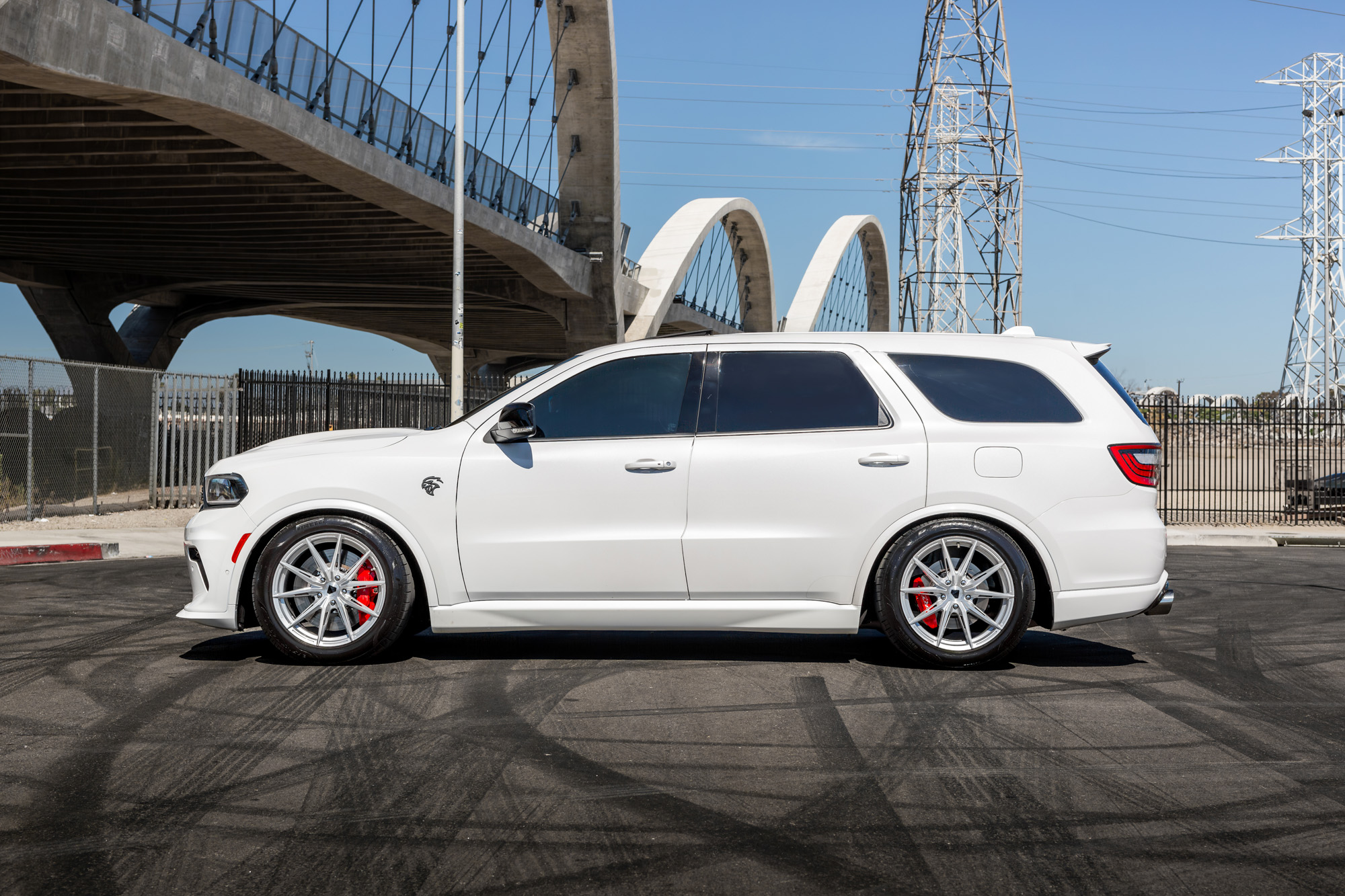 The Perfect Wheels for the Hellcat Durango
When our friend Phillip called us in search of new wheels for his 2021 Dodge Durango SRT Hellcat, we knew our Blaque Diamond BD-F29 in Brushed Silver would perfectly complement the aggressive and bold design of his vehicle. The 20×10 squared setup of these wheels adds a bold and distinctive statement to the Durango's appearance. The incorporation of Flow-Forged technology in the BD-F29 model takes road performance, lightness, and responsiveness to an extraordinary level.
Phillip opted for the Pirelli P-Zero tires, selecting a squared setup with sizes 285/45/R20 for both the front and rear. This combination of wheels and tires creates the ultimate synergy and performance. Considering the high-performance brakes on the Durango SRT Hellcat, we fully understood the significance of caliper clearance during the wheel selection process. To guarantee a flawless fit, we conducted thorough in-house testing on Phillip's vehicle, focusing extensively on clearances and fitment.
The deep concave design of the BD-F29 allowed ample clearance for the large brake calipers of the 2021 Dodge Durango SRT Hellcat. Phillip's Durango SRT Hellcat proudly showcases the impressive Blaque Diamond BD-F29 wheels in Brushed Silver, ensuring a harmonious blend of style and unparalleled on-road performance.
To See More Details About the Blaque Diamond BD-F29 Wheels Click HERE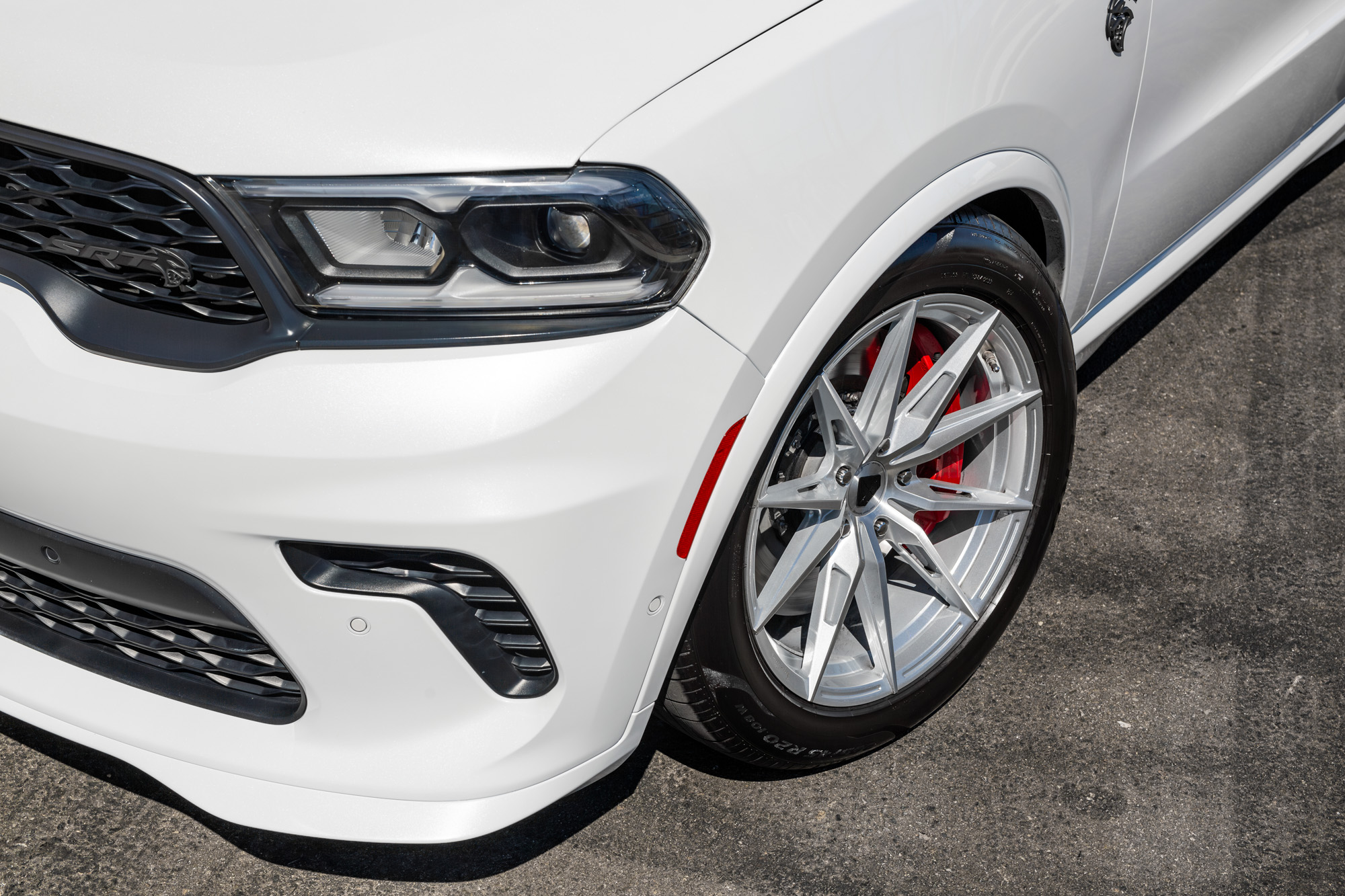 Custom Drilling/ Test Fit Program
Experience the perfection of custom wheels with Blaque Diamond Wheels' Custom Test Fit and Custom Drilling programs. Our commitment to precision and customization sets us apart. Our Custom Test Fit program ensures a flawless fit and optimal performance by utilizing our team of fitment experts to test multiple offsets and profiles during an in-house test fitting process. Our Custom Drilling program allows for exact offsets and custom bolt patterns, accommodating even the most specific requirements. Don't settle for less—choose Blaque Diamond Wheels for unmatched style and performance.

Check Out More Perfect BD-F29 Fitment HERE
Discover the endless customization possibilities with Blaque Diamond Wheels' Custom Finish program. Our vast network of wheel finish specialists offers unlimited options, including powder coating, gloss, matte, chrome, OEM color matched, anodized, brushed, and more. Transform your wheels into unique works of art that reflect your style. Elevate your vehicle's aesthetic with Blaque Diamond Wheels' Custom Finish program.

To view our Custom Wheel Finish Gallery Click HERE
Additional Fitment Details
If you wish to find out more about offsets for the car, please feel free to contact our team. We are also able to accommodate custom fitments, bolt patterns, and finishes as per our customer's requests If you have any requests for custom fitments, please don't hesitate to reach out to our team of fitment experts for more information.
Here are some fitment details:
●  Wheel Model – 

BD-F29

●  Wheel Finnish – Brushed Silver

●  Wheel Size – 20 x 10 Squared

●  

Tire Size Front – 285/45/R20

●  Tire Model – Pirelli P-Zero 




For more information email [email protected] or call +1 (818) 362-2300