When it comes to blending performance, style, and innovation, few cars can hold a candle to this 2017 Infiniti Q60 built by @hbreeezyy. This sports coupe has been a staple in the luxury car scene, but when paired with 20″ Blaque Diamond Wheels BD-F25 in Gloss Black, it transcends into a realm of sophistication and stance that's hard to match.
To View the Full Photo Gallery of this Bagged 2017 Infiniti Q60 Click HERE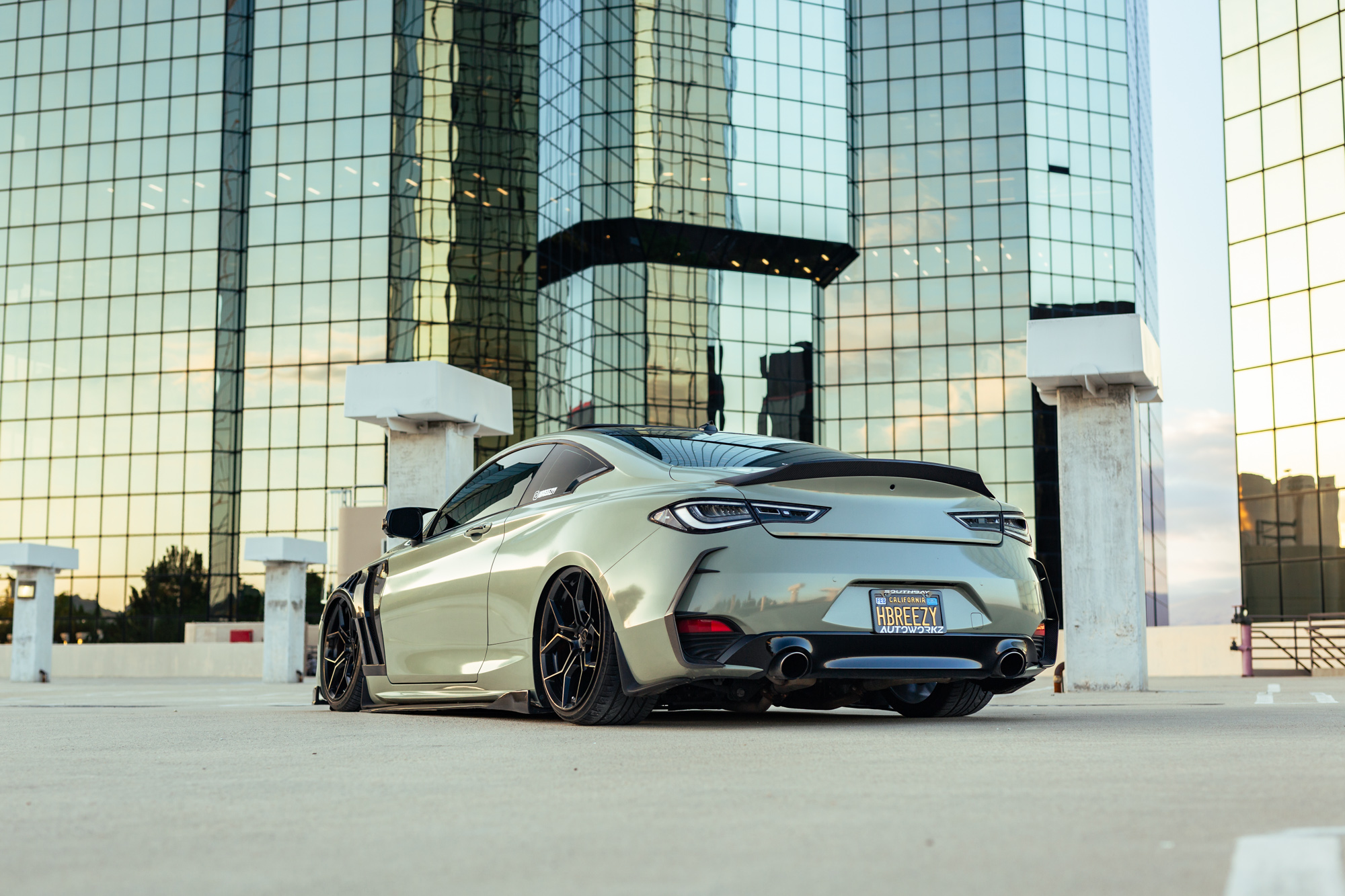 Blaque Diamond Wheels is renowned for its Flow-Forged Series, and the BD-F25 Gloss Black wheels exemplify the pinnacle of Blaque Diamond craftsmanship and design. These wheels don't just roll; they command attention and awe at every turn. The striking gloss black finish elegantly complements the Q60's muscular body, exuding an air of confidence and assertiveness.
What truly sets this Q60 apart is its staggered setup and extreme tucked fitment. The 20×10 front and 20×11 rear wheels give the car a dynamic stance, ready to pounce on the road. The harmonious synergy between the BD-F25 wheels, the carbon fenders, and the Airlift 3P Suspension results in a ride that's not just comfortable but a masterclass in fitment and precision.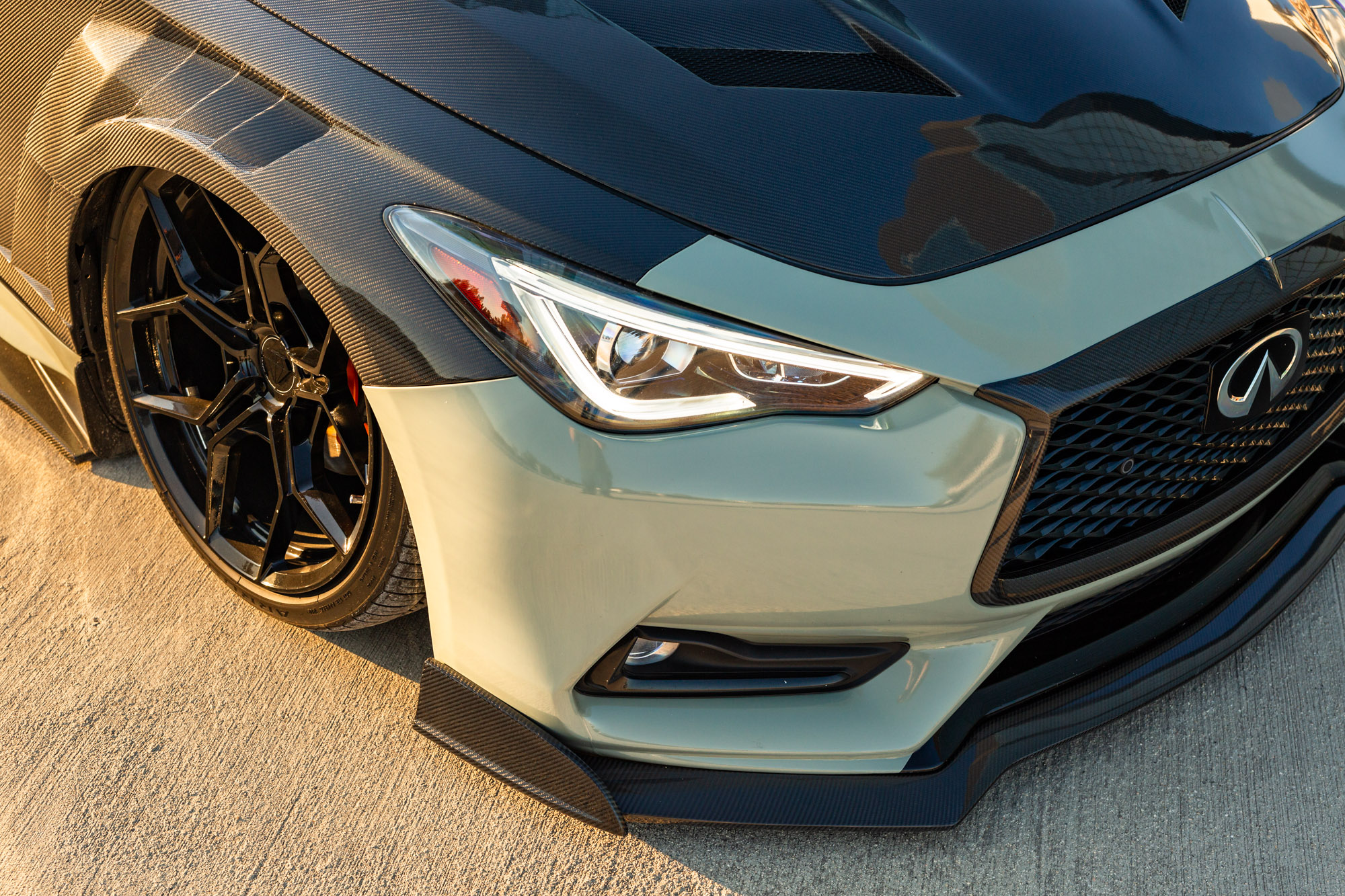 Full Infiniti Q60 Build Details
The allure of this Q60 doesn't stop with the BD-F25 wheels; The transformation continues with a mesmerizing Dark Khaki Green Wrap by Essmo-vinyl, setting the car apart from the mundane. The black roof creates a seamless contrast, enhancing the coupe's sporty profile. To ensure longevity and brilliance, a ceramic coating has been applied the Q60's exterior, to keep this build looking fresh for years to come.
The devil is in the details, and this Q60 is a testament to that adage. Clear tail lights add a modern touch, seamlessly blending contemporary design with the Q60's classic elegance. Carbon fiber reigns supreme, adorning various parts including the grill, side skirts, fenders, front lip, M Style mirrors, AMS style hood, spoiler, and interior trim. Even the wiper blades receive a carbon fiber upgrade, showcasing an unparalleled commitment to style and performance.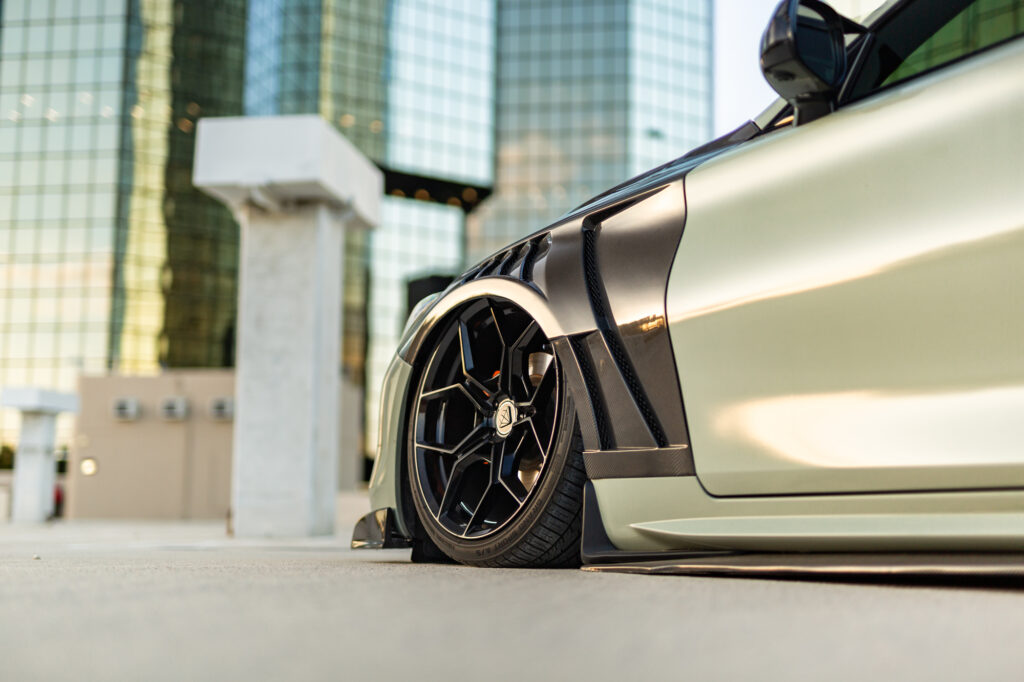 The BD-F25 is one of our most popular wheel design, and for good reason! This design stands out from the crowd and pairs very well with modern cars with aggressive styling like this Infiniti Q60. The BD-F25 is a part of our Flow-Forged Series, our Flow-Forged wheels are very light and performance-oriented, providing better road feel and handling for your ride. The BD-F25 comes in a wide variety of sizes from 19″-24″ in diameter, and widths of 9″-12″. Blaque Diamond Flow Forged Series Wheels open up the possibility for super deep concave, and perfect fitments for performance vehicles, Blaque Diamond Flow-Forged Series wheels allow for maximum brake clearance and our fitment experts are here to help maximize wheel width and concave for your ride. The factory finish options include the pictured Gloss Black, and the elegant Brushed Silver.
To See More Details About the Blaque Diamond BD-F25 Wheels Click HERE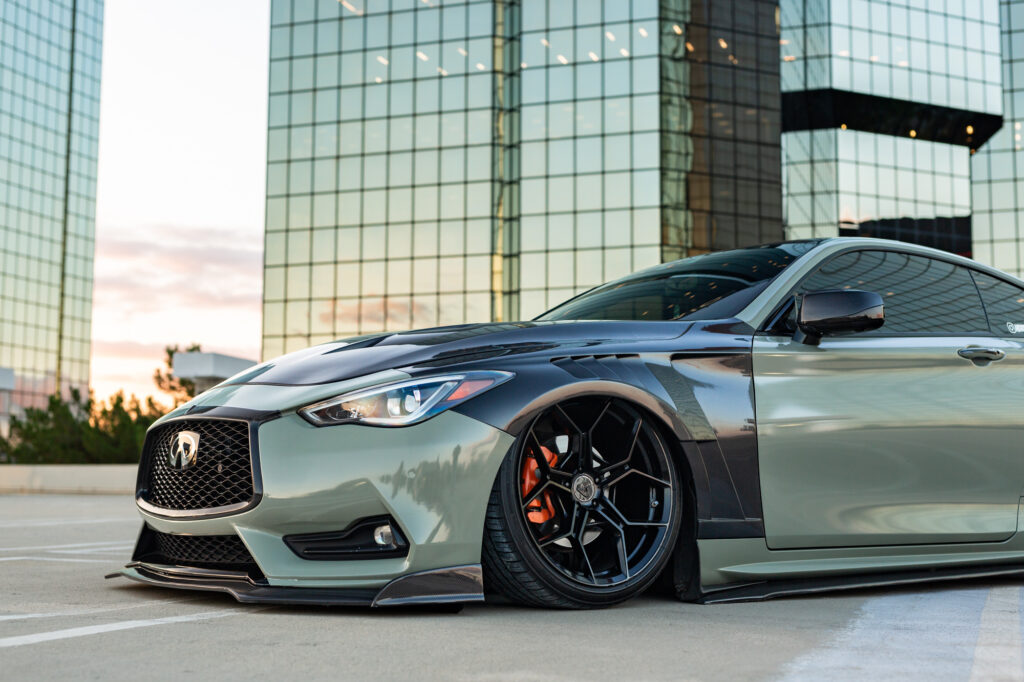 In a world where the ordinary is often celebrated, this 2017 Infiniti Q60 on Blaque Diamond BD-F25 Gloss Black wheels stands as a beacon of modified excellence. The blend of artistry, technology, and style is a reminder that the automotive world is not just about transportation; it's about pushing boundaries and indulging in the pursuit of self expression.
Custom Drilling/ Test Fit Program
Experience the perfection of custom wheels with Blaque Diamond Wheels' Custom Test Fit and Custom Drilling programs. Our commitment to precision and customization sets us apart. Our Custom Test Fit program ensures a flawless fit and optimal performance by utilizing our team of fitment experts to test multiple offsets and profiles during an in-house test fitting process. Our Custom Drilling program allows for exact offset adjustment via back pad shaving, open hub machining, and custom bolt pattern drilling. We can accommodate even the most specific fitment requirements. Don't settle for less—choose Blaque Diamond Wheels for unmatched style and performance.
Check Out More Perfect BD-F29 Fitment HERE
Discover the endless customization possibilities with Blaque Diamond Wheels' Custom Finish program. Our vast network of wheel finish specialists offers unlimited options, including powder coating, gloss, matte, chrome, OEM color matched, anodized, brushed, and more. Transform your wheels into unique works of art that reflect your style. Elevate your vehicle's aesthetic with Blaque Diamond Wheels' Custom Finish program.

To view our Custom Wheel Finish Gallery Click HERE
Additional Fitment Details
If you wish to find out more about offsets for the car, please feel free to contact our team. We are also able to accommodate custom fitments, bolt patterns, and finishes as per our customer's requests If you have any requests for custom fitments, please don't hesitate to reach out to our team of fitment experts for more information.
Here are some fitment details: