Custom AMG GT S With Staggered Blaque Diamond BD-F25 Wheels
Presenting the remarkable 2016 Mercedes-Benz AMG GT S, elevated by the enchanting allure of Gloss Black 20″/21″ Blaque Diamond BD-F25 wheels. A harmonious partnership with Shoreline Motoring ignites a fusion of style and prowess, culminating in an authentic automotive masterpiece. As we bid adieu to the era of the Mercedes AMG GT, we stand before what might be the ultimate V8-powered coupe from Mercedes-Benz, a resounding tribute to AMG's rich heritage of performance and motorsport excellence.
To View the Full Photo Gallery of this 2016 Mercedes-Benz AMG GT S Click HERE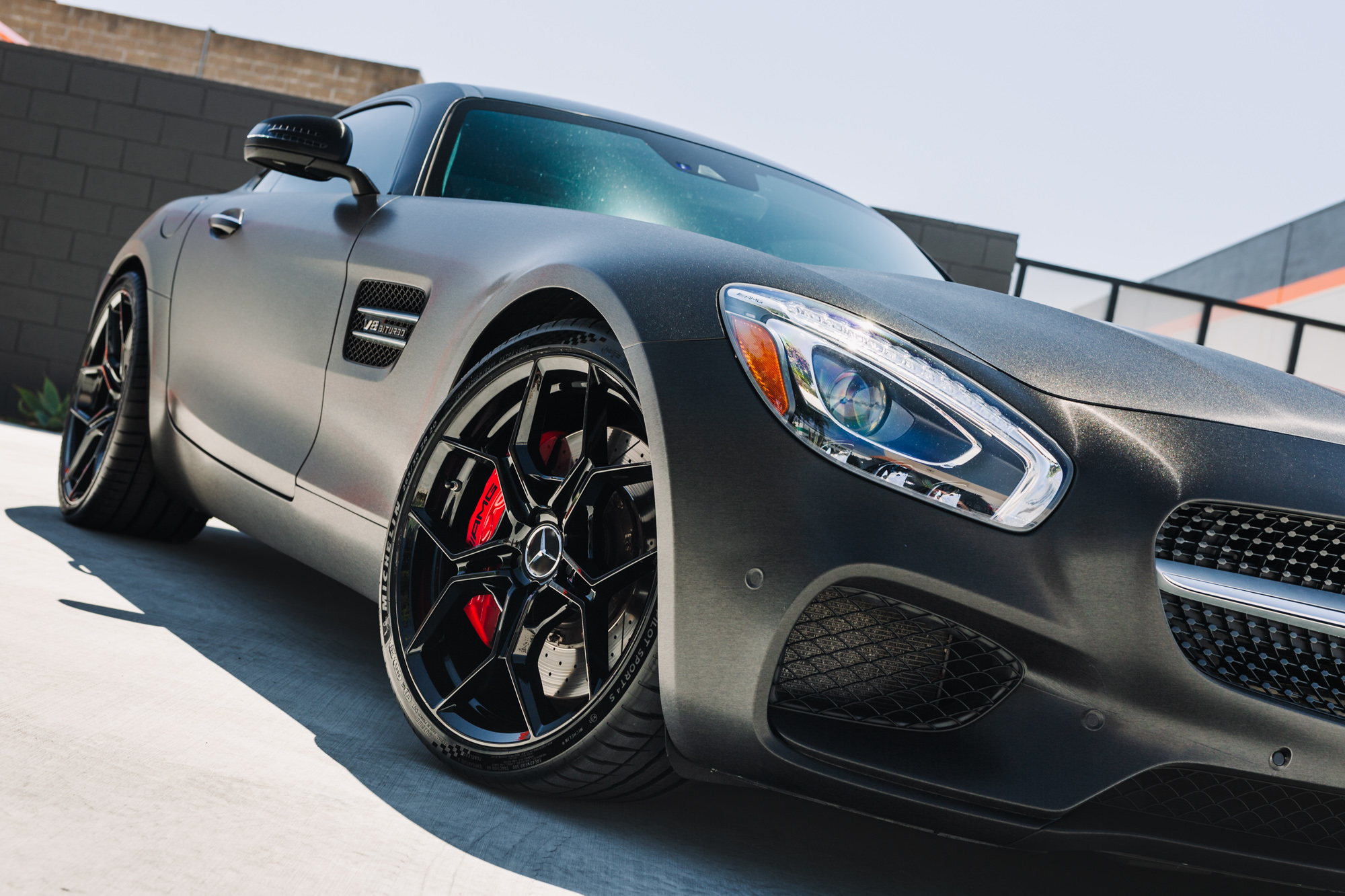 Mercedes AMG Crafted to Perfection on BD-F25 Wheels
A custom-brushed matte black wrap lays the foundation of distinction for this masterpiece. Infused with an aura of sophistication, it sets the stage for the breathtaking red racing stripe that stretches along the car's body, matching the massive AMG brakes cleared perfectly by the deep concave BD-F25 wheels, a dynamic collaboration between engineering and artistry.
This pinnacle of automotive artistry is born from a partnership with Shoreline Motoring, a renowned name in automotive customization. Their expertise adds a layer of finesse, transforming the Mercedes AMG GT S into a canvas of expression and power.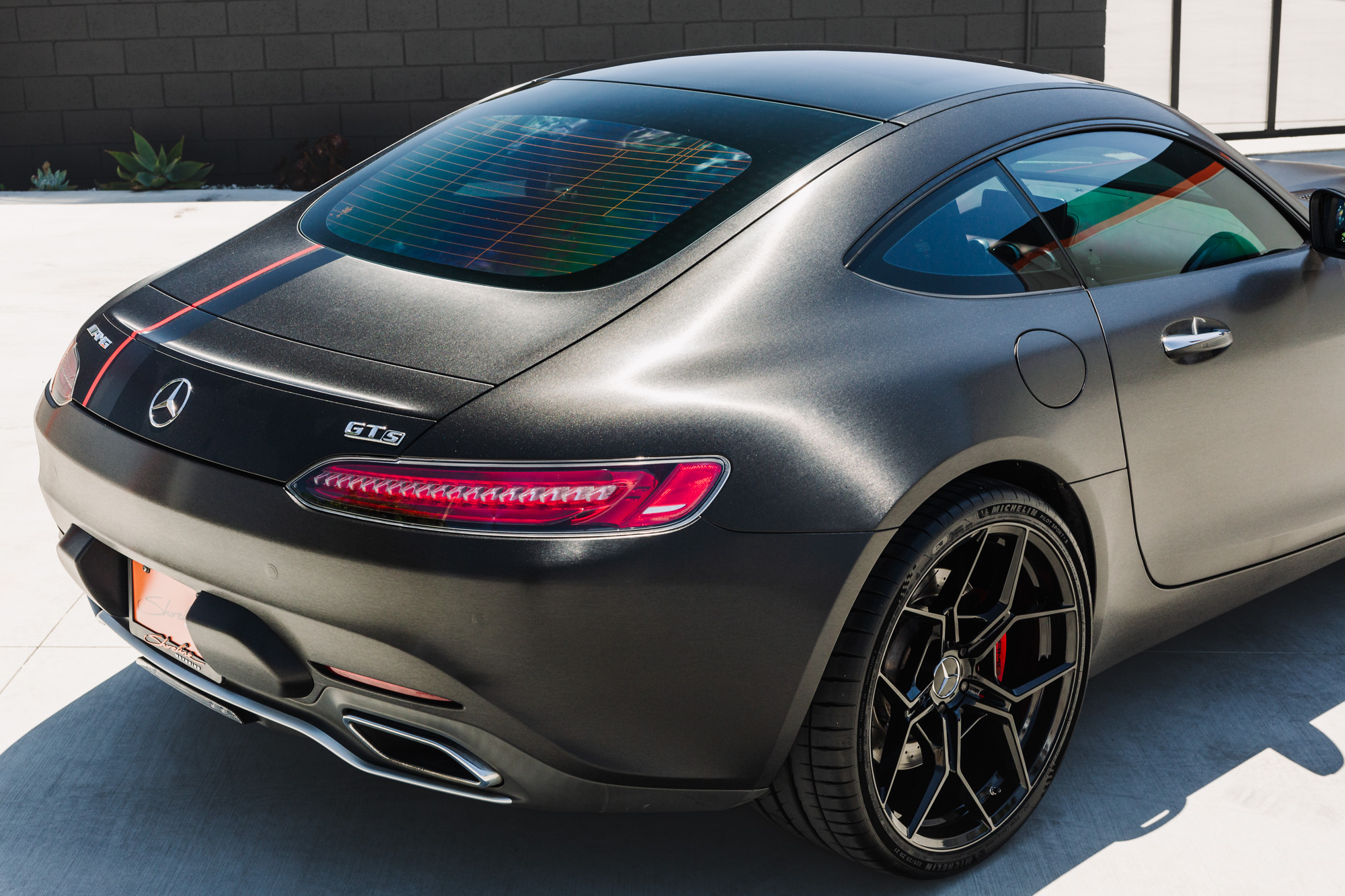 Unrivaled excelence in fitment and performance
The Blaque Diamond BD-F25 wheels in Gloss Black meld seamlessly with the custom wrap and shape of the GT, utilizing staggered wheel diameter for the perfect fit. The beauty isn't just skin deep – these wheels, spec'd with staggered width, heighten both style and performance. Paired with the exceptional BD-F25 wheels are the Michelin Pilot Sport 4S tires, with 265/30 ZR 20 at the front and 325/25 ZR 21 at the rear, ensuring a harmonious balance of grip and agility.
The staggered fitment isn't just for aesthetics; it's about elevating performance. The 20×9 front wheels optimize control and responsiveness, while the 21×11 rear wheels enhance traction and stability, culminating in a driving experience that exhilarates at every turn.
The Mercedes AMG GT S adorned with Blaque Diamond BD-F25 gloss black wheels epitomizes automotive sophistication. It's more than a vehicle; it's an embodiment of artistry and engineering, a fusion of design and power that commands attention.
To See More Details About the Blaque Diamond BD-F25 Wheels Click HERE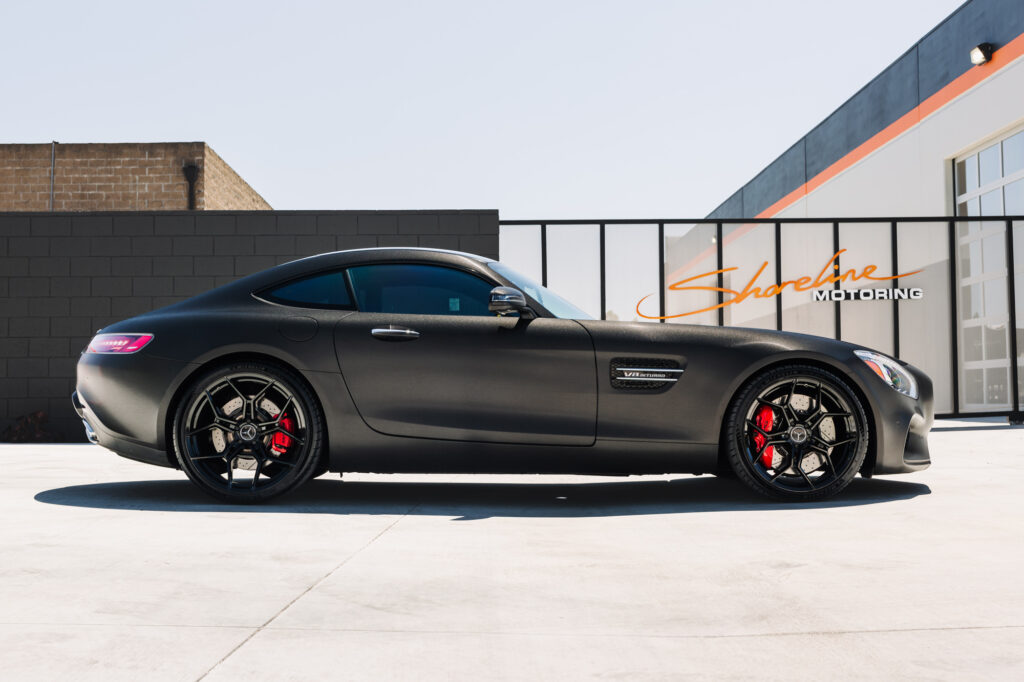 Elevating Aesthetics and Performance: Automotive Brilliance with Blaque Diamond BD-F25 Gloss Black Wheels
Emerging into the limelight, the Mercedes AMG GT S graced by Blaque Diamond BD-F25 gloss black wheels heralds a fresh epoch of automotive distinction. Beyond being a mere vehicle, it stands as an homage to precision artistry, inventive spirit, and cooperative ingenuity. Brace yourself for a reimagination of elegance, potency, and performance as you encounter the apex where beauty and force converge, meticulously shaping each line and intricacy.
Custom Drilling/ Test Fit Program
Experience the perfection of custom wheels with Blaque Diamond Wheels' Custom Test Fit and Custom Drilling programs. Our commitment to precision and customization sets us apart. Our Custom Test Fit program ensures a flawless fit and optimal performance by utilizing our team of fitment experts to test multiple offsets and profiles during an in-house test fitting process. Our Custom Drilling program allows for exact offset adjustment via back pad shaving, open hub machining, and custom bolt pattern drilling. We can accommodate even the most specific fitment requirements. Don't settle for less—choose Blaque Diamond Wheels for unmatched style and performance.
Check Out More Perfect BD-F29 Fitment HERE
Discover the endless customization possibilities with Blaque Diamond Wheels' Custom Finish program. Our vast network of wheel finish specialists offers unlimited options, including powder coating, gloss, matte, chrome, OEM color matched, anodized, brushed, and more. Transform your wheels into unique works of art that reflect your style. Elevate your vehicle's aesthetic with Blaque Diamond Wheels' Custom Finish program.

To view our Custom Wheel Finish Gallery Click HERE
Additional Fitment Details
If you wish to find out more about offsets for the car, please feel free to contact our team. We are also able to accommodate custom fitments, bolt patterns, and finishes as per our customer's requests If you have any requests for custom fitments, please don't hesitate to reach out to our team of fitment experts for more information.
Here are some fitment details:
●  Wheel Model – 

BD-F25

●  Wheel Finish – Brushed Silver

●  Wheel Size Front – 20 x 9


●  Wheel Size Rear – 

21 × 11

●  

Tire Size Front – 285/35/20

●  

Tire Size Rear – 335/30/20

●  Tire Model – Pirelli P-Zero 




For more information email [email protected] or call +1 (818) 362-2300