The perfect home for the BD-F25 - Mclaren 570s
When it comes to high-performance vehicles, the McLaren 570S stands tall among the crowd. Its stunning design, raw power, and precise handling make it a dream car for many enthusiasts. Today, we're excited to showcase an upgrade that takes this automotive marvel to a whole new level: the 20″ Brushed Silver BD-F25 wheels from Blaque Diamond Wheels. These lightweight, perfectly fitted wheels are the ultimate companion for the McLaren 570S, elevating its performance and aesthetics to unmatched heights. Pair the staggered fitment with high performance tires and you get the optimal lightweight wheel and tire setup for this high-strung supercar.
To View the Full Photo Gallery of the McLaren 570S, Click HERE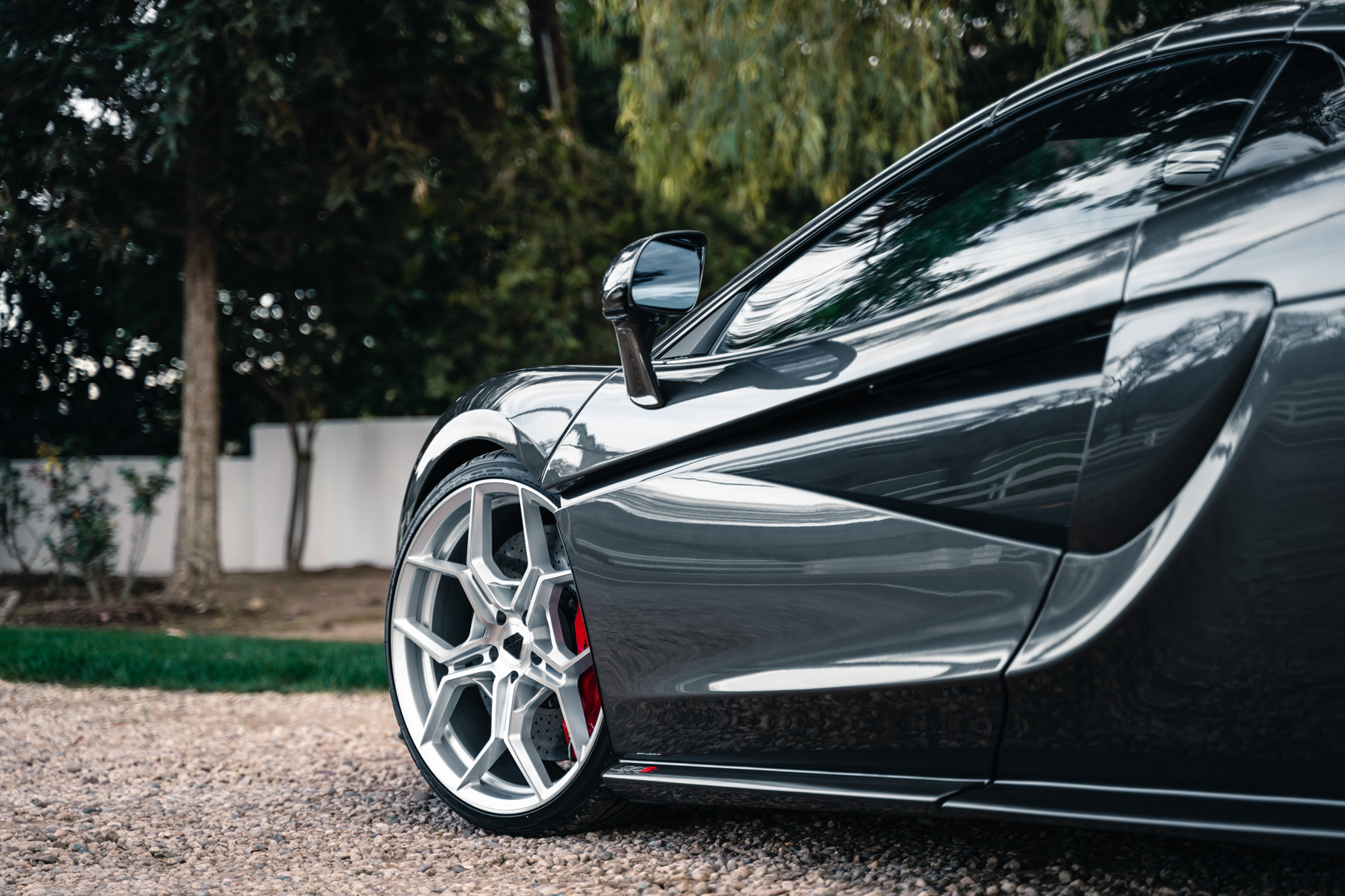 Perfect Wheel Fitment for Seamless Integration
Blaque Diamond Wheels understands that perfection lies in the details, and the BD-F25 wheels are designed with customization in mind. For the McLaren 570S, we offer the BD-F25 model in a stunning Brushed Silver finish, perfectly complementing the sleek curves of the vehicle and adding a touch of elegance to its appearance.
The BD-F25 wheels are crafted with meticulous attention to detail, ensuring a precise fitment for any vehicle. Up front, we provide the BD-F25 in Brushed Silver with 20 x 9 inches, paired with high-performance Toyo Proxes T1R tires measuring 245/30/ZR20. The combination of these wheels and tires not only enhances the vehicle's aggressive stance but also provides excellent grip and handling, optimizing the driving experience.
To further accentuate the aesthetics and performance of your McLaren, we offer the BD-F25 in Brushed Silver with 20 x 12 inches for the rear wheels. These super deep concave rear wheels are fitted with again Toyo Proxes T1R tires, measuring 305/20/ZR20, allowing for maximum traction and stability during acceleration and cornering.
When you drive with the BD-F25 aftermarket wheels on your McLaren 570S, you can be sure to turn heads wherever you go. The attention to detail and the combination of the Brushed Silver finish with the sleek design of the concave wheels beautifully complements the vehicle's aerodynamic lines, making a bold statement on the road.
Choose Blaque Diamond Wheels for your McLaren 570S and experience the perfect blend of style, performance, and customization; elevate your driving experience to an entirely new level.
To See More Details on the BD-F25 Wheel, Click HERE
Lightweight Construction for Enhanced Performance
One of the defining features of the Blaque Diamond BD-F25 wheel is its lightweight construction. Crafted using Flow-Forming Technology, these wheels reduce unsprung weight, enhancing the vehicle's acceleration, braking, and overall handling capabilities. With every turn of the steering wheel, you'll experience improved responsiveness and a more connected driving experience, allowing you to unleash the full potential of your McLaren 570S.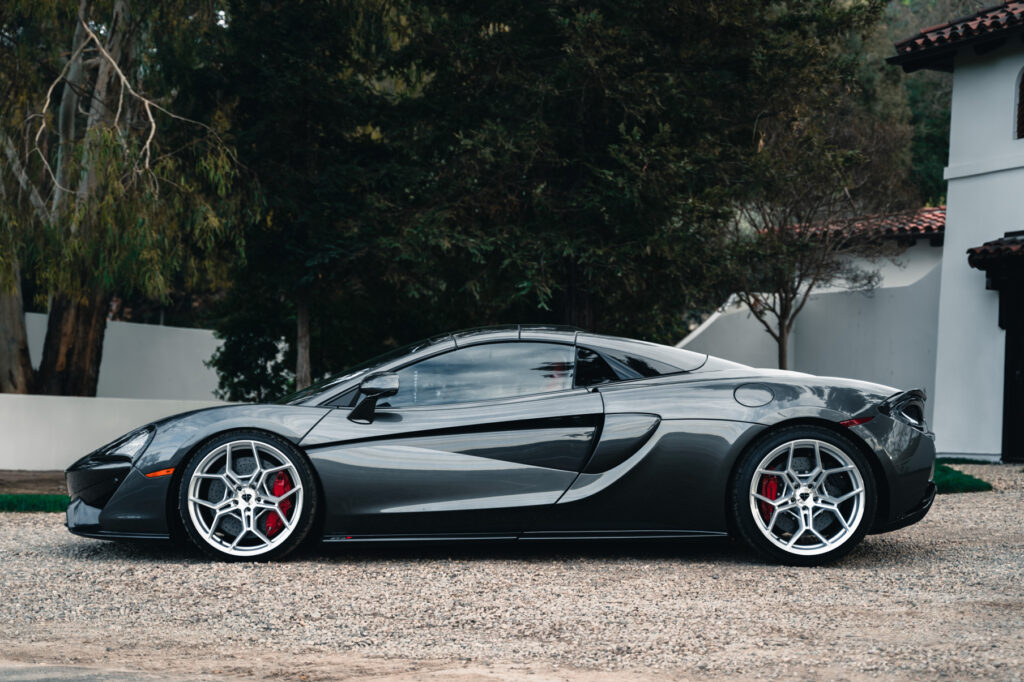 Custom Wheels to enhance the look of the mclaren
In addition to the performance benefits, the Blaque Diamond BD-F25 20″ wheels add a touch of elegance and sophistication to the McLaren 570S. The Brushed Silver finish paired with the intricate spoke design creates a striking contrast against the vehicle's glossy dark grey body color. It's a perfect blend of sportiness and refinement, making a bold statement on the road, setting your car apart from the crowd.
Uncompromising Quality and Craftsmanship
Blaque Diamond Wheels is renowned for its commitment to quality and craftsmanship, and the BD-F25 wheels are no exception. Each wheel is meticulously crafted to ensure durability and performance; you can enjoy a smooth and safe ride every time. With their exceptional build quality, the BD-F25 wheels are designed to withstand the demands of high-performance driving, providing long-lasting satisfaction.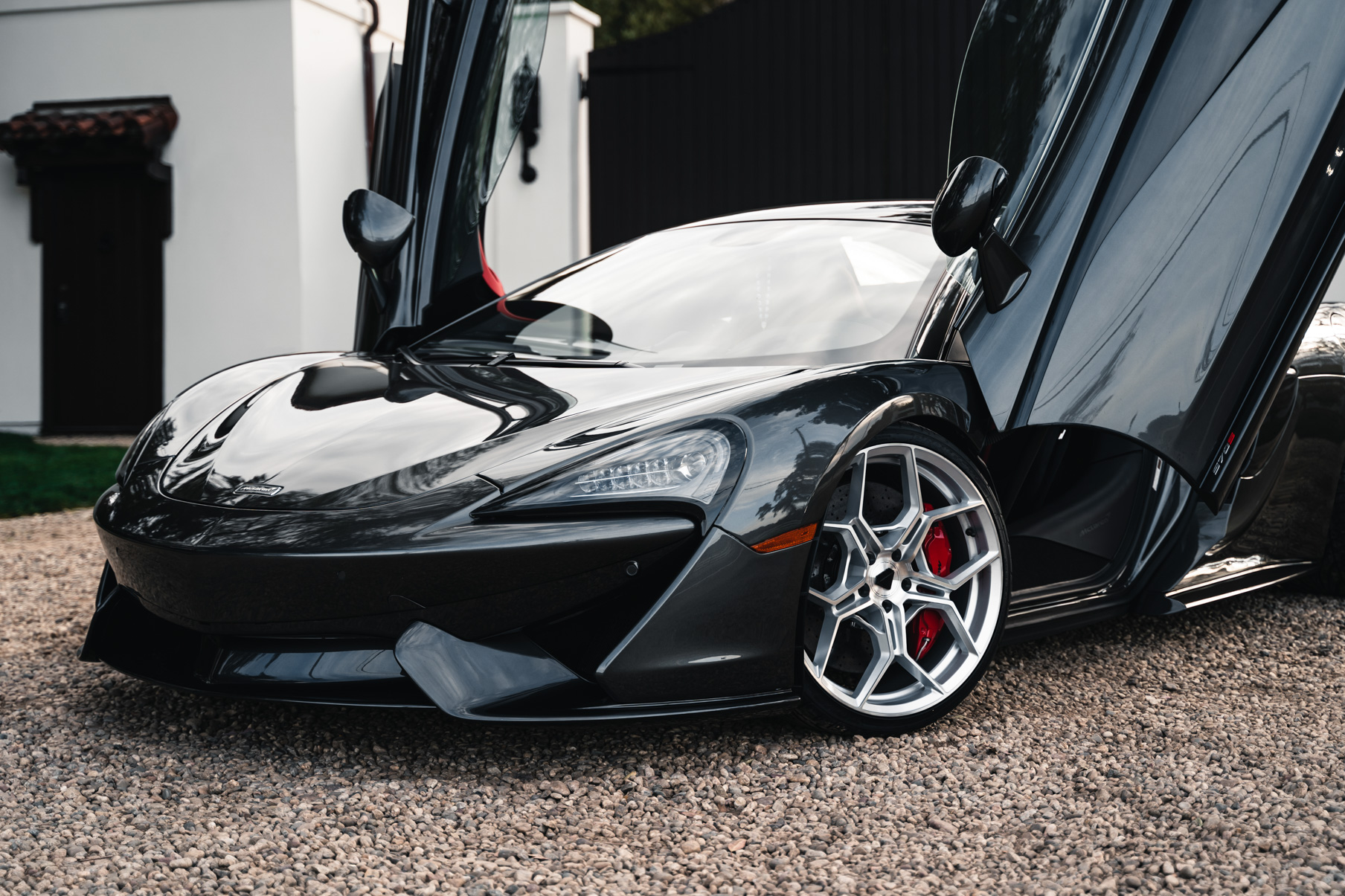 The Best Wheels for the McLaren 570s
If you're a proud owner of a McLaren 570S, the Brushed Silver BD-F25 staggered wheels from Blaque Diamond Wheels are a must-have upgrade. The lightweight construction, concave profiles, perfect flush fitment, and stunning aesthetics of the BD-F25 will elevate the performance and visual appeal of your McLaren to all-new heights. Unleash the beast within your 570S and experience the exhilaration of driving with the BD-F25 wheels, a true testament to engineering excellence and style.
Custom Test Fit/ Drilling Program
Experience the perfection of custom wheels and perfect wheel fitment with Blaque Diamond Wheels' Custom Test Fit and Custom Drilling programs. Our commitment to precision and customization sets us apart. With our Custom Test Fit program, our team of fitment experts ensure a flawless fit and optimal performance by checking multiple offsets and profiles during an in-house test fitting process. Our Custom Drilling program allows for custom wheel offsets and custom bolt patterns, accommodating even the most specific requirements for custom drilled wheels. Don't settle for less—choose Blaque Diamond Wheels for unmatched style and performance.
Discover the endless customization possibilities with Blaque Diamond Wheels' Custom Finish program. Our vast network of wheel finish specialists offers unlimited options, including powder coating, gloss, matte, chrome, OEM color matched, anodized, brushed, and more. Transform your wheels into unique works of art that reflect your style. Elevate your vehicle's aesthetic with Blaque Diamond Wheels' Custom Finish wheels program.

To View Our Custom Wheel Finish Gallery Click HERE
Additional Fitment Details
If you wish to find out more about offsets for the car, please feel free to contact our team. We are also able to accommodate custom fitments, bolt patterns, and finishes as per our customer's requests If you have any requests for custom fitments, please don't hesitate to reach out to our team of fitment experts for more information.

Here are some fitment details:
Wheel Model – BD F25
Wheel Finish – Brushed Silver
Wheel Size Front – 20 x 9 Inches
Wheel Size Rear – 20 x 12 Inches
Tire Model – Toyo Proxes T1R
Tire Size Front – 245/30/ZR20
Tire Size Rear – 305/20/ZR20